Hi all
First one was the North Waikato Champs in Huntly. We decided the night before we would race the event because there was not much on for the weekend. Looked like a small event when looking on the list so we decided we would race the MX2 class so my first official race at a champs for the senior class.
Race 1: Got the holeshot from Matt Hunt. Matt as putting a lot of pressure on me in the first 2 laps and he got passed me after i made a mistake in a corner. Pace was pretty quick and we started pulling away from Cam Huggins, Josh Jack, Jason Jones and Scott Canham. Matt put a couple of seconds on me but i could hold the gap after following his lines. At the end got 2nd place which was a really good result.
Race 2: 4th around the corner. Think i made a pass on Cam Huggins which got me into 3rd. Took me a while to find good lines and Matt Hunt and Jason Jones pulled away a little. Jason was really pushing Matt and then i caught up to them and set the fastest lap time for the whole race. Just as i started pressuring Jason i went down a drop off jump and my rear tyre punctured so a DNF. Because my dad is really organized and didn't have a rear tube we didn't do the last race. Bummer was a good day until then.
Club Champs Taupo: We were looking forward to this event. Pukekohe had a real solid team and felt we had another good chance to defend our title. My 250 junior class was real strong with the top 3 at the Nationals all in the class. Hamish Harwood, Haki Waller and me. As well as James Anderson, Chase Smith and Henry Griffith.
Qualifying Race: Got an average start around 8th and then made some awesome passes on the first lap to get to 2nd place. Chase Smith was leading and was riding awesome for his first race the the 250. I made a pass stick on Hamish and Chase and then got a good gap to win the qualifying race. Haki was down a bit after a full but was super quick.
Race 1 Junior 250/125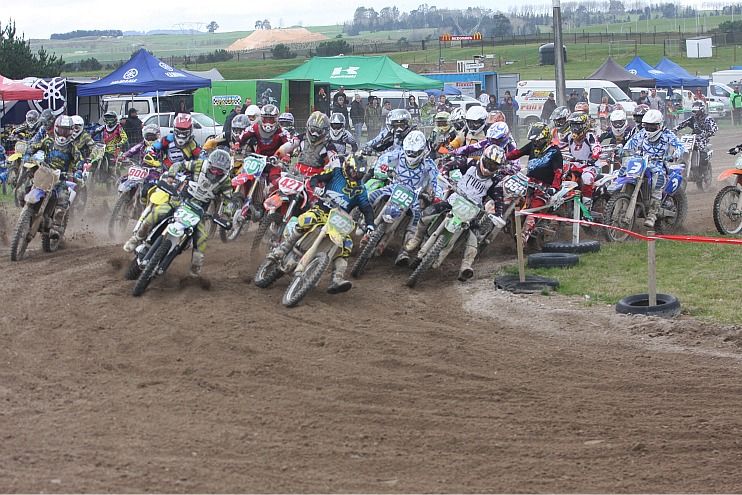 Got an awesome holeshot (#703) and led from the front. Was riding awesome. Around 3/4 of the race started getting the dreaded arm pump so just couldn't hold on and Haki was charging thru and got me with 2 laps to go. Held on for 2nd place which was good points for the team. Liam Underwood who was also our 125 rider rode strong and got 4th overall behind Cameron Vaughan.
Race 2 Junior 250/85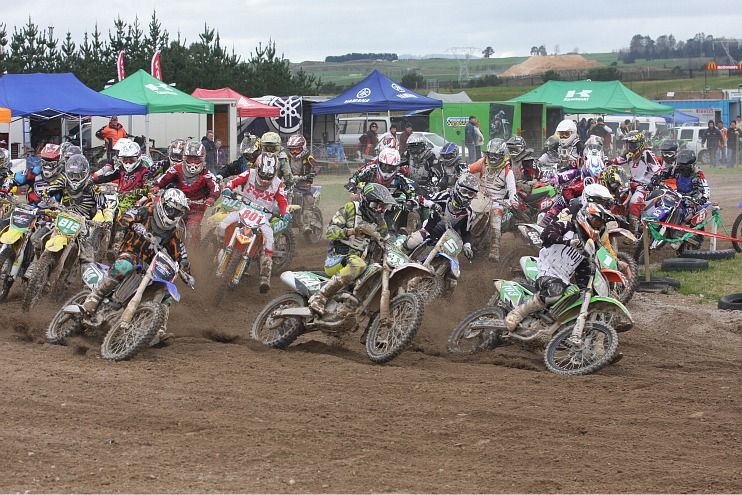 Got another holeshot on the super quick Kawi and Pirellis. Got into a good rythym and started pulling from Hamish Harwood. Felt better in this race and the arm pump never got me. Came thru 1st for a comfortable win so got top 250 rider with a 2/1 placing so was real happy with how i rode in the weekend.

Pukekohe dominated the junior titl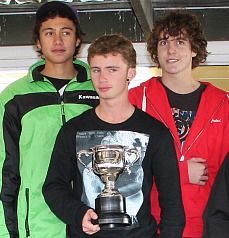 e with me, Liam Underwood (red jacket) and Sean O'Connor (with the Junior Cup) who got 1-1 in the 85 class. Unlucky we got 3rd overall for the club champs but was a great day with Tony Cooksley, Blake the Snake and Josh Jack.
Thanks again for all the help from everyone. MR Motorcycles, ELF Oils, Thor, Hygiene Systems, Fliway, Apex Group, Scott Goggles, Pirelli, Tsubaki, EBC, SuperSprox, Jet Pilot, Sidi, LA Racing, Kawasaki, Motomuck, Pro Circuit.
Thanks Alan Henderson for the images.