with ... Steven Frossard
Monster Energy Yamaha rider Steven Frossard has struggled a little in the last few weeks. After having a great opening round in Bulgaria, where he nearly won the Grand Prix, then he moved to Valkenswaard, Holland, where he felt good, but a crash caused him a lot of problems.
Picking up a shoulder injury wasn't what Frossard needed, as he held the Red Plate for the MX1 class and was looking as a strong candidate for the World Title. He scored a fourth place finish at last Honda Grand Prix of Brazil and will go to his home Grand Prix in France with a lot of confidence.

Currently fifth in the FIM World MX1 Championship points and just six points of fourth place, Frossard still has the chance to have a great debut season in the MX1 class.

Steven, can you tell me how it was after your crash in Valkenswaard?

I hadn't done too much since Valkenswaard. I stayed 10 days without Motocross training and I was every day at the doctor. After 10 days I tried to ride again and my feeling was good. In 10 days I rode 6 times and it was perfect. I didn't lose
any condition and I was a motivated rider. I don't feel pain during a race, only after it.

Nobody expected you to go that well in Valkenswaard, but I remember you telling me you would be okay.

Everyone told me I was a bad sand rider and I always said: "you will see", and I showed to everyone I wasn't perfect, but I can be fast. I think I was smooth on Saturday, but I crashed and then it was more difficult. Valkenswaard wasn't like Lommel, it wasn't deep sand. It was still difficult with bumps, last year it was easier to ride in Valkenswaard.

How was it going to Glen Helen with your shoulder problems?

Frossard: I go to every Grand Prix to win; when I went to Glen Helen I thought I had a good chance. I like Glen Helen; it is a fast track with many jumps. I don't like it when many people speak about me, but for me it's just a race. I prefer not to say I will win races.

What about Brazil, how did you feel there?

I was happy with the first race because I had a good battle with Cairoli and Philippaerts and it was a lot of fun. In the second moto I took a great start but Philippaerts was faster. At mid-race distance, I had a lot of pain in my thumb and I couldn't brake properly. I had to let Ramon and Desalle go through and I ended the race disappointed with fifth because I was close to the podium.
It was a difficult GP. The first part of the track was good but all the bumps and the uphill of the second half of the lap was very difficult for me.

With your good results does that also mean you have more interest from the media and fans?

I have many people coming to ask me questions, which is very good.

What are you looking forward to, which circuits do you like?

I like every Grand Prix, only Lommel is difficult for me. I like Germany, Sweden and Latvia, and of course I like France. I like the hard tracks.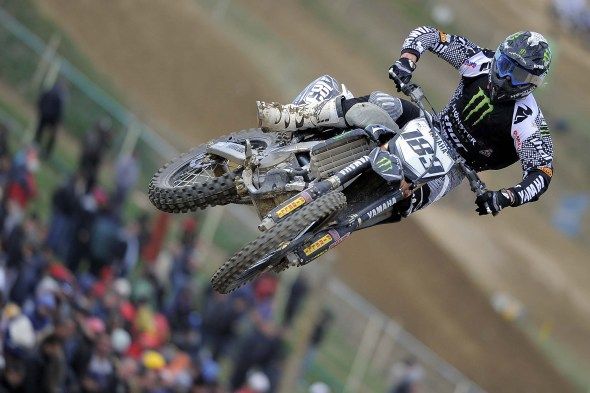 Photo: Steven Frossard - Massimo Zanzani image