with ... Ken De Dycker
Tall Belgian rider Ken De Dycker goes into the Grand Prix of France in a week's time with a lot of points to make up. The LS Honda rider started the season with a big crash at the Grand Prix of Bulgaria and has struggled to return to his best form.
Down in 15th place in the FIM World MX1 Championship points you had a good round in Valkenswaard, Holland, when you scored 7-8 results from the two motos for 27pts. Before and after Holland, it hasn't really gone that well ?

I am disappointed. If I hadn't had that crash in Bulgaria, it might have been different. I struggled before the USGP, as I had trouble with my back from my crash in Bulgaria. After Valkenswaard, we went back to the doctor and he said it would be okay to ride and train again. I had a Belgian Championship race and it went better there.

In Brazil, despite getting a good start in your opening moto and felt strong in your second moto, you still feel like the good form is coming and you hope to turn it around at the Grand Prix of France ?

It was quite a hard and difficult day. It was not easy to pass. I had a good start in the first moto and although I lost two positions, it was OK to keep the speed. You had to be very careful not to make mistakes, especially around the slower riders. In the second moto, I did not feel strong enough from the beginning. The track was sticky in places but not in others and it was hard to find traction. We were always turning-jumping, turning-jumping so it was tough. We are getting better though and I hope we can improve the bike a bit more and aim for better results in the next Grand Prix.

In France you are hoping for little luck so that you can start to fight for top positions. You have won Grand Prix in the past and being consistently on the podium.

I don't see many of the other riders in practice or racing, so I don't know how they are doing really. I had my bad luck in the first Grand Prix and I hope I don't have it anymore. I want to just go to France and do the best I can, that is all I ask.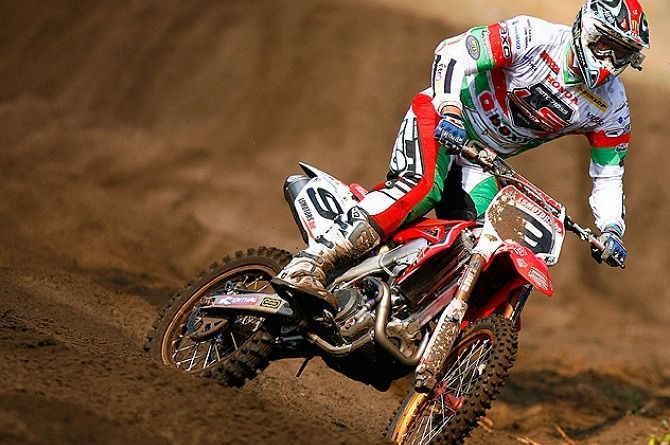 Photo: Ken De Dycker - Christophe Desmet image