Who is Simone Zecchina ?
Suzuki Europe MX2 have cast their net wider to assist promising young Suzuki riders and will draft current European EMX 125cc two-stroke championship leader
Simone Zecchina
into the team for this weekend's Grand Prix of France at St Jean d'Angely. The highly-rated Italian will take the place of Valentin Teillet who will miss his home event - round five of 15 in the FIM Motocross World Championship - after having not fully recovered from the shoulder injury sustained in Bulgaria for the season-opener on April 10th.
Team Manager Thomas Ramsbacher explains the situation and the path that led to the seventeen year old Italian two-stroke champion deputising for France and the following meetings in Portugal and Spain.
Valentin had planned to be back for the French GP. What is the current situation?
"Yes, unfortunately that schedule couldn't be met and of course we are all disappointed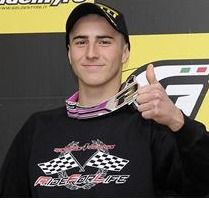 about that. Last week he was doing some BMX riding and mountain-biking and was in a bit of pain and wasn't sure that he was 100% ready to go for Grand Prix racing. We agreed that it was better not to think about St Jean D'Angely and make a new plan. Valentin will now prepare for the Aichwald round of the ADAC MX Masters in Germany at the end of the month - the 26th - and if everything is OK then he will be back in the GP paddock the next week for Sweden, Germany and Lativa, events that run back-to-back.
"A rider is the only one who really knows the state of his body and also his capabilities. Sometimes a recovery period can be quicker or slower than what a doctor predicts but being able to race at a good level is another step up from simply recovering. In this case the best option was to keep open-minded and let Valentin tell us when he is ready to be back. I feel sorry for the kid because it is difficult for him to miss his home Grand Prix. It is also the start of a big block of GP racing with Portugal and Spain following directly after so we decided to try and give someone else a chance."
How did you end up with Simone taking control of the factory-backed RM-Z250?
"You know our main goal when we started the team was to pick-up and help develop young Suzuki riders and we did that with Rasmus Jorgensen, Clement Desalle, Xavier Boog, Ken Roczen and Arnaud Tonus. In some cases it is about putting talent on the GP stage and in others it is about getting into the top ten of a Grand Prix and even more. In the last few years we were lucky that we were able to experience some excellent results. Jens Johansson and I spoke when it came to selecting someone who could stand in for Valentin and the first place to look was of course the European Championship but that series is already racing with us in France this weekend. The next logical place was the 125cc two-stroke series and with Simone having won the first and only round to-date he was the most natural choice. He wasn't the only one though because Jeremy Seewer caught our eyes and Mel Pocock - riding in MX2 in the UK - was also another but the Grand Prix of Portugal clashed with one of his British commitments and we did not want to be chopping-and-changing riders.
"Simone is an unbelievably cool customer. So relaxed. We went riding for the first time in Belgium last week and he was very quiet and very focussed. He did not do anything stupid on the bike."
What about your expectations of him for the next three Grands Prix?
"We cannot expect anything. We have been able to give him a chance - not even a chance, it is more of a 'gift' - for the results he has been able to give to the brand so far and for coming back well from an injury that kept him out for most of last season."
Is there any chance of running him alongside Valentin for the rest of the season if he does well?
"No, that is not the plan. The goal for him this year is to stay on top of the two-stroke championship and then progress up the ladder to European MX2 next season. I hope what we might be able to see are more European Suzuki dealerships working closer together to build up a 'stock' of Suzuki riders that can fill in for others if things like injuries come around.
"Overall we want to show people that the system works and that by doing well on a 125 or in the European Championship then getting into Grands Prix is totally possible."
How has it been to reorganise the team from where you were even pushing for world championship success to your original aims for the project?
"To be really honest...it has been really nice to do it. For sure you can buy a rider who is second in the world but then you know you only have one aim with that rider and if it doesn't happen then it can be disappointing. Of course for the brand it can be good to buy results and championships but it is also a very difficult thing to achieve. To see a rider develop and prosper is really rewarding and when they are young and have that special 'something' then there are rarely any bad times because every moment provides something new they learn. We are a factory-supported European-funded team and if we had to take a step back from what we had in 2009 and 2010 to reset our goals then that is fine. Our aim is to get to a position where we can again run two riders in the Grands Prix and even if that means we have to take two steps back to be in better strength for 2013 then that is OK."
Interview and photo courtesy of the Team Suzuki Press Office