with ... Glen Coldenhoff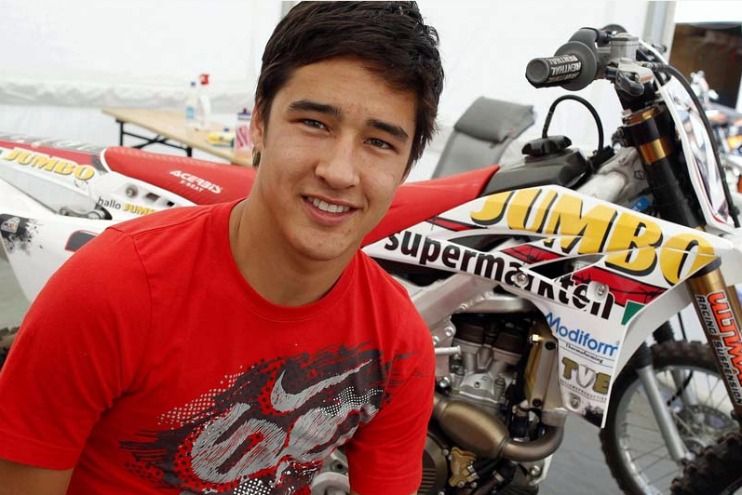 Holland holds a reputation in motocross with World Champions Dave Strijbos (125), Pedro Tragter (125) and John van de Berk (125 and 250) and many others in sidecar cross. Other impressive Dutch names in the history of solo World Championship of motocross are Gerrit Wolsink, Kees van der Ven, Gerard Rond to mention a few from days longer gone.
This year young Jeffrey Herlings sets the MX2 world on fire, but from Holland comes another young MX2 rider finding his way in the 2011 FIM MX2 World Championship. He is Glenn Coldenhoff of the Jumbo/TVE Team and he is 20 years old.

Glenn showed a convincing display of his qualities at Heerde, round 3 of the Dutch Open Championship, scoring 2nd and 3rd places. In the opening race, Coldenhoff was the only rider to finish the heat on the same lap as the winner.

Glenn, that was a great day in Heerde. Tell us more, how hard is it to race with Jeffrey ?

Jeffrey is a superb rider, he rides for the FIM MX2 Title and at the Grand Prix of the Netherlands he showed that he is an exceptional talent on sand tracks. Chased by his KTM factory team mate Roczen, he crashed on the opening lap and after two laps, Jeffrey was back in the lead and won with authority to show his incredible speed on the sand.

It's nice to have Jeffrey Herlings riding the Dutch open championship, but at the same time, he makes it hard for the rest to stay with the 'Sandmaster'. I was kind of happy with my results in Heerde. Being the only rider not being lapped in moto one by Herlings means I did a good job. In the second start I crashed but I came from 30th to a 3rd place. That was pretty good under the circumstances, it was pretty difficult to overtake so many riders.

Has that mental pressure bothering you in the Grand Prix of the Netherlands ?

Well, in the first race I hit Lupino in the first meters and that put me back, so I was not even in the top twenty after the start and I finished 12th. In the second race I had a much better beginning and worked myself up to 9th position. Not far ahead was Harri Kullas, a GP top 10 rider. However the pressure got hold of me and slowed me down and I dropped from 9 to 11.

I followed you in the pre-season and you scored some impressive results in Italy, tell us more about it ?
In the pre-season I scored a 4th place in Mantova and a 3rd in the first Italian Open Championship race in Ponte Egola. To be on the podium in a race on a hard track with all the big names means a lot to me and it is an inspiration to work even harder. All my team is behind me day and night to create a perfect team. I am going back to Italy in preparation for my next GP, which will be Saint Jean d'Angely in France. It is hard pack, so we need more training on hard tracks like the ones there are in Italy. I will stay 2 weeks with Chiodi (multi world champion) and he will help me find good tracks to practice and give me some more tips to improve my riding.

So up to Saint Jean d'Angely, have you ever raced there or do you know the track ?

I have seen all races on TV, so I know what to expect. This is my second season in the FIM MX2 World Championship and my second year on the Jumbo/TVE Team. They picked me up at the end of 2009 when I finished 7th in the European championship. At the end of that season, I won a gold medal in the European Motocross of Nations being on the Dutch team with Marc de Reuver and Ceriel Klein Kromhof.'

What is your target for 2011 in MX2, is top ten a realistic objective ?

No way ! We have missed USA and Brazil, so we all think my position this year is between 10 and 15. Top 10 is too much, there are so many great riders in my class, but we work hard to make steps this year.

Copy and photo courtesy of Youthstream's Harry van Hemmen. Photo: Ray Archer.