from ... Team Rockstar Makita Suzuki
Defending Champion Ryan Dungey rode strong all day scoring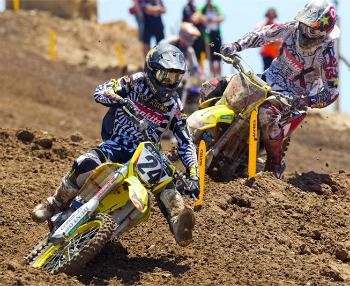 the win in the first moto and backing that up with a solid second-placed podium finish in the second moto. Team mate Brett Metcalfe also rode strong and consistently with two fifth-placed results in his first race since an injury sidelined him in March.
Dungey and his RM-Z were strong from the start, with two solid practices that gave him the eighth gate-pick for Moto 1. A great start put him near the front, just behind Metcalfe. He worked his Suzuki into second in lap two and made a charge for the lead, which he was able to grab in lap six and powered his RM-Z450 across the finish for the first 450 moto win of the year.
In Moto 2, Dungey had another strong start, which put him in second place and he was able to pass for the lead in lap six. He fell back to second in lap eight and battled for the lead, but was unable to make the pass and finished second. His one-two moto finishes gave him a second-place overall for the day and currently tied for the lead in the season points going into next weekend's event in Texas.
Brett Metcalfe and Ryan Dungey
"Overall, our day was really good," said Dungey. "We had a good, strong set-up on my Suzuki from practice and my Rockstar Makita Suzuki team made just a few adjustments, which made it even better for the two motos. I got good starts today, which was very helpful. I was able to get out in front and pull away for the win in the first moto, which was a good start to the season. I wasn't able to get the job done in the second moto and ended up in second for the moto and second on the day. It's a really good solid start for the season. There's a lot of motos and a lot of racing. We'll keep moving forward and building from here and we'll be good."
Metcalfe had a great first day back on his RM-Z and started by scoring the seventh fastest lap in practice. In Moto 1, the Rockstar Makita Suzuki rider blasted his Suzuki out of the gate and into the front. He ran in second for the first two laps before falling back and finishing fifth. Metcalfe had a solid start in Moto 2 and rode strong to move from 10th to eventually cross the line with another fifth-placed finish. His 5-5 results gave him fifth overall for the day.
"It was really awesome today," said Metcalfe. "It's good to be back with my Rockstar Makita Suzuki team after being out injured for a while. My Yoshimura-equipped RM-Z was unreal this weekend. It is good to be back racing and I really like the outdoors, so that's a plus for me. I wanted to get a good start to the season and I'm really happy with this fifth overall finish. Coming away, we got a good load of information and learned a lot that will help give me a little more speed out there by making me more comfortable, and then I'll be able to be more aggressive. I'm really looking forward to the next round in Texas so I can build on this result."
The Rockstar Makita Suzuki team's next event is the second round of the 2011 AMA Pro Motocross Championship on Saturday, May 28th at the Rockstar Energy Freestone National in Wortham, Texas.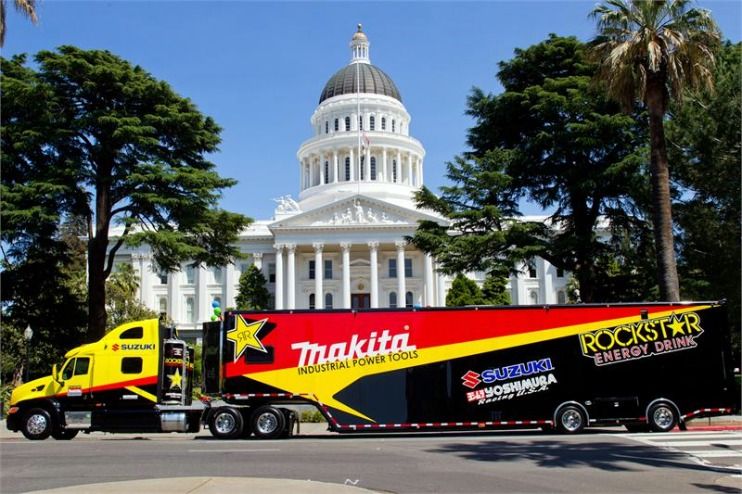 Copy and photos courtesy of the

Team Suzuki Press Office.