from ... Kawasaki Team CLS
Tommy Searle of Kawasaki Team CLS fought back to finish 4th at the Brazilian round of the FIM World MX2 Championship after spectator interference had forced him to start the GP from the final gate.
The English rider had shown tremendous pace throughout both practice sessions and looked comfortable holding second place in the Saturday afternoon qualification race until a single error left him temporarily winded.
Before he could pick up his bike two spectators jumped the fence and touched his bike; whilst their actions in no way helped Tommy, the ruling of the world governing body is quite clear and officials had no alternative than to make him go to the start gate last in both GP races even though he had completed the qualifier in 9th place.
The handicap of starting from the very outside gate meant that Searle faced a long battle through the pack in both races; in the closing stages of both GP motos he was setting faster lap times than the winners, but the early deficit meant that he was restricted to 4th place on each occasion. Although Tommy lost a few points to each of his major rivals for the title around the thrilling hillside track at Indaiatuba, 60 miles to the north of Sao Paolo, he maintains a clear third place in the championship.
Tommy Searle: "I only just missed another podium, but it is frustrating because I think everyone could see that I should have been racing for the win this weekend. A single mistake on Saturday, and the actions of others which were beyond my control, wrecked my weekend. I was fast in every practice and felt comfortable in second place behind Roczen in the qualification race until I made that one mistake in a corner, winded myself and bent back my finger. I got back in the race to finish 9th, which would have give me a decent start gate for the GP, but spectators had jumped over the fence and touched my bike so I had start from the very last gate. I got pushed out at the first corner of race one when another rider went straight on, and I just couldn't ride my own race back where I started. I kept getting caught up in everyone else's race. In the second race I again found it hard to get my rhythm, taking the pace of the riders I was following. I was on Paulin for third with two laps to go but then I made a mistake and lost him again."
---
Teammate
Max Anstie
also faced a difficult weekend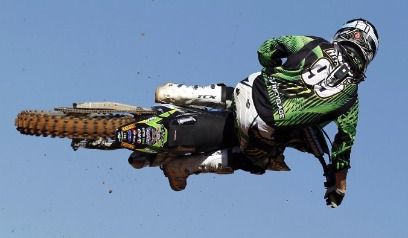 after feeling sick all week, but the teenager showed great resiliance, making no mistakes to ride two sensible races for 6th and 7th placed finishes to maintain his top six world ranking.
Max Anstie: "I struggled a little bit all week. I've been hanging around with Tommy and I think I caught the flu he had last week. I felt tired all week-end long; at least I didn't crash and took some good points so that was good. I didn't finish where I wanted to be, but I felt so tired and was riding tight. Now I've got two weeks to rest and prepare for the French GP. The track here in Brazil was fun to ride, but it was also difficult to make passes; I enjoyed the track, but didn't want to risk making too many mistakes and did the best I could in the circumstances. I know the track in France; it's a fast track, and I will be ready for it."