from ... Brandon Tipene
I was looking forward to the nationals over the last month. I put in as much riding as I could the few weeks I had and even managed to get in a test session with Mike Cotter a couple of weeks out. Thanks to Kawasaki and Mike Cotter we had the opportunity to try out Nick Saunders Procircuit bike. I decided that I would race that bike for the nats.
Day 1: Consisted of Practice, Qualifying and one race. Practice didn't start so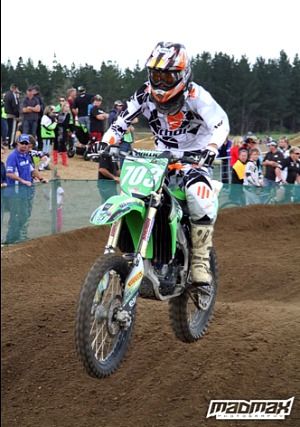 well and I found Nicks bike difficult to control as its real aggressive and my arms pumped up straight away. We decided that we would switch back to my standard bike which probably wasn't the best start to the Champs. Qualifying came which I ended up 4th, which was average but the bike felt better and easier to ride.
Race 1: Good start 2nd to the corner. Made some bad mistakes half way around the track and dropped back to 4th or 5th. Then made some good passes to get back to second. Just before the big double I dropped the bike and by the time I got back up and came around the first lap in 14th place. Made a real good charge back to finish the race in 4th which was great.
Race 2: Another solid start in top 2. Managed to take over the lead in the first lap and then tried to make a gap on Hamish. After around the 5th lap my arms started getting pumped and unfortunately couldn't hold on for the last 3-4 laps and Hamish got me.
Race 3: Another awesome start. (Did I say the Kawi was quick or it might have been those Pirelli's). Again took the lead from Hamish and pushed hard again. Got to 3/4 of the race and with a couple of laps to run I hit a marker peg on the inside corner and lost my front brake. Hamish got past me because I couldnt get the inside ruts. Bummer, positive I could have got that race if the front brake didn't go. 2nd place lifted me to 2nd overall. Hamish is just riding awesome.
Race 4: Plan was to try and hold onto 2nd place from Haki. Got another awesome start top 3 again. Got into 2nd place behind Hamish and then towards the end of the race Haki started gaining and again just couldn't hold on to the end. Arms are pissing me off.
Race 5: Had a 2 point lead to hold onto 2nd place. Basically whoever won out of Haki and I would take 2nd overall. We had a great battle all the way to the end and unfortunately Haki just wanted it a bit more than me. 3rd overall for the Nat's. Had a goal of Top 3 which isn't bad. Hamish and Haki were awesome and had great battles. I know I have the speed just need to work on getting my arms better and now I've just turned 15 i can enter MX2 which will help my rider fitness better with longer and more intense racing which i think helped Haki and Hamish when they did some senior nats races. Well done to Hamish. Rider of the weekend for sure.
Thanks to my sponsors: Mr Motorcycles (Scott for helping out in the weekend), Kawasaki (Mike Cotter, Awesome support), ELF Oils, Thor, Pirelli, Jet Pilot, Hygiene Systems, Apex Group, Demon Energy, Tsubaki Chains, Supersprox, EBC, Scott Goggles, Suspension Tech, (Norm awesome for being there), Sidi Boots, Pro Circuit, Motomuck, Fliway and LA Racing.
Thanks to my supporters on the weekend: Jan Jnr, Adrian, Grandma, Leigh, Sashin, Del, Andy H, Callum and all the Kawasaki crew in our setup. It was awesome. GO GREEN.
Thumbnail courtesy of Brandon. Tokoroa Junior Nats photo courtesy of Guy Maxwell / MadMax Photography.