from ... Justin McDonald
My motocross is back into full swing and I have been cutting laps in Australia at the first three rounds of their national series. I am riding a CRF 250 this year in Aussie after being on a 450 for the NZ nationals.
In March, I was off to Australia for the opening round of the Rockstar MX Nationals held in a place called Broadford. The track was about an hour South of Melbourne and was one I had raced at before. The track was really well prepared and I was looking forward to getting on the bike. Qualifying went smoothly and I was just inside the top ten, giving me a decent gate pick for all four motos on the day. After the nerves settled down I had some good battles with the Aussie boys through out the day and was mostly pleased with my results 7-9-15-11 which gave me eleventh place for the round. I would like to thank my mechanic Jeremy (aka Mr R.) for making the trip over to make the bike for the first round and making it happen.
After wrapping up the Demon Energy MX Nationals in New Plymouth, I was back across the ditch to compete at Round 2, at Appin NSW which is just south of Sydney. This track was new to me and was super rutted. Qualifying again went pretty smooth and gave me 11th place. The racing started well with a 6th after working my way up from outside the top ten. I was feeling confident heading into Moto 2 but was gutted when I had a terrible start and had to make my way through an entire field only to get halfway through the pack and crash over the bars and get body slammed into the ground. This crash caused havoc with the mussels in my neck and I was sent to Race Safe, a mobile medics unit on-site, who had to OK me for the next race. The rest of the day I was riding stiff but still managed a holeshot in the final Moto and drifted back to 6th. I ended the day with 13th overall.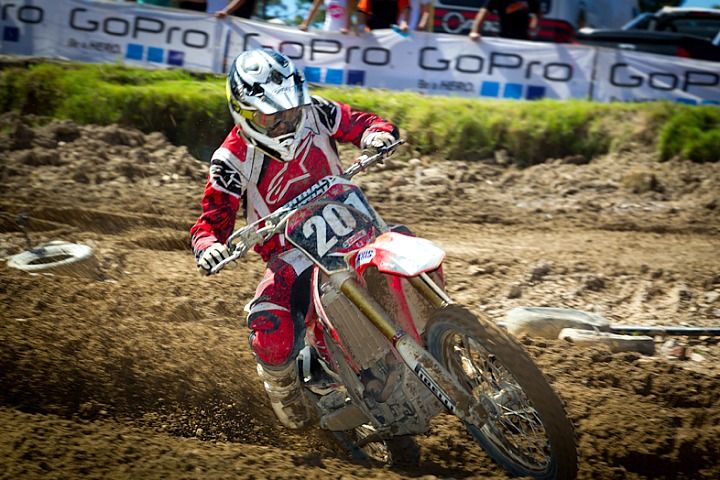 Photo and thumbnail courtesy of Justin McDonald - credit Rice Photography.

I spent the following week in Australia recovering from the sore neck and was back on the bike again on Thursday. The latest round was at Raymond Terrace, just north of Sydney this time. I qualified 9th and was feeling pretty good about the racing. I got top ten finishes in my first two races and was feeling more and more confident as the day went on. The track had a real rocky base which caused some problems for a few of the riders. I wasn't exempt from these problems and got myself a flat tyre in the third Moto. Sadly this happened while I was leading the race after getting a killer start. I carried on with a flat front to claim 15th. Then in the final moto of the day I grabbed a holeshot and put a bit of a gap on Matt Moss. I was pumped to take my first win for the season and to end the round on a high. This gave me my best overall position of 8th for the day.
Since then I have been back in Christchurch with my family and back to work. As I write this I am preparing to fly out at the end of the week to South Australia to contest Round 4 and hopefully get another win. I'm looking forward to the following weekend when I will be back in the Mainland racing at a club day at Tommy D's TTT track in Waihopai Valley, Blenheim. (aka The Throne Track) Be sure to attend on the 15th as it will be the goods.
Check out this video of the track.
Thanks to all my sponsors, couldn't do it without you. Special thanks to Axis Honda in Australia and Timaru Honda for making my Australian racing all possible. Also thanks to my parents, my little brother and my little Hannah D for coming over and supporting me in Aussie.