from ... Micah McGoldrick
Hi Everyone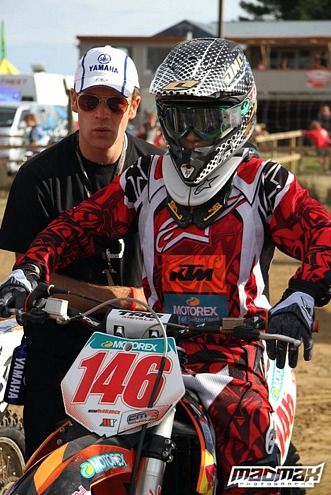 The track was sick and got mega rough towards the last motos. It was a fast track with tight switch backs, mean jumps and berms that were fun to rail. Weather stayed perfect all weekend, not too hot, not to cold.
Day 1:
Into practice and straight into some starts and onto the track for some hard laps. Qualifying was solid. 3rd fastest, could have done a bit better but qualifying time seemed a little short. Good starts is going to be important, so my tyre choice, the trusted MT 32 Pirelli front and rear.
Moto 1
was up and I was feeling great. I got a good start and was sitting in second behind Hamish Harwood when he made a mistake and went down. I took the moto win with Harwood coming in second. Good end to day one, awesome!
Day 2:
I had the points lead so I was feeling strong and ready.
Moto 2
another great start, but a couple of mistakes puts me into 2nd behind Harwood till the end of the race, I was happy but back to even points.
Moto 3
came round and I was focussed. Gates drop. nailed a holeshot and never looked backed, I lead every lap and winning the race by over 10 sec. Day two ended with a 9 point lead. Awesome.
Day 3:
It was the last day which should have been a easy day, goal, just don't make any big mistakes, finish top four, and I'll have the Championship. Easy...not !
Antony Sproul with Micah on the startline.
Moto 4
was up, I got a good start and was sitting in 3rd, 2nd lap into the race another rider went down right in front of me, nowhere to go I ran into his downed bike, getting back going I had lost important placings and to top it off, I lost my front brake in the crash. I finished 5th and Harwood taking the moto win. After that moto meant Hamish and I were tied on 88 points.The last race is going to be intense. Bike checks revealed a bent front rotor, quick replacement, bike good to go.

Moto 5
last race and the pressure is on. I think I've never been soo focussed in my life and I wasn't gonna lose without a fight. Gates drop, another mint start, Harwood was right behind me. A mistake and Harwood passes. Harwood runs into a marker tyre and I'm back in the lead - only for a while and we racing side by side. We battled hard and on one jump we made contact in the air. From there on I started to pull away and took the win and the overall. Job done !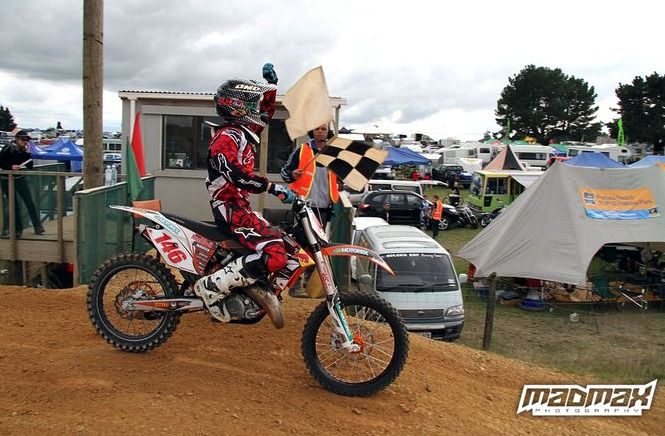 Guy Maxwell captures Micah's special moment.
That race and win was the best feeling I've had yet, just having all that pressure and to win, really feels great. Hamish put up a awesome fight and didn't make it easy at all.


Huge thanks to the CMR Red Bull KTM Race Team, Pirelli Tyres, Motorex oils, Dragon, Alpinestar, One Helmets, CSC signage, Tag, Hell Pizza, Matrix. Big thanks to Cannon and Kim also Martin Collins for all the effect and time they put into the race team and me. Cannon for looking after us for a week and not eating all our food -- hahaha.

Antony Sproull from PMX coaching, just can't say thanks enough for believing in me and knowing I can win. You're the best coach out there, thanks. Also big cheers to my Nana Anne who brings us out amazing food trackside for us all to enjoy and thanks too for the relaxing home and comfy bed. xo
Micah McGoldrick NZ1
Photos courtesy of Guy Maxwell (MadMax on Facebook) - website under construction www.madmaxphotography.com