from ... Philip Neill
Well after a long, and if I'm completely honest, difficult winter break in terms of finalising support deals and our rider line-up, we are ready to kick the 2011 BSB season off this weekend at Brands Hatch.
The Brands Indy circuit is always a difficult race to predict, as only a minute difference in lap times will split the top 10 riders. On a personal note though I don't necessarily believe that the results from this weekend can be used to predict the season, as there are several riders who seem to perform particularly well around this track. However a rider will need to perform consistently throughout all 12 rounds to be in with a strong chance of winning the 2011 BSB Championship.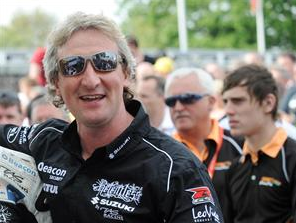 After enjoying significant success in 2010, including two BSB race victories and several podiums, I believe we are now ready to challenge for the Championship in 2011. After serving our time in the BSB series beginning in 2004 when Tom Sykes debuted the TAS Suzuki GSX-R600, our feeling is that we now have all the ability and experience to be major contenders.
Whatever the outcome, one thing that will not be in doubt is the commitment of this team. Each member will give their all in an effort to land Suzuki the British Superbike title to add to the Supersport and Superstock titles Relentless Suzuki by TAS have enjoyed in recent years.
Our rider line-up is perhaps our most exciting ever with Josh Brookes leading our challenge for BSB glory; Alastair Seeley attempting to put Suzuki back on top in British Supersport and Guy Martin - who will concentrate on the IOM TT Races - joining his two team-mates for selected BSB outings, beginning with this weekend.
Josh has been an absolute pleasure to work with since arriving in Northern Ireland just over one month ago, and having spent considerable time with Josh in pre-season, I can honestly say he is the hardest working rider I have ever known. His talent is unquestioned and his desire to win seems stronger than ever. We have identified the areas where Josh wanted to improve with bike set-up and his personal preparation, and we've worked on those areas.
Alastair really is made for the Supersport class and with the all-new GSX-R600 looking like the bike to be riding [MCN Supersport shoot-out winner] we really are looking forward to significant success during 2011. Obviously nothing can be taken for granted as the Supersport category is always tough with many great riders.
However Alastair is another hard working rider who has put a concentrated effort in this winter specifically aimed at racing the 600 machine. He is a gritty little character, who has already tasted championship success in the form of the National Superstock series for Suzuki in 2009, and he really wants to win this championship - and I for one would not want to be the person trying to stop him!
Guy will make his racing debut in Relentless Suzuki by TAS colours this weekend and although the main objective is to put some extra miles under his belt in preparation for the International Road Races, he will certainly not be out to make up the numbers. He will be looking for a steady rate of progression throughout the weekend. I must say I am looking forward to talking more about Guy as the road racing season approaches. He certainly is an interesting character!
That's about all for now. Let's hope the sun keeps shining and we get our season off to a positive start, perhaps even with some silverware. I will happily meet the extra baggage charges on our flight back to Northern Ireland on Monday evening if that's the case.
I look forward to seeing everyone at Brands; have a great weekend.
Copy and photos courtesy of the Team Suzuki Press Office.
---
2220hrs Tuesday night in New Zealand and the Race Report is just in:
Josh Brookes
was forced out of his debut British Superbike Championship race at Brands Hatch on medical grounds after crashing out of the opening race.
The Relentless Suzuki by TAS rider was deemed 'not fit' to take part in the second race after high-siding while challenging for the lead in the opening race at the Kent circuit, after scything through the pack from a lowly 13th-placed start on the grid. Just when the Australian was planning his attack on race-leader Shane Byrne, he suffered a spectacular high-side at the top of Paddock Hill Bend, prematurely ending his Easter Monday debut.
Josh Brookes:
"I suppose we did all right coming back from where we were in qualifying and I have to say, everything felt 100 per cent better today on my bike. As I said after qualifying, I knew what caused the problem and once we'd that sorted; we were fast in morning warm-up and in the race. While I was battling with people in the race, I couldn't get into a proper rhythm, but once I got to P2 - which was quite easy - I was totally confident. I saw 'Shakey' and thought, 'I'm in a good position here,' but it all ended at Paddock Hill. I'm upbeat because I really can't believe how I didn't injure myself in such a big crash. Now I'm just looking forward to Oulton Park."
Philip Neill
- Team Manager: "Josh proved in the opening BSB race that we'd really cracked it with his set-up this morning in warm-up and I have to admit, watching him come through from 13th to second place - it's been a long time since I've taken so much pleasure watching someone on a Superbike: He was so strong and made a pass on almost every lap; no one could hold him off at Clearways. He can certainly ride a motorbike and that's why we signed him, for his 'never say die' attitude. He just pushed that little-too hard down Paddock Hill which caused the crash, but we'll accept that and move on. Until then, he made the whole GSX-R1000 Superbike package look absolutely superb.
British Superbike Race 1:
1st - Shane Byrne (Honda); 2nd - Tommy Hill (Yamaha); 3rd - Tommy Bridewell (Honda); 4th - Stuart Easton (Kawasaki); 5th - Jon Kirkham (Suzuki); 6th - Michael Rutter (Ducati); 7th - Loris Baz (Yamaha); 8th - Dan Linfoot (Honda); 9th - Martin Jessopp (Ducati); 10th - Chris Walker (Kawasaki).
Josh Brookes DNF
British Superbike Race 2:
1st - Tommy Hill (Yamaha); 2nd - Ryuichi Kiyonari (Honda); 3rd - Shane Byrne (Honda); 4th - Michael Laverty (Yamaha); 5th - John Hopkins (Suzuki); 6th - Stuart Easton (Kawasaki); 7th - Michael Rutter (Ducati); 8th - Dan Linfoot (Honda); 9th - Peter Hickman (Honda); 10th - Gary Mason (Kawasaki).
Josh Brookes DNS.
---
Alastair Seeley
demonstrated the pedigree of Suzuki's all-new GSX-R600 taking it to its debut victory in the British Supersport Championship at Brands Hatch in front of a packed Easter Monday audience.
The former British Superstock Champion and current Superbike and Supersport lap record-holder at the International North West 200, picked himself up after yesterday's disappointment when he crashed whilst challenging for the win, to lead home a high-speed freight-train over 26 pulsating laps. Less than a second covered the top-five at the chequered flag, and despite yesterday's DNF, the Ulsterman sits well-poised in fourth place, just 13 points behind the series leader.
Alastair Seeley:
"I never looked behind me in that second Supersport race and it's a good job as I think I might have scared myself! I just watched my board today, kept my head down and stuck to the game plan. Ben tried to make a break for it but I was ready for him and when I eventually got to the front I just defended my line on that last lap and brought it home for the win. Next week we'll get a chance to stretch the legs on the GSX-R600 at Oulton Park, but before that, I have a GSX-R 'Owners Day' here at Brands Hatch with Suzuki."
Philip Neill
- Team Manager: "There are a number of positives to take away from this meeting, starting with Alastair Seeley. He was pure class in that race today, and it's not the first time he's pulled this team out of a hole: He completely out-smarted his rivals and the new GSX-R600 package was nothing short of perfect. He rode the textbook race and we knew he had a better tyre-choice than many of his rivals. He controlled the race from the front and it was the race of the day for the fans with five of them in it at the end.
British Supersport Race 2:
1st - Alastair Seeley [Relentless by TAS Suzuki];
2nd - Jack Kennedy [Yamaha]; 3rd - Steve Plater [Honda]; 4th - Ben Wilson [Kawasaki]; 5th - Dean Hipwell [Yamaha]; 6th - Lee Johnston [Honda]; 7th - Jimmy Hill [Triumph]; 8th - Luke Mossey [Triumph]; 9th - Sam Warren [Yamaha]; 10th - Daniel Cooper [Triumph].