from ... Nick Saunders
As the 2010/2011 SX/MX season is done and dusted for another year, wanted to give everyone a wrap up to a season that has had some massive highs and also a few lows.
2010/2011 SX/MX Results.
5th Labour Weekend Motocross Extravaganza Taupo
4th Summercross Whakatane
3rd New Zealand Supercross Open Mt Maunganui
2nd North Island Supercross Championships Tokoroa/Taupo
2nd South Island Supercross Championships Nelson/Timaru
2nd New Zealand Supercross Championships Tokoroa/Taupo/Nelson/Timaru
4th New Zealand Grand Prix Woodville
1st Ohakune Motocross Champs
11th New Zealand Motocross Championships Timaru/Patetonga/Rotorua/Taranaki
The season kicked off in October with the Labour Weekend Extravaganza (Taupo), after having a big break through the year I was a little rusty but rode consistent and strong to finish 4th = but 5th overall on the count back.
We then moved onto Summercross (Whakatane) where the heavens opened up and left us with the muddiest race of the season. I blew a shot at a podium for the overall in the final race where I found myself face down in the dirt more then I care to remember. Still this was a solid day and I felt I was making good progress with my speed and fitness.
The Supercross season began in Tokoroa where I only just managed to qualify with a few issues in the session. I turned it around when the finals started, coming home third in the first moto and then had two more solid races. After this I really put my head down and was focused on improving and staying on the podium. The next round was great finishing up 2nd at my home race in Taupo and was in a good position heading down south. The battle was on between myself and Peter Broxholme, but with good starts and using my head I rode away from him to secure 2nd overall for the Championship.
The Supercross Open was also thrown into the mix of this where my team-mate for the weekend, a young Ozzie by the name Jackson Richardson took out the win and I came home in third which was cool for Fly Team Green.
The New Zealand Grand Prix (Woodville) came and was a hard fought battle, with two international riders coming over from Europe racing was intense and tight. I finished just off the podium in 4th which was a strong ride.
I attended the Ohakune Champs this year where myself and Cam Dillion went head to head. I beat him for the overall going 1-2-1 to his 2-1-2, this was a fun day on a cool track.
Heading into the NZ MX Championships I was confident. Things didn't really go to plan at the first round with my best placing only being 6th spot, things only got worse from here as when I look back I was probably putting too much pressure on myself. Inconsistency in my speed and making far to many mistakes ruined any chance of finishing where I was aiming for. Along the way though I did have some awesome races, finishing up 3rd in the first moto at Rotorua was a highlight for sure, especially coming from outside the top ten to get there.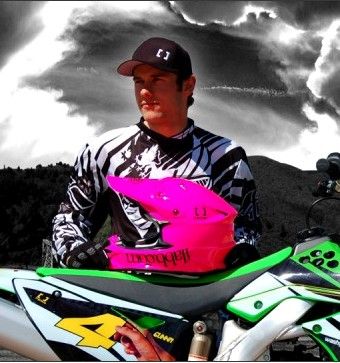 It's been a season to remember, I also proposed to Megan in the mix of all this….and she said yes! So super excited about getting married at the end of the year.
A huge thanks has to go out to everyone who has supported me! The whole Kawasaki FLY Team Green outfit is awesome! I have been riding for Kawasaki for over five years now and it's more like a big family then a company. Thanks Codsy and Mike! All of our other team sponsors CNC Profile Cutting, Shoei, Fly, Silkolene, RK Chains, Bridgestone and SIDI all of you are so much appreciated.
Getting together with ilabb for this season and becoming their ilabb proud rider was a dream come true. Never have I meet 5 individuals within a company who are so unique and passionate about what they do. Our bikes looked awesome this year, I can guarantee you there is never a dull moment with these guys's. The skies the limit! Thanks Matty, Baden, Wish, Batty and Cam.
Moto SR has been with me for two years now. Richy Ebbet like always did a fantastic job setting up my bike for MX and SX. I strongly recommend him no matter what your ability.
To Ian from SportsPro, huge thanks with Scott goggles. 10 years has flown by !
Also a special thanks to Paulet from the Taupo Massage Clinic for keeping my body in good shape.
Huge up's to everyone! My fiancée Megan, Mum, Dad, Big G, Scott Canham, my dog Bolt and anyone else that I missed. See you all next season.
If you have a spare minute check out these four choice lil videos of the nz mx nats: www.ilabb.com/combustion/

Cheers Nick "Gunna" Saunders
Photos courtesy of ilabb.