with ... Jordi Tixier & Pascal Rauchenecker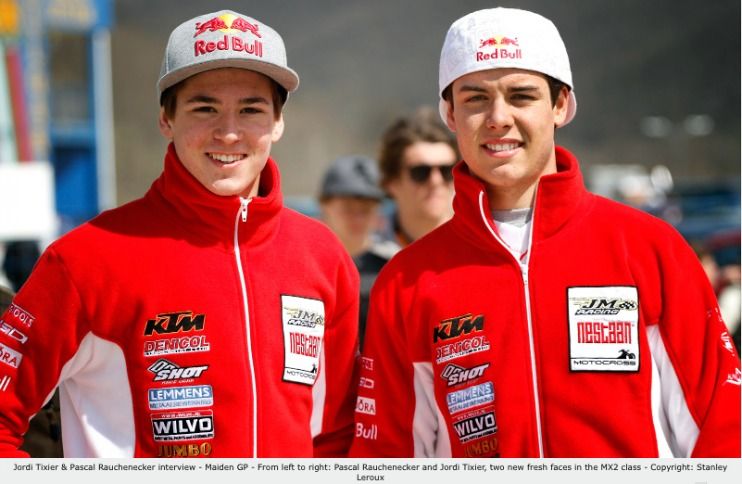 Main rivals for the UEM EMX 125 Title last year, Jordi Tixier and Pascal Rauchenecker are now teammates riding in the Nestaan-JMRacing KTM squad. While they eventually ended up first and runner up in the European Championship in 2010, the 18 years old French and Austrian riders have now to face a new challenge in the highly competitive FIM MX2 Motocross World Championship.
For Youthstream, Stanley Leroux sat down with the two rookies after their first ever MX2 Grand Prix in Bulgaria last weekend and asked them the same questions about each.

You are now teammates while one year ago you were the main opponents battling in the UEM EMX 125 Championship, how do you feel about it?

Tixier: It's true that last season we were rivals, but the relationships between Pascal and I have always been good, even when we were fighting for victory. There's always been a sense of good sportsmanship between the two of us.

Rauchenecker: We were not so much opponents; even if we were sometimes fighting on the track, we've always been nice with each other once the race was finished!

Tell us a bit about your teammate, what kind of relationships do you have with him now?
Tixier: It's great, we live in the same house in Belgium and we have some good time together. We often ride with each other during training, and at the end of the day we relax with a PlayStation game. We're now friends!

Rauchenecker: Jordi is a good friend as we have a lot of fun together. We both have our own apartment in the team's house, and we have some good time after the training such as karting.

According to you, what's your teammate best quality as a rider?

Tixier: Pascal is a very consistent rider; he has a riding style with very few crashes, which makes of him a very secure rider.

Rauchenecker: Oh, Jordi has many good qualities! If I had to mention only two, I'd say he's a very good starter and he has a great physical condition.

And what would be your teammate's weak point?

Tixier: Let me think about it… I would say he's sometimes too "zen" on the bike, not aggressive enough. It's good in some way because he doesn't make many mistakes, but on the other hand you sometimes need to unplug to give the best out of you.

Rauchenecker: I don't know… (Editor's note: Pascal thinks for about two minutes before giving his answer) Your questions are difficult! Honestly I don't see any weak point in Jordi's riding, he's already behaving like a champion.

Let's now talk about your own racing, what's your goal for this maiden MX2 GP campaign?

Tixier: To be in the top 15 would be nice!

Rauchenecker: I'll give all I have and we'll see!

What are your feelings about this first ever MX2 Grand Prix?

Tixier: I had a great feeling on the bike, I felt confident from the very first outing. I took a very good start in the qualifying race and managed to get an 11th place, which was already good. On Sunday I saw that I had the speed to be in the top 12, I was happy about it.

Rauchenecker: I was feeling very good. The bike was just fantastic. The team and my mechanics have provided good performance over the week-end. Thank you to the whole team.

Is an MX2 race physically challenging compared to the UEM EMX 125 races of last year?

Tixier: Yes they are very more challenging! Races are longer and you can't afford to ease off. You have to be on the gas 100% all race long.

Rauchenecker: It is physically much harder than the European championship, because the distance is longer and it also goes much faster. But I like being part of the World Championship, this is my life!

What impressed you the most this weekend?

Tixier: Steven Frossard's races. He really impressed me.
Rauchenecker: I was impressed by all this weekend!

Their results in Sevlievo for their maiden MX2 Grand Prix:
Jordi Tixier: 16th overall (13th - 18th)
Pascal Rauchenecker: 17th overall (16th - 16th)