with ... Jeremy Van Horebeek
Red Bull Teka KTM Factory rider Jeremy Van Horebeek is looking at surprising many people in this year's FIM World MX2 Championship. The Belgian has rejoined the strong KTM team after spending last year on Kawasaki machines, and with a really strong winter, he looks and feels ready for anything.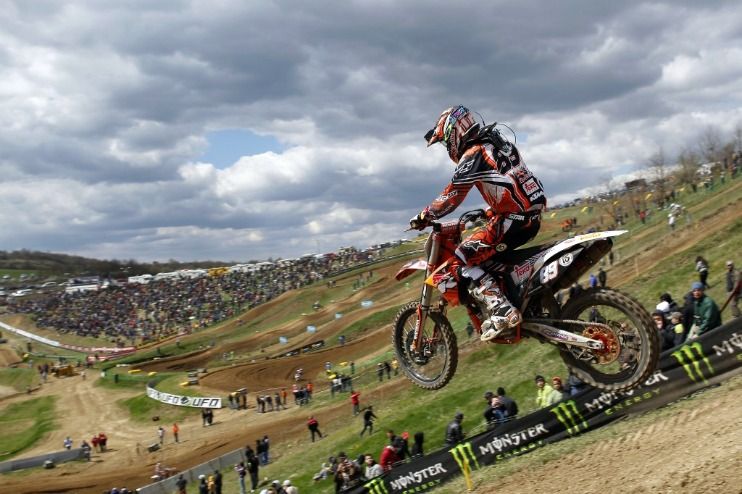 Photo and thumbnail: KTM Images - Photographer: Ray Archer.
Van Horebeek started the season with a solid sixth overall in Sevlievo, Bulgaria, last weekend and is just five points off third place in the MX2 Championship points. He knows that it's going to take consistent results and some moto wins to fight for the Championship. With team-mates such as Ken Roczen and Jeffrey Herlings, it isn't going to be easy being inside the pressure cooker of Grand Prix Motocross.
We sat down with Van Horebeek and asked him about his preparation for that first Grand Prix and what he expects from 2011.
Geoff Meyer: Jeremy, what did you do in the winter to prepare for the 2011 season?
Jeremy Van Horebeek: I was riding the bike a lot with Stefan (Everts) in the winter, more than I have done before. I am fit and confident, everything feels good. I also lost some weight, like two kilo's or something.
How does it feel to be racing for KTM again?
You know, it's good to be back because the bikes are awesome; they did a good job with the bikes. Ken and Jeffrey have more pressure than me, but for sure I want to battle those guys, but they are fast. I am also fast and we'll see what happens in the season. Maybe if I am battling with those guys more often, I will start to feel the pressure.
Have you had much chance to ride with Jeffrey (Herlings) and Ken (Roczen)?
I haven't ridden with Ken in practice yet, but I have ridden with Jeffrey. We have done a lot of riding in the sand and we had a good preparation together. We have become friends, we are good buddies now.
How do you feel your speed is compared to your KTM team-mates?
I know Jeffrey is fast and I know Ken is fast, but I feel confident with my speed.
You seem like a bit of a joker in the team, I always see you smiling and laughing.
It's good, it's nice when we are not riding that we can get away from the pressure a bit. If we need to race then we are on our own, and everyone does their own thing.
Who will be the contenders for this year's MX2 Championship?

I think for sure Ken, Jeffrey, (Zach) Osborne, Tommy (Searle), (Gautier) Paulin, myself. I don't know, maybe (Arnaud) Tonus will also be in there, I think there are seven or eight people who can race for Grand Prix wins. I think all racers want to battle for the Championship, nobody wants to win easy.