from ... Melandri and Laverty
The guys, together with their respective partners, were welcomed on arrival by an enthusiastic group of YME management and staff and immediately were made to feel part of the large family.
In honour of their guests, YME organized a guided tour of the warehouse which stocks over 110,000 parts and accessories. The group had the opportunity to witness from behind the scenes the daily management of the complex order taking process and experience firsthand the mechanism behind the management of over 20,000 parts-orders that are handled and then forwarded to Yamaha dealers all over Europe on a weekly basis.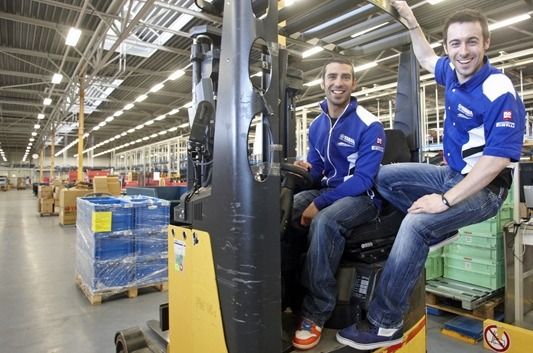 Curious by the precision of the robot in selecting the requested items the Yamaha WSB riders jumped at the chance to initiate a Q and A session. The warehouse machines generally run non-stop for 17 hours a day, but on this special occasion all operations were paused for 20 minutes so the staff could dedicate their undivided attention to their guests. Satisfied with their newly found knowledge of the efficient warehouse, Marco and Eugene resigned to the main building where they partook in an autograph session and a prize giving draw. Several fortunate Yamaha staff members became proud owners of original signed racing gear from the 2011 Yamaha WSB riders.
Marco Melandri:
"YME did a very good job on Wednesday. Manuela and I had fun! It was good to get the opportunity to see how the entire YME structure works, I had no idea how complex it could be and the staff took the time to explain the process to us. It was also interesting to meet the "robot" and see him in action, selecting the items to be distributed!"
Eugene Laverty:
"Pippa and I had a great day in YME. Everyone was very friendly and welcoming to us. The tour was an education.It was nice to meet everyone behind the scenes who we never have the opportunity to meet at the track but play an important role in Yamaha.I wasn't aware of how the whole distribution process worked and didn't realise the quantity of parts that get distributed every week. Curiosity got the best of us and we asked plenty of questions!"
Copy and photo courtesy of Yamaha Motor Europe N.V.