with ... Steven Frossard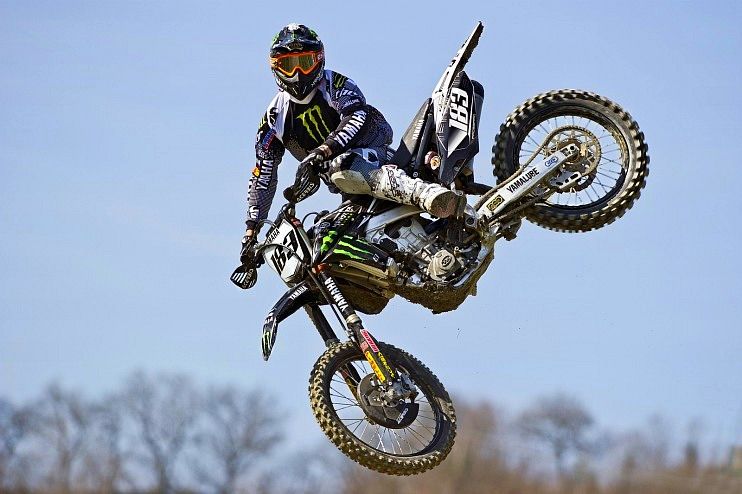 Photo: Massimo Zanzani for Youthstream.
Monster Energy Yamaha Factory rider
Steven Frossard
shocked the Motocross World last weekend as he nearly pulled of a victory in his first ever World MX1 Championship race.
Arriving at the Sevlievo circuit for the opening round of the 2011 FIM World Motocross Championship, the Frenchman looked ready to put together some consistent results, although nobody could have imagined that he would go 1-1-2 for the three motos held over the weekend.
Starting with the Saturday qualification race, Frossard looked at home on the super fast and dusty circuit. Victory on Saturday gave him pole position for Sunday's races and he didn't waste any time putting his black Yamaha at the front of the pack.
With 1-2 results, he came just short of winning the Grand Prix of Bulgaria, finishing second to Clement Desalle, who also scored 2-1 results but got the win due to his stronger second moto result.
We sat down with Frossard and ask him about his weekend.
Saturday you also rode really well. Can you tell me about your Saturday race?
It was a little bit easy in two of the races, but when you take a good start it's easy to have a good race, especially on a circuit like this one. I was second early in the qualification race and then I was able to pass for first, and I stayed there. I made a break from the second placed rider and I stayed focused and won the qualification race easy. At the end I slowed down, I just wanted to win, didn't matter by how far.
Steven, can you explain your Sunday races for us?
The first moto I was strong and my start was perfect. I was able to get a win and that really gave me a lot of confidence for the second moto. I feel very good on the bike, it's a really strong bike and I think for both heats it was good for me. In the second moto my start was not good, I was in sixth and I came through the field and passed Clement (Desalle) for the lead, then I made a mistake and I was back in third. My condition was good and I came back to second and in the last lap I did a small mistake and I finished second. I wanted to win so bad I pushed really, really hard and that is maybe why I made some mistakes. I am not surprised about this result, my preparation has been good.
You moved to the MX1 class and many people expected you to race the MX1 class earlier because you are such a big rider. Why didn't you move to the MX1 class earlier?
My feeling is very good, I have ridden the 450 before, but I wanted to be World Champion in the MX2 class first, but in my head I knew I had the speed in this class. I think if I take a good start in Valkenswaard and I can follow a good rider, then I can be fast in the start.
I remember last year your starts were not that good, what has happened to make you so strong out of the start this year?
In the Italian Championships earlier in the season I did some good starts and that seems to remain good for me. I had trouble with starts in 2010, but now with my Yamaha I am really starting at the front a lot, it makes my riding and confidence much better.
I remember you winning a race in Bulgaria back in your MX2 days. What is it about you and this circuit?
I have always done well at the Sevlievo circuit, three years ago I won a moto and last year I finished in third place overall, so it's a place where I enjoy riding. Maybe it is a little like the French tracks, very fast and you have to keep your concentration all the time.
Did you have a goal coming into the season, maybe what position you want to finish in the Championship?
I would like to finish top three, I think that is good, I am in my first year and I need to learn the bigger class and all the riders. If I can be around third place at the end of the season I will be happy about that.
Next up we have Valkenswaard and its sand. French are not known for their sand skills. How can you do in round two in two week's time?
We will see (he said with a smile) I have improved in my sand skills and I think I can do well if I get a good start. I need to follow some of the faster riders, but riding MX1 in the sand is a lot different than riding in the MX2 class. My bike has a lot of power. I haven't ridden much in the sand and I am sure I am better on the 450 than I was on the 250.