with ... Evgeny Bobryshev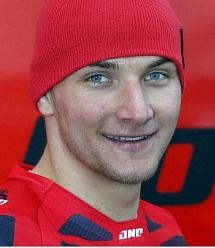 Russian rider Evgeny Bobryshev of the Honda World Motocross team showed good speed at the opening round of the FIM World Motocross Championships, held last weekend in Sevlievo. The Honda mounted giant finished with sixth overall in a very competitive MX1 field.
We talk with the friendly and outgoing Russian and ask him about his weekend in Sevlievo, Bulgaria.
Evgeny, what did you expect from your weekend in Bulgaria?
I expected to ride well. We have been working really hard with the team and before I came here, I felt strong. I worked really hard and I was really strong in my head. I was thinking to do my best, my goal was to make a good start, and then I was just doing my best. I can't jump higher than my head, like Frossard when he passed me and I couldn't keep his speed. It will come in other races in the future.
Can you explain your weekend for me?
The first race I didn't do so well. I crashed and lost many places and I am not happy with the points I lost in that race. In the second race I was more focused, but at the beginning I struggled to find the lines and my rhythm. I eventually found my speed and came back to the guys who had passed me and I finished fourth. I am not happy though; I should have also finished well in the first moto.
How does the bike feel this year compared to last year?
We have been testing a lot of parts, more than last year, I am happier this year with the bike.
What are your goals for 2011?
I never say my goal, because it never happens. My goal is to win most of the starts, stay at the front and get more points, then at the end of the season you can be in a good place.
Which riders will be hard to beat in this year's World MX1 Championship?
You know, maybe on the Bulgarian track it was Frossard, but then you go to sand and it might be somebody else. It's difficult to know, so many good riders in the class. It can always change. Top ten is really strong guys, just depends on the different riders favorite tracks.
Which circuit do you have the most trouble with?
I don't like Loket, small stones and small corners; I like big corners and a lot of speed. It is also slippery and tight corners in Loket, I can't fit there and people catch me. In Sevlievo in the small corners riders caught me quickly. On the fast corners I am not scared, I can go really full throttle.
Did you get very nervous in Bulgaria?
I think everyone gets nervous, on Saturday in Sevlievo I was nervous, but not as much as last year because I knew I did a good job in the winter and felt confident. When the gate drops then the nerves are gone, but I think I will be better as the season gets older.
You looked good in some of your motos, good starts. Have you worked on that?
This year my starts are better, last year I was making good starts, then bad starts, not consistent. In the pre-season races this year, I was getting good starts and also in Sevlievo my starts were okay. I watch the American guys, I watch James Stewart, and he is always making good starts. I always check his style and I try to ride similar to him.
Photo: Geoff Meyer for Youthstream.