with ... Tyler Bowers
After consecutive weeks of high-intensity, bar-banging action,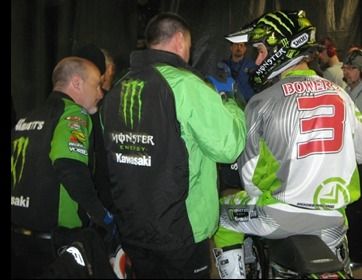 the 2011 AMA Arenacross Series will come to a close this weekend from Des Moines, Iowa, and Wells Fargo Arena. One rider who will feel significantly less pressure as the world's best arenacross riders head to the season finale is newly-crowned AMA Arenacross Series Champion Tyler Bowers. The Babbitt's Monster Energy/TiLUBE Kawasaki presented by Maxxis rider has been a picture of consistency all season long and last Saturday, he secured his first professional title by capturing his series-leading 11th win of the season.
For Bowers, the 2011 season has been about redemption. Last season, the rising star established himself as the rider to beat in the championship hunt. He secured nine victories and held a healthy advantage heading into the final month of competition. However, a broken leg suffered during practice during the week ended Bowers' title hopes and ultimately, he was forced to sit in a hospital bed while his teammates Josh Demuth, the eventual 2010 champion, and Chad Johnson surpassed him in the standings.
Bowers entered the year knowing what he left up for grabs last season and used his heartbreak as a motivator to attack the championship with more aggression and commitment than ever. After a slow start, Bowers got hot quickly and went on a tear, capturing eight-straight wins at one point. Last weekend in Rockford it all came together Bowers and the hard work paid off in a big way.
We (Arenacross) caught up with the new Champion to get his thoughts on the achievement and how far he's come since his injury one year ago.
Tyler, after all the obstacles you've had to overcome in addition to the heartbreak you experienced last season, how does it feel to finally win the AMA Arenacross Series title?
I can't explain it. I've said before that it's been two years coming. I worked really hard last year just to get the points lead I had and get close to winning the title, then it just slipped through my fingers. I had to work all summer to just recover and recover, get back on the bike, go to rehab, and then come back to try and win it this year. I started off a little slow, but once I got that ball rolling, it was rolling good and I got that momentum going. I feel great. I feel strong on the bike. I'm just happy to finally get it this year and just wrap it up. All the hard work for two years straight has finally come together.
Did you do anything different this year compared to last year ?
Work harder (laughs). I worked really hard last year because I wanted it so bad, but this year, not only did I want it that bad, but I was also angry because I lost it. It was mine to lose and I lost it last year. So this year, there was no letting up. I did everything possible and in my power to make it happen. It showed on the track. I won nine races last year and this year I've won (11) races. Last year I won seven in a row, this year I won eight. It just shows. I had to come from further back, just to get further ahead. I'm just happy to get it done finally.
You touched on having 11 wins this season, but despite that total, it seems as though the competition and the talent within the class this season was deeper than before. Would you agree ?
I think its pretty close. We lost Josh Demuth this year when he broke his wrist. I was pretty bummed out for him because I thought he was going to be my main competition. I know (Jeff) Gibson before last year had a few injuries he was trying to rebound from and had a hard time with that. I knew he was going to come in strong this year and, of course, he did. I knew (Chad) Johnson was going to be a factor and then the regulars like (Zach) Ames were working real hard too. He's a good friend of mine and I spoke to him in the offseason and I could tell he was working hard. I think altogether, everyone worked harder. When Cole Siebler came in I knew he'd be there. I know he knows how to ride fast, but I didn't know much arenacross he had done and I didn't know where his performance was at because it's just a totally different game. And he obviously did well. So I would say it was a little tougher this year. All around, everybody worked harder but I also raised the bar a bit with my own training program and the way I worked, so for me, it kind of evened out.
You also mentioned that you got off to a slow start this season. Was there any point early on in which you thought that this title may not happen, or did you always continue to think that it's a long season and if you continue to improve there's still a lot that can happen ?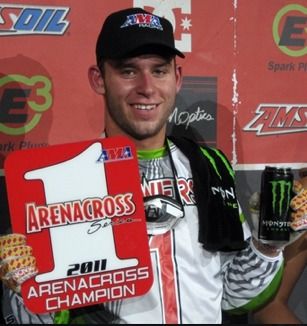 I knew it was going to be rough. I wanted to do better at the first three or four rounds than I did, but I knew it was a long series and you can't win it in the first three or four rounds. I knew that I had what it took to win the championship this year and if I was going to fall short, I was still going to put in the work during the season to make it happen. For me, that championship was mine before the season started. I knew what I had to do and I did everything to get it. (I'm) not trying to be cocky by saying that, but it's just that I knew I would do anything to win that title. The first few rounds I knew I was going to have some problems and I probably wouldn't win every single round. I didn't think I would actually peak as far as my training and riding goes until four, five, or six rounds in. That's about right where I peaked last season and started winning races. But I did think I would do a little better in the beginning. Jeff (Gibson) was riding exceptionally well at the beginning of the season and I was making bad decisions. I was riding well, but I was racing horrible and I knew that was just from being off the bike and not having the gate time that a lot of the other guys had during the summer. I never thought that the title was out of grasp, I just had to put in some harder work during the week in order to make it happen for me on the weekends.
Take me back to this time last year. You were bed ridden and had to watch Josh Demuth take the title you had put yourself in position to win. What kind of thoughts were going on in your mind, particularly in preparation for this season ?
It was crazy. I laid in the hospital bed for two weeks just to get everything dialed in so I could be released to go home to Kentucky. By that point Josh had already wrapped up the championship and Chad (Johnson) ended up second in points, while I was third. They're two good guys, Chad and Josh both. I respect them both a lot and I think that they are even two of my favorite riders to be beat by. It wasn't that bad when that happened – I guess that kind of cushioned the blow a little bit that I liked the two guys and they're two respectful riders and both rode really good last year. They called me in the hospital to see how I was doing. It sucks, but at the same time, what can you do? Its motocross racing and you're going to get hurt. At least I got beat by guys that I like.
That stuck in my head all off season. It wasn't anything personal against those guys. It was the fact that I didn't win it. I was so close and there wasn't a lot I could do about it. It just went away. So I wanted to make sure coming into this season that there was no doubt I was going to win, so I tried to put in all the work to get it done.
Since coming back to the AMA Arenacross Series, the racing and the style of tracks seems to really suit your riding. Why do you think since coming into the series you've seen so much success ?
I think mostly it's because I grew up doing it. In the winters growing up, I raced arenacross. That's what I did. I lived in Ohio and Kentucky and we didn't really have anything else to do in the winter. I would go straight to the amateur nationals to compete with the guys that lived in California, Florida, Georgia, or Texas that got to ride most months out of the year, where at my house everything was covered in snow and there was no riding. I had to make sure I got as much riding as possible during the winter months too. Growing up, I raced in the Arenacross Series whenever it came to the Louisville round or the Dayton round or Toledo, Ohio. I did all that. I'm fortunate to have the background and I know how it works. It's almost like a chess game out there and you need to know all the moves. I got all the moves dialed in, and then I put in the work now to get it done.
Now that you've captured your first career title, what's the next step for you ?
I'm going to Des Moines this weekend to shake hands and kiss babies. Next weekend, I'm going to the Seattle Supercross and hope to do well there. I'll be heading to the Salt Lake Supercross as well, and then I'll finish out with the Vegas Supercross. As far as the summer goes, I don't have any plans yet. I'd love to be racing outdoors whether it's here (in the U.S.) or somewhere else. But, that's something I'm open to do and from there I'll just see where everything takes me.
The 14th and final round of the 2011 AMA Arenacross Series kicks off from Wells Fargo Arena in Des Moines, Iowa, on Saturday, 09 April. The action kicks off at 7:00 p.m. CT !
Photos courtesy of the Kawasaki Racing Team.