with ... Cristobal Guerrero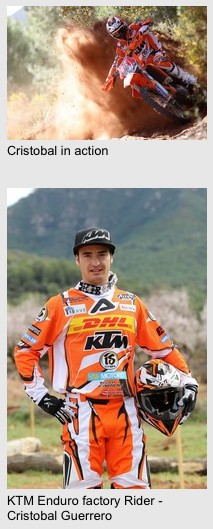 KTM actively seeks out the most talented riders for its Enduro factory team and in 2011 Cristobal Guerrero joins the star line-up to race Orange in the E2 class.
Even in the pre-season races in Italy and Spain, this rider has been impressive on the revolutionary new 350 EXC-F. All indications are that he is going to fight for a dominant place in E2, which will be one of the most competitive classes in the 2011 season.
Born in the mountain town of Ronda in heart of Spain's Andalusia, Cristobal is one of the most interesting talents to come out of the Iberian Peninsula in recent years. He is in his rookie season for the Orange factory team and has made the switch from E1 to E2. Both he and the new KTM 350 EXC-F are expected to attract a lot of attention at the opening two rounds in Ponts, Spain (April 2-3). Local fans will come out to support him and they will be curious to see how the latest KTM Enduro bike performs in E2. KTM Racing News took time out to talk to Cristobal ahead of the Spanish GP and he tells us he is looking forward to racing in front of his home fans and is very "Ready to Race" in real KTM style.
Cristobal do you feel nervous for this first race in Spain in front of your crowd?
To be honest, I don't feel nervous at all. I've made some really good preparation in the pre-season and I feel great on the bike. All my feelings are good and positive and I'm just looking forward to seeing what happens in the first race.
This year your E2 class is going to be one of the most challenging and you will be riding against some of the world's best riders…
It definitely won't be easy riding against three world champions like Cervantes, Aubert and Meo. And as well as them there are other very fast riders like Albergoni or Renet. There's going to be a real fight in the E2 class but I'm ready, my goal is to finish among the top three and I will do my best.
Do you have a personal favorite?
Not only one, I think the competition in E2 will be wide open. Everyone will be going for victory and it will be very important to always be in the top position and to avoid making any big mistakes. With these guys, just a small mistake can cost you different positions in the final classification.
How do you feel with the new 350 EXC-F?
This really is a big surprise and I feel really comfortable with the bike in terms of power and handling, I already feel at home on it.
You won the first race of the Spanish Championship just one week ago
I'm very happy about this because a lot of top international riders were competing: Salminen, Remes, Oldrati, Blazusiak, so it was a really important victory for me going into the first WEC race
One message for your Spanish fans, for the coming weekend
I'll be waiting for you all in Ponts. It's going to be a nice race and I promise you all I'll fight to give you and Spanish - and an Orange podium this weekend! See you there!
Introducing Cristobal Guerrero
| | |
| --- | --- |
| | Born in Ronda, Spain in 1984 |
| | Rides for KTM Enduro Factory Team (Rookie year as full factory rider) |
| | Racing in E2 in 2011 |
| | Bike KTM 350 EXC-F |
What KTM Enduro Factory Team boss Fabio Farioli says about Cristobal Guerrero.
Cristobal Guerrero is our new rider from Spain. He has always ridden a Japanese bike so he's discovered a new dimension of the sport with our bike and our factory team. He's going to show us how fast he can ride. He's very impressive on hard terrain.