from ... Michel Fabrizio
The Italian - who had put up a strong performance in the Friday morning session on his GSX-R1000 - was classified 17th, but is upbeat and ready for today's Qualifying and Superpole.

Surprisingly-warm conditions of 16 degrees saw the circuit blessed in sunshine for most of the day as reigning champion Max Biaggi (Aprilia) set the fastest lap ahead of Marco Melandri (Yamaha) and series leader Carlos Checa (Ducati) third.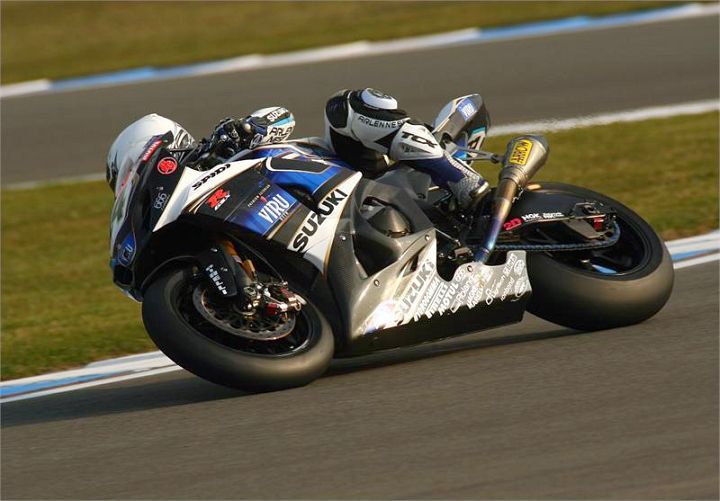 Michel Fabrizio: The new section of the track, at the Fogarty Esses, has made the lap times faster and the track is a bit more flowing now. It's quite a technical track and it's vital to have a good set-up if you want to lap quickly. It's the kind of track where, if you mess up one corner, you're going to mess up the whole lap.

Today I struggled a bit with rear grip, but part of the problem was that we had some new forks to try and quite a few adjustments to make. I think that they are an improvement, so now we'll have to work on them and improve the feeling. This is normal work, but something that just has to be done.

In the qualifying session this afternoon, I got hit from behind and crashed and was lucky to escape injury. I feel sorry for my mechanics because they have a lot of work to do to repair the damage and replace a lot of parts.


Friday WSB Qualifying: 1 Max Biaggi (ITA-Aprilia) 1:28.794, 2 Marco Melandri (ITA-Yamaha) 1:28.841, 3 Carlos Checa (ESP-Ducati) 1:29.194, 4 Eugene Laverty (GBR-Yamaha) 1:29.379, 5 Jakub Smrz (CZE-Ducati) 1:29.397, 6 Leon Haslam (GBR-BMW) 1:29.472. 17 Michel Fabrizio (ITA-Suzuki Alstare) 1:30.383.
---
Update from the Team Suzuki Press Office - 27 March.
After being forced to DNF in the first race at today's World Superbike Championship second round at Donington, Team Suzuki Alstare rider Michel Fabrizio came back with a gritty performance in the second 23 lapper to finish in seventh position.
If it had not have been for a third-row grid position and a poor start, Fabrizio would've been able to challenge for third spot, but the Italian was at least able to enjoy the race - unlike race one: In that, a slide going into Coppice corner forced the Italian into the gravel, but fortunately he was able to keep the bike upright and saved a crash. He got the bike back to the pits, where the team changed the rear tyre from a hard to a medium. His opening laps on the new tyre was a good one, but by lap three there was no grip at all, and seeing he was having difficulty controlling the bike - and also did not want to crash - he pulled out of the race.
The conditions at the British venue - that witnessed a total crowd of 51,000 over the weekend - were almost as poor as Saturday's Qualifying and Superpole, with temperatures mostly sub-six Degrees.