with ... Rui Gonçalves
The Honda World Motocross are in action once more this weekend as the team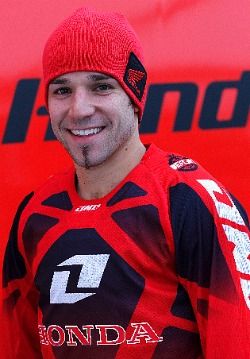 contest their last competitive meeting before the MX1 World Championship begins in Sevlievo, Bulgaria on the 9-10 April.

Racing in the fourth and final round of the Italian Championship in Odolo, Rui Gonçalves and Evgeny Bobryshev will be looking to build momentum which they can carry into the start of their 2011 World Championship campaign.

Evgeny Bobryshev is familiar with the Honda CRF450R, having ridden for the CAS Honda team in 2010. Bobby (as he is known in the paddock) has carried his impressive form from last season into his pre-season preparations, which included an excellent overall win in Faenza last week.

For Rui Gonçalves, joining the Honda World Motocross team represents a return to the manufacturer with which he raced in the early part of his career. Although Rui has ridden 450s in the past, this season will be the first time he has ridden 450cc machinery for an entire championship campaign at MX1 World Championship level.

We caught up with Rui to find out his thoughts on coming back to Honda, his feelings towards his new team mate, Evgeny Bobryshev, and how he is making the transition to the 450.

You rode with Honda in the early part of your career, how do you feel about returning?

It is good to be back with Honda, it really feels like in many ways I am coming home. I competed in many national championship races from 1997-2000 in Portugal with Honda and had a great deal of success. I developed a good relationship with Honda Portugal and when I came back to the manufacturer, most of the original people who supported my career were still working for Honda Portugal, so it was almost like I never left.

Have you developed a good connection with the team since joining the official Honda outfit for 2011?

I have known Paolo Martin (Team Owner) for many years, so I have a good relationship with him. I made a race appearance for the team in 2001, so I also know a few of the original team members. Lorenzo Resta (Team Manager) was not there in 2001 but since joining the team full time I have developed a close relationship with him also. There is a good atmosphere within the team, so I feel comfortable in this working environment.

How have you been adapting to riding the 450, having previously ridden a 250 and then 350?

I have raced with a 450 before but never a full championship and the last Honda I rode wasn't even a 4-stroke! So there have been a lot of elements to adapt to. The main difference is power delivery, the 450 has more torque and a more linear power curve. The 350 you had to ride hard and with a lot of RPM but the 450 is easier to ride smoothly, using the torque and punching out of corners. Also the Aluminium frame of the Honda provides a different feel. It is avery strong package all round.

The Honda is regarded as one of the lightest bikes in its class. What effect does this have on handling?

The CRF is very manoeuvrable and agile and it terms of feel it does not really feel any heavier or bigger than the 350 I rode last year. The 350 looked light because it was all about keeping your corner speed high and maintaining momentum but the 450 can be ridden in a different way, using the power a lot more and taking alternative lines. The chassis of the Honda is really sweet and the Showa suspension is working really well also.

What do you think about your team mate Evgeny?

Before we came together in the Honda World Motocross team I did not really know Evgeny at all but he is a really good guy and fun to work with. He showed a lot of good form last year and I think that we will push each other hard throughout this season. We as a team are always looking to improve and everyone in the team shares the same philosophy. This is what helps create the energised and motivated working atmosphere of the team and makes it a fun place to come and do your job.