with ... Clement Desalle
The 21 year old signed off an impressive - if at times painful - first campaign on the RM-Z450WS in 2010 with victory at Fermo in Italy for the Championship curtain-closer and will be hoping for two in a row when the '11 series launches at Sevlievo in Bulgaria on April 10th. Here Desalle talks about his winter of work, impressions of Supercross and confirmation he will be chasing a second Belgian national title.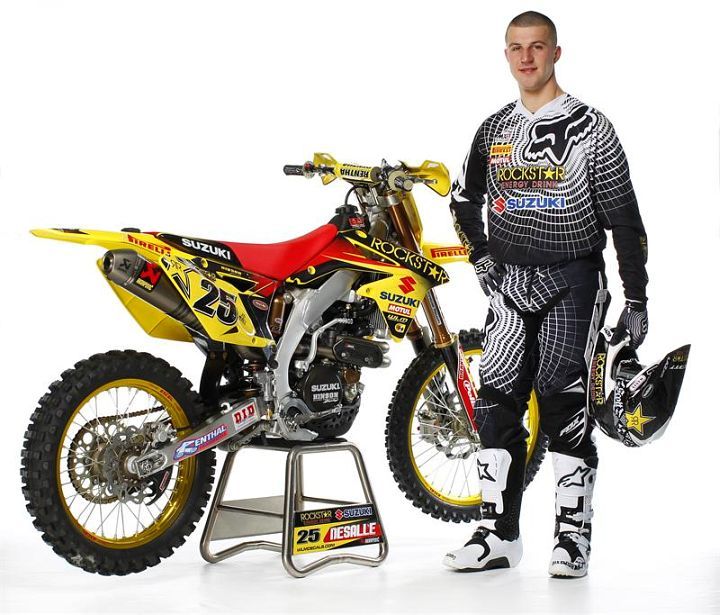 You spent the winter off-season travelling around a lot...

Yeah, it was pretty busy. I went to Spain, the same as I do every winter but had bad luck with the weather. I had to go back to Malaga again later to find the sun. I was also in Portugal for two weeks just doing physical work. I then went to California, with the idea to do some Supercross, but again had some bad luck because I was sick before travelling.
You did the bulk of your training at home though?


Yes, I did my physical training at home with some friends who ride Enduro; so that was pretty cool. For the rest I always work with my father and it has been that way for quite a few years now. He knows me better than anyone! I get some important information and advice from Yves Demeulemeester - the team's trainer - and make a programme.
No holiday before that?

In October I took a rest because I had a few crashes towards the end of 2010 and started working again in November. I went on holiday to Egypt with my girlfriend Andrea; nice weather but I struggled with the food!
Will you take a steady approach to your fitness as in 2010?

Yes, I don't really like to be totally 100% at the first Grand Prix. What I am aiming for is to be in good shape come the start of the season but careful not to push the body too much because it is a long year. I have to be smart with the programme. The work in the winter is different to that during the season, which is about maintaining fitness. When I am riding I like to be able to have something in reserve and not pushing 100% all the time.
So your trip to the USA didn't go so well...

I was only going for 10 days and I felt bad the day before I flew. I then had jet-lag which made it worse. Finally when I got on the bike I tried to ride but couldn't do what I normally can. It was a bit of a sad experience actually.
You've said in the past that you wanted to try some Supercross. Has that view changed at all in the last months?


I wanted to do some tests when I was out there but it is dangerous to ride motocross when you don't feel well so Supercross was even more of a risk; not a good idea! I went to Anaheim 1 to watch the race and honestly I didn't enjoy it as much as I thought I would in terms of atmosphere. The level and skill of the riders is incredible but it was strange to see how much of the show came first, especially in the stands where I was sitting. To go to America to live and race would be a different world for me.
You had a great first year with the team. What did you take away from 2010?

I think a lot about my riding and now I don't want to make the mistakes I did in 2010 because I learnt that crashing proves to be so costly. It is never good to crash but there are moments in a race when it is really stupid to go down and I have to take care about this.
How have you evolved the RM-Z450WS for 2011?

With the team we have worked to change some parts in the engine and also some adjustments on the suspension. The pre-season races are all about testing for me; to find a good feeling on the bike and also use the starts to make sure we are good in that area. I like to have strong power on the bike; I like to feel I have a 450.
You made a couple of races in the Belgian Championship last year. Will try to win back the title you earned in 2009?


I think so. I will do a full series. The races are all quite close and there are benefits from being able to race one day of a week.
People tipped you to do well in 2010 but now you are looked at as a World Championship contender. Is it tricky to handle that pressure?

I just want to stay myself and that's it. The extra attention is part of the sport and it is good, but I want to show people that I'm the same guy.
Copy and photos courtesy of the Team Suzuki News Service
.