with ... Shaun Simpson
LS Honda Racing rider, Shaun Simpson, has a red heritage, having ridden with Honda from 2002 to 2003 and from 2005 to 2006. His move to LS Honda Racing marks a return to red machinerybut with a very new challenge. Simpson is no stranger to big bikes however, having ridden the MX1 machine at the 2009 Motocross of Nations and in the British Championship, with a good level of success on both occasions.He has now taken the big step up, to compete full time in the MX1 World Championship.

Honda Racing caught up with Shaun to find out more on his feelings about coming back to Honda and his ambitions for the season ahead.

Q: How do you feel coming back to Honda?
A: At the moment everything is going all right, you know I'm feeling good on the bike and feeling smooth. We have a few more things to work on with the bike but we have some more time before the first GP. I don't want to be too fast now, I want to try and build it up this year if you know what I mean. Staying fit and healthy is obviously key to this! My speed is good but could always do with improving but I think that will come as me and the team work more closely together throughout the season.

A lot of people have said that you've looked ready to step up to the bigger bike for a while now, do you agree?
I'm quite a big guy, around 80kgs, so I think I'm suited to the bigger bike physically. I am not like the current breed of MX2 riders such as Roczen and Musquin, I am fundamentally a bigger guy. It really just felt like to right time to make the move so we made the decision, I guess there's no turning back but I feel good on it and am just going to ride what I have underneath me.
So what are your thoughts on team mate Ken De Dycker?
Ken is a real chilled out guy. He is really quiet and doesn't really say a lot but he is a real good guy. Obviously on the track things are going to be a bit more heated but off track I think we will get on well together. I mean we're not going to be hanging out together everyday but I think that there will not be any bad feeling between us. We both want to do the best for the team.
And your other Honda counterparts, Rui and Bobby, in the Honda World Motocross team?
I think Bobby is pretty comfortable with the Honda having ridden it for all of last year and he is coming of some good form last season, so I think he can carry that on into the start of this season. It seems that maybe Rui is taking a little longer to adjust to the bigger bike. I am not sure exactly what he is struggling with but I am sure he will be there or there abouts come season start. It may just be a matter of time getting used to the 450. It is good if Honda does well but at the end of the day we are there for me and that is my main focus.
What's next in your pre-season preparations?

I am doing a couple more smaller races and a couple more weeks of practice. Just to keep doing what I'm doing really. You know racing builds your speed up so this is the best way to prepare in my eyes. I think we are on a good track and things are looking positive. Just need to stay healthy and fast!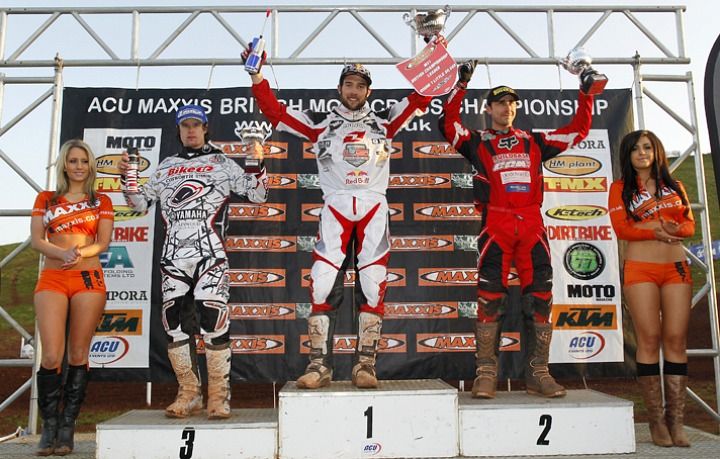 Shaun Simpson on top of the podium at Little Silver on 06 March. Photo courtesy of Shaun Simpson.