from ... Mike Phillips
Qualifying: Went pretty good on the loamy Rotorua track. The track had started to roughen up already but there were a few lines forming and I was able to qualify 2nd behind Suzuki's Cody Cooper

Moto 1: I didn't get off the concrete that great and I came into the first turn in the top bunch but got hit from behind and taken out. I picked myself up and started the charge through the field. I was feeling good and caught all the way up to 4th by the last lap and was on Yamaha's Hayden Clarks back wheel. On the last corner I was able to make a pass. But I still wasn't happy with a 4th place.
Moto 2: It started a lot better but only the first 2 corners. On the 3rd corner Yamaha's Josh Coppins moved to the inside and I wasn't ready for it and I hit his rear wheel. I went down and again I had to start from the back.
I put my head down and again made it back up to 4th but made a little mistake on the 2nd to last lap and I had to battle with Clark again. I still managed 4th
Moto 3: I was set to get around the first lap clean and that's what happened. I was 3rd around the first turn and settled into 2nd behind Cody Cooper. He had pulled a 3 second gap on the first lap as I was trying to get around another rider and for the first half of the moto that's how it stayed. I tried a few different lines to try make up some time but they didn't work and Cooper pulled a little more on me. I had to settle for second.

It was a disappointing day being my home track and all. I have to say that's racing but it doesn't make it any better. I gave away a load of points to Cooper and Coppins over the weekend and now I head to the last round this weekend 23 points off the lead.
I know better than most that anything can happen and in the past the Baret road track has claimed a few riders so it's not over until it's over.
Big thanks again to all the supporters that came out to watch and again to the Rotorua club for putting on such a good event.

Mike Phillips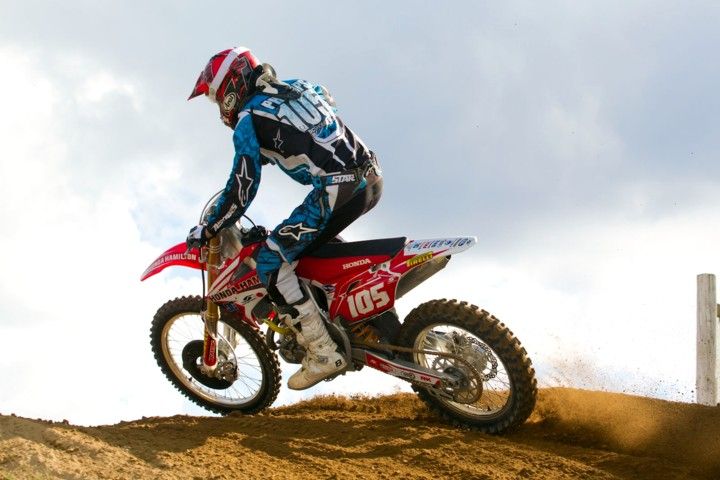 Photo courtesy of Shayne Rice