from ... Rhys Carter
Practice/Qualifying: The track had been prep'd mint for the weekend and with the fog staying low in the morning and rising just before our session - it was pretty much perfect. With MNZ deciding not to have to have split groups and the whole lot of MX2 out in one go made it hard to get a good lap. There were always someone in ya way and some people struggle to move out of the way when they see you coming - it is a pain. I didn't get the chance to put in a hot lap and could only manage a 11th place which I was happy with but like they say it is only Qualifying.

Moto 1: I got a good jump and come round the corner in the top 10 and feeling good after a few laps into the moto. I made some good passes and moved my way through the top 10. The racing was tight and was a group of us just pushing each other and making a good battle between 4 of us. I moved my way into 4th place after passing a bunch of riders and was feeling good when the two lap board come out. On the last lap in the back corner I hit a slick bit and slid a bit allowing Nick Saunders to get up the inside of me and losing the 4th place and pushing me back to 5h when I got to the finish flag. After the race a rider in front of me was penalised 10 seconds for jumping the gate and that put me back up into 4th place for the race.

Moto 2: Got a terrible jump and was almost last going down the start straight but tucked up the inside going round the first corner and managed to salvage some places and was maybe just inside the top 20. It took me awhile to get into it so first few laps I didn't really make any progress. All of a sudden I got into it and started moving forward. I m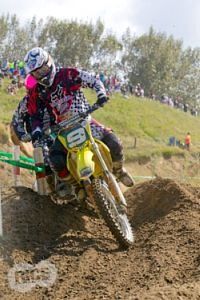 ade some good passes and seemed to have a bit more energy towards the end of the moto which was good and managed to get myself up into 7th place when the finish flag come out.

Moto 3: I got a good jump and was sitting inside the top 10 going round the first turn. The first few laps once again took me a while to get going and get my shoulder working again as it was a little sore from Moto 2. Once I got going I started to pass a couple riders and moved myself into 6th place. My shoulder was a little bit stronger for the last moto, unlike the previous rounds, which was good. I managed to hold down 6th until about 3 laps to go when Damien King came through strong like he always does and made the pass on me. I then moved back to 7th and held off Brad Groombridge.

Overall: 6th. The 3 weeks off was definitly good for me as now it has been just over 2 months since Igot back on my bike after having 9 months off. I feel like I am getting stronger and fitter which I am happy about. I moved to within 4 points of 6th place overall and I am looking to have another weekend like this one next weekend in New Plymouth to close out the nationals. Once again big thanks to my mum and dad for everything they do and dad for spinning spanners for me.

Will see you all at New Plymouth.

Rhys Carter Photo courtesy of Shayne Rice
Big Thanks to all my sponsors: Moto GB, Speed Shop, Loose Kid Industries, DVS Shoes, Protege MX, Fox, Shoei, Skull Candy, Addiction, Pirelli, Ebc Brakes, Rice Photography, Tsubaki Race Chains, Supersprox, Repsol Oils,