from ... James Stewart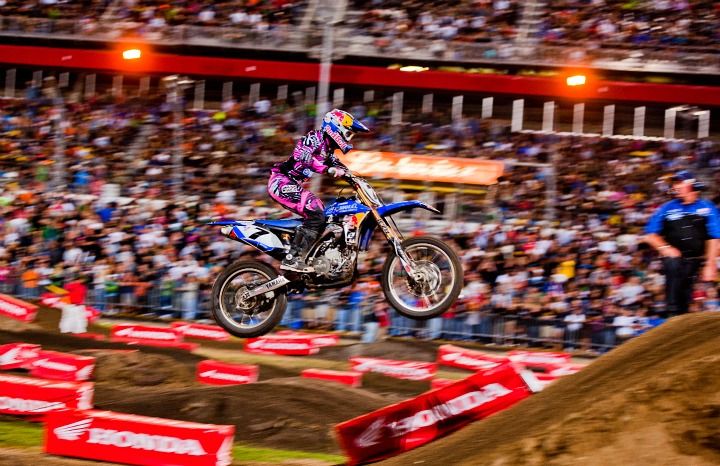 San Manuel Yamaha's
James Stewart
scored ninth position against the odds at the Daytona International Speedway for the ninth round of seventeen in the AMA Supercross series, also an FIM World Championship.
The Floridian had taken the holeshot at the packed venue on the east coast and was cruising ahead with a lead of over six seconds when he failed to hit the take-off for a triple correctly and was thrown over the bars.
Dazed, Stewart was able to remount and fight back from almost a lap down to enter the top ten and salvage some points.
"I really thought I had that one," he said and then later posted on his officiaI Twitter account: "I totally didn't expect to wheelie into the face of that jump. I can live with it because I don't feel like I did anything wrong. I'll never quit. It's not about how hard you go down, it's about how hard you fight when you get up. I am a little sore now but fine and I have to say a big thank you to the fans; they gave me a standing ovation at the end of the race."
JGR Yamaha's Davi Millsaps was running as high as second across the long course but would eventually drop back to fifth on his YZ450F and finish six seconds ahead of his team-mate Justin Brayton.
After Stewart's mishap Ryan Villopoto was free to obtain his fourth victory of the season and extend a gap in the standings to 23 points over his rival (25 points are awarded for a win). Stewart is just one point ahead of Chad Reed. Brayton is eighth in the table and one point ahead of Millsaps. The series has now passed the halfway stage and round ten will take place next Saturday at the Lucas Oil Stadium in Indianapolis.
Copy and photo courtesy of Yamaha Motor Europe N.V.