with ... Zach Osborne
Courtesy of Youthstream. Interview and photo: Geoff Meyer.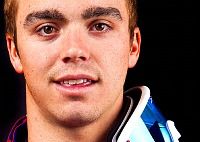 Osborne will have to be well prepared to race against the likes of Ken Roczen, Jeffrey Herlings and Jeremy Van Horebeek, all from the tough Red Bull Teka KTM Factory team. Add names like Gautier Paulin, Tommy Searle, Arnaud Tonus and Max Anstie and you have a very competitive MX2 class in 2011.
Having lost a lot of weight and worked harder than ever in the winter, Osborne arrived back in Europe last week and was straight into his preparation for the 2011 season. Amazingly until last year, the America rider hasn't finished a full season in his professional career as injuries always seemed to cut his season short.
Now with the experience of 2010 behind him, his confidence is at an all time high and his goal is to be 2011 FIM World MX2 Champion.
Last year was a good year, finally a full season without an injury.
Last year I was fourth in the FIM World MX2 Championship and British MX2 Champion and that is pretty good. I'd never had a season like that before. It was also my first ever full season and it's something I can build on and something I learnt a whole lot from.
Seeing how Ken Roczen rode at the 2010 Motocross of Nations and how he rode in the Grand Prix's last year, how can you compete with him? He seems like he might be nearly unbeatable.
He isn't unbeatable and Marvin (Musquin) did it a lot last year. I think it's just a matter of being at the front of every moto. Plus he's done a lot of racing already with his Supercross and riding the 350. It's done a lot for him publicity wise and I am sure he has learnt a lot from it, but his season is going to be a long one, he will be racing a long time, like eight months by the time we get to the half way point in the season. I wouldn't wish anything bad on anyone and if I am going to become World Champion I want everyone racing. I am not sure anyone can run a season like he will have, so long.
Do you feel like you have to jump straight on Roczen in Bulgaria and put pressure on him straight away ?
My plan is to come out swinging as hard as I possibly can in Bulgaria. If I don't make a podium at the first round I will be pretty mad, that is something I am depending on and something I can build on. I want to be on the podium at every race and I think with my new condition and the way the bike will be I can do that. We have worked hard in the winter.