from ... Justin McDonald
Hey guys.
Justin McDonald here with an update on the first two rounds of the Demon Energy National Motocross Champs. The opening round kicked off in Timaru on the 20 February. This year we have just one day of racing which includes a timed practice and qualifying in the morning, followed by three motos during the course of the day.

Timaru: The weather on the morning was not looking great, with some drizzle during the early part of the day. Luckily any threat of rain soon disappeared and left the track looking pristine. I felt I rode well but was a little disappointed at how quickly I lost energy during the racing. My results for the day were 3-4-4 with some good battles with Cody Cooper in the last two races. The track held out pretty well during the day and dust was not an issue.
After the earthquake I headed out of town to do some riding away from all the chaos. I went up north with my cousin Cody Mackie to settle down before Round 2.
Patetonga: In it's second year as a venue on the national circuit. Last year I struggled to come to grips with the track and this year was much the same.
Moto 1 I was working my up the field from a poor start and managed to get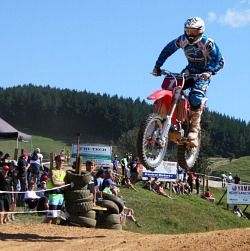 myself into a decent spot to do battle, when a clutch problem caused me to DNF. I was able to return to racing for the second moto on a borrowed bike, many thanks to Mikey Phillips for the lend of his practice machine. After a few problems I ended up in 5th for Moto 2. I was feeling more comfortable on the bike for the final race where I got 3rd.
These results, have put me outside of the top three in my class, but I will be looking to redeem myself when racing kicks off again at Round 3 in Rotorua.
Many thanks to the boys at Timaru Honda for their support, Rooter for spinning spanners all week long and helping me out at the track and TTT Park for the weekly training tips.
My thoughts with the families effected in last week's earthquake.
Justin 201