from ... Rhys Carter
MX2 Practice/Qualifying:
The track,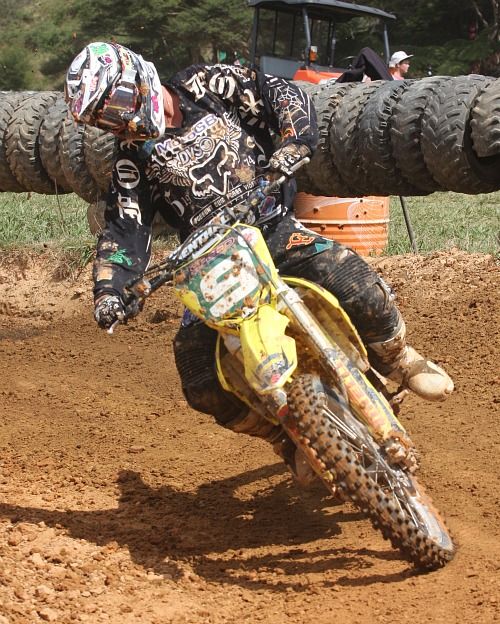 like always at Patetonga, was ripped deep and watered heavily which makes the track tricky at the start but ends up been a good track to race on. I tried pushing to hard in Qualifying and with the track been like it is I shouldn't have, and only managed an 11th place which I wasnt to pumped on.
Moto 1:
I felt confident on the concrete start and got a good jump and was sitting in 6th place round the first turn. I let the crashes happen around me and before I knew it I was sitting in 4th with Damien King right behind me and pushing me hard. I held him out for most of the moto and with a few laps to go he got by me and put me back to 5th. I rode smart and didn't make any mistakes and held onto 5th for the moto which I was happy with.
Moto 2:
I was feeling good going into the second moto but when the gate dropped I got too excited and wheel-spun and was way back in the pack going down the start-straight but braked early and went up the inside. I came out 15th which was not good as this track is hard to pass on. I made some passes quickly on but then got stuck behind a couple riders letting the front guys go and by the time I got past the group in front of me they were gone and couldn't catch them. I had to settle for 9th which I wasn't happy with.
Moto 3:
This start was even worse than Moto 2 and was nearly last going round the first turn. I made a bunch of passes on the first few laps and then it went bad. My shoulder decided not to work and every time I went to push my hand would come off the bars and I would nearly go down. So, I played it smart and just kept it on two wheels and had to settle with 11th for the moto.
Overall:
7th. I was pumped on my first moto and my speed was a lot better than last week and I am slowly getting my race pace back. I have still got a long way to go before my shoulder is back to 100% but I now have 3 weeks off and can spend some time at the gym and with my Physio to get it stronger and ready for the last two rounds. I feel if I can have my shoulder strong for the end of the 2nd moto and the last moto I will have better overall results. Once again a big thanks to Mum and Dad for everything they do and Kieran (Leigh) for working on the bike and having it ready to go.
Will see you all in a few weeks at Rotorua for Round 3.
Thank You

Rhys Carter
Big Thanks to all my sponsors: Moto GB, Speed Shop, Loose Kid Industries, DVS Shoes, Protege MX, Fox, Shoei, Skull Candy,
Addiction, Pirelli, Ebc Brakes, Rice Photography, Tsubaki Race Chains, Supersprox, Repsol Oils.