MX1 Qualifying:
I was feeling good on the sticky clay track. I put in a few good laps on the Honda Hamilton CRF450 and qualified 3rd.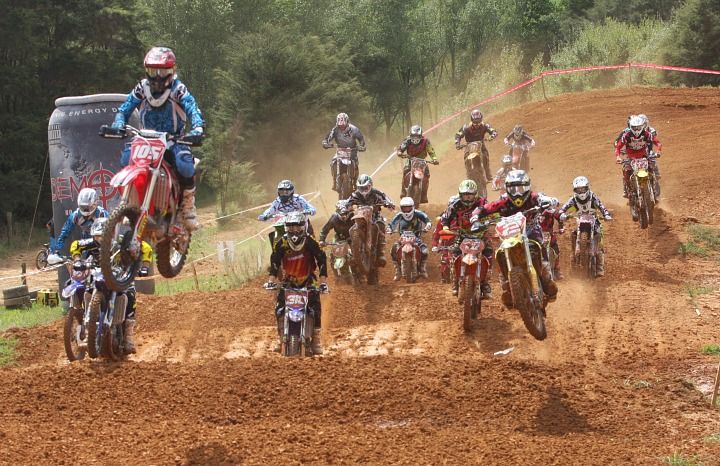 Moto 1:
I got the holeshot and was feeling good. There was a nasty crash on the first jump that took 3 laps to clear so Cody Cooper and Josh Coppins kept catching me when we had to slow down for the crash. After they cleared the rider off the track I put down a few quick laps and pulled a little gap on Coppins. Copper had made a mistake and had dropped back but I knew he would be back.
Cooper caught back up to Coppins and they both battled most of the moto but I just stayed on my line and pushed hard. Cooper got by Coppins but by that time I had two laps to go and I made them count. I finished 1st.

Moto 2:
I came around the first turn in about 3rd but came together with another rider and we both went down. I got back up as quick as I could and started the charge back through the pack. By the half way mark I was up to 5th and hunting down Kawasaki's Mason Phillips. That's about were it all ended. I had a little crash and was wondering what the hang happened. I didn't loose any places but something wasn't right. A few corners later I noticed I had a flat front tyre. I rode out the race as best I could and hung onto 8th.
Moto 3:
I got a good clean start and was sitting in 2nd behind Cooper. He had a little more around the track than me and I had to leave him to it. Coppins was only a few seconds behind but after I jumped into a section of rough bumps and went off the track he got by. I got back on the track and stuck with him but again made a little mistake and went down. This time it cost me big as my rear brake snapped off and I had to ride out the race with no rear brake. I finished in 6th.

I was disappointed in the day after it started so positive with a holeshot and race win. It's only the half way mark in the series and with 6 races left anything can happin. As I found out.
The next round heads to the Rotorua MX Track which I'm pretty comfortable with on the 20 March. I'm hoping to pull back some points on both Coppins and Cooper.
(Editor: that was a 'tongue-in-cheek' comment as his parents own the farm the track is on)

In the meantime I got the call up from my old team in Australia to replace injured rider Todd Water competing in the Australian Motocross Championship. I flew in to Melbourne yesterday to start testing. Their first round is on 13 March, under two weeks away. Can't wait.

Mikey P