Not one to shy away from a battle, Auckland's Toby Summers managed to give a good account of himself in the class that features hybrid dirt bikes kitted out for racing on tar seal.
Racing his 2008-model R and R Powersports Bike Torque Yamaha YZ450F against the 550cc and 650cc machines of many of his rivals, Summers was always going to lose out in straight-line speed on the main straight at Paeroa, actually State Highway 2.
However, the 38-year-old father-of-two from Alfredston still managed to finish the day fourth overall, a splendid result on the tricky and unforgiving public street circuit.
Summers was often quicker through the tight sections and in many of the sharp corners but he had no answer in the brutish horsepower stakes.
"It was really good racing. I enjoyed the battle," said Summers. "Often I'd get held up in the corners by the other riders and then they'd get away from me down the straight. It was very frustrating but good fun anyway. My bike was definitely the quickest 450cc bike in the country."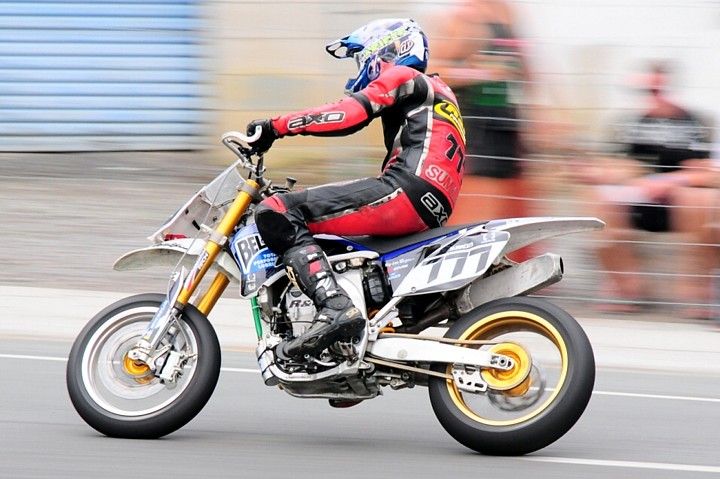 Summers had earlier this season distinguished himself racing in the 450cc class during the International Tri Series, a competition that raced at the Hampton Downs and Manfeild purpose-built race tracks and on the much tighter street circuit of Wanganui on Boxing Day.
During that series he battled with world No.2 Davide Gozzini, of Italy, even qualifying fastest at Hampton Downs and then recording a memorable race win against the international superstar.
He finished overall runner-up to Gozzini in the Tri Series and now looks ahead to next season or possibly racing overseas, in Spain in about August.
"There's talk of a new event in the pipeline, the Super Moto of Nations, and I'd like to be a part of that."
Copy and photos courtesy of Yamaha NZ written by Andy McGechan, www.BikesportNZ.com