from ... Rhys Carter
Hey everyone. I haven't done this in a long time and finally I get to do one which I am super excited about.
Valley Champs
MX2 Practice and Qualifying: Was joined as one and we only got 5 laps to do both. The track was slippery and hard to get used to and with my nervs fairly high it was hard. I put in the 3rd fastest lap time which I was pumped on and wasn't expecting my speed to be there from the get go.
Moto 1: My nerves were going crazy being my first race in 10 months. When the gate dropped I just dropped the clutch and been on a concrete start it wasn't the smartest idea and just spun and went nowhere which put me at the back of the pack. I come through pretty good moving into 4th place halfway through the moto. Last lap, a lapper went down in front of me and I hit his bike making me crash, putting me back in 5th place for the moto.
Moto 2: With first moto nerves out of the way I got the best start I have had in years and pulled a holeshot which I was pumped on and had Darryll King right behind me for most of the moto. With 3 laps to go I overshot a turn and DK slipped up the inside of me and I finished up 2nd with Damien King in 3rd.
Moto 3: Another perfect start, I got another holeshot and couldn't believe it. For the first few laps I pulled away from the pack and was feeling good but as DK does, he charged to me and once again I made a mistake and he got past. I tried to push with him and get him back making a couple more mistakes and allowing Damien past which put me in 3rd for the moto.
Overall: I finished up 3rd overall for the day and with having only 3 weeks on the bike I thought that was pretty good. Knowing my speed was slightly there and my fitness wasn't too bad I was feeling a bit more confident going into the first round of NZ Nationals a week later.
---
MX National's Round 1 at Timaru
Practice/Qualifying: The track was prep'd and was in good condition and when we went out it was good and i was feeling good on the bike. The track had long ruts and made things hard to get a fast lap in and I only managed to put in 9th fastest lap which wasn't the best.
Moto1: I got a shocking start and was sitting well mid pack and had alot of passing to do before the end of the 20min+2lap moto. I started working my way throught the pack making some good passes and I felt strong on the bike which was good. My lap times were staying consistent and I wasn't making any mistakes and closing in on riders all the time. I finally worked my way into 6th place with a couple laps to go and finished the race out in 6th.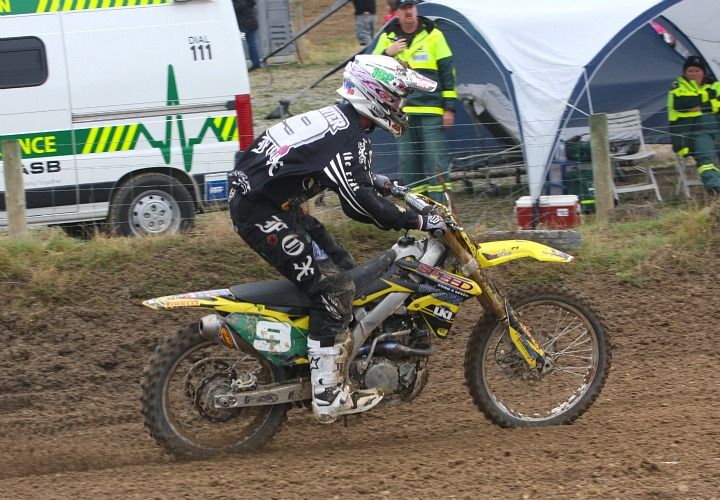 Moto 2: I got another shocking start and was sitting well in the mid pack again and had a lot of passing to do. I got through a good pack a riders in the first few laps and then got caught onto the back of a group that had some fast riders including Nick Saunders, Damien King, Brad Groombridge, Jesse Wiki, Jayden Jessup and Cam Dillon who was at the front of that pack of riders. I made some good passes and found some good lines that allowed me to through most of the pack in front of me coming up a little bit short with Cam pulling a gap on me while I was pushing through the pack. I ended up finishing that moto in 7th.
Moto 3: Going into the last moto and not having much time on the bike before Nationals my body was starting to get a little tired and had barely any energy for last moto which I kind of expected to happen. I got the best start I had all day and was sitting in 4th and exactly where I wanted to be for a good overall for the day. The first few laps I made a meal of it I couldnt get anything right. I made so many mistakes and just got flusted with where I was sitting. I chilled out a bit and a couple of riders got past me which I wasn't too worried about as I knew I could get them at end of the moto if I kept my composure. On lap 5 it happened, I lost focus and the front washed out putting me over-the-bars and as I was on the ground I could just see places going past me. I got back up in 16th and with everyone been the same speed I could only manage to getback to 14th for the moto.
Overall: 6th. I was pretty happy with how the first round went for me and was lucky to end up 6th as I mucked up the last moto. With Round 2 this weekend coming I just want to have another consistent round a get good points before the break.
I would like to thank Team Suzuki for taking myself down south and making things alot easier for myself. Also Kieran Leigh for spinning spanners for me.
Thank you
Rhys Carter
Big Thanks to all my sponsors: Moto GB, Loose Kid Industries, DVS Shoes, Protege MX, Skull Candy, Addiction, Pirelli, Shoei, Ebc Brakes, Rice Photography, EK Chains, Supersprox.