from ... Karl Power
Oparau Enduro Round 2 - 29 January.
Coming into Oparau there was meant to be a very bad weather storm coming through, but we were lucky it didn't really hit the west coast near Raglan. The ground was wet but there was traction everywhere. The Oparau Round is all ways known for deep river crossings so plenty of caution is needed.
The day was all about who made the least mistakes. I made a few mistakes in the first few tests which put me about 11 seconds behind 1st. The next two tests I won but only managed to claw back 4 seconds. Then in the fourth test I was 2nd only by 1 second. After the day was finished we had one more special test which was up the road. This was a extreme test up some hard obstacles and then back down a river bed. This was a special test that you could lose a lot of places on.
I took this easy and it was lucky as I came across some riders that were stuck in a little battle in the creek. I had no choice but to shout out and make an aggressive pass. I finished second overall, but I still walked away with some solid points to build off.
Also I would like to say that this was Chris Birch's last race before he moved over to South Africa and I wish him all the best over there!
Results: 1st Rory Mead ‐ 2nd Karl Power ‐ 3rd Chris Birch ‐ 4th Adrian Smith ‐ 5th Adam Reeves
---
Te Puke Enduro X - 12 February.
The Te Puke Club always put on a really good event and this one was at the same level as last year ! I had put a lot of effort into this in the previous weeks leading into the Enduro X because I wanted to redeem my self from last year's incident of stalling the bike while in the lead and finishing third.
From the first practice in the morning I was feeling good just taking it easy and trying to ramp up to the main event. It was like a supercross format with heat races with the top four going onto the next round. I was comfortable in all my races until I got into the semi finals and I was up against fellow Honda rider Michael Phillips. I was out in front and knowing Mikey P was on the move I tried to put some quick times down so I could get a gap but I couldn't do a mistake free lap. Mikey P came and passed me and all I could do was just try and follow him. Knowing that my position would get me through to the main I hung in there.
The main event was stacked. All the top riders had made it in and it was shaping up to be a great race. Off the line I got a good start inside the top 4. I could see Mikey P had started to gap the field and was on fire! I made a few forceful passes to get into 2nd place. By this stage I was feeling flat and my heart rate was through the roof. I could see Rory Mead making his way back from a poor start. I tried to hold him off as long as possible with out taking us both out but I could only hold him for a lap. I held my position to the finish for a solid third.
Results: 1st Rory Mead ‐ 2nd Mike Phillips ‐ 3rd Karl Power ‐ 4th Mike S
---
GNCC Maddix Park Bay of Plenty - 13 February.
Coming into the last round of the GNCC I knew what the job was and it was to just to go out and collect some points. Even though I hadn't won any rounds I have been at the pointy end each month. From when the series started four moths ago each round has been challenging in its own way.
The GNCC has also attracted a good quality of riders from NZ, Australia and USA, including Paul Whibley who rates these events as about as close as you will get to US GNCC racing.
The race it self was pretty standard. Off the start I got a good holeshot up hill on the 250F against other 450s. I lead the field for the first two laps until I had to come in for a pit stop. By then Rory flew past without taking on any fuel. On the lap I was filling up Rory managed to put in a quick lap and I didn't see him for the rest of the race.
Rory maintained the lead while I had a solid second place. I only had to finish and the GNCC title was mine again.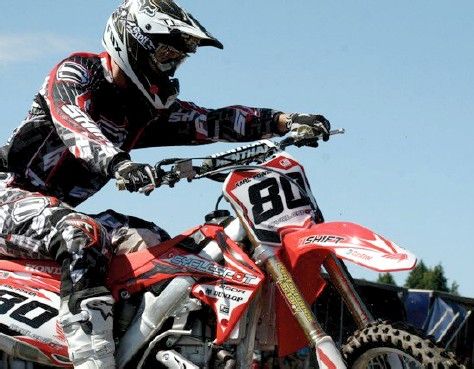 The track was really cut up and very muddy from a massive down poor of rain the Bay Of Plenty had on the Friday before.
On the final lap I was so happy to finish and win the GNCC cup back again.
This mean I have won it four times now which no one else has done and I am glad to do it on the Honda.
Results: 1st Rory Mead ‐ 2nd Karl Power ‐ 3rd Conrad Edwards
GNCC Final Results: 1st Karl Power ‐ 2nd Rory Mead ‐ 3rd Reece Burgess
Check out the new Graphics and New Sponsors – Cyclespot Honda. The best bike shop on Barrys Point
Road – if not anywhere ?