with ... Brandon Tipene
Question:
Brandon, looking at the results it was a positive start on the new bikes ?
Answer: Yeah, the 12-14yrs Class was awesome to win a title first up for MR Motorcycles. Scotty and the team had the RM in the shop during the week to get it race ready and all we had to do was turn up at the shop and it was all ready to go. I had some awesome races with Cameron Vaughan who really pushed me in the first race and was going hard in the 3rd. Luckily I won the first 2 races so all I needed was a podium finish to take the overall. My dad said if Cameron was coming hard in the 3rd then just let him go because I didn't want to crash if we got into a duel. So that's what I did.

Brandon's KXF with ilabb livery. Photo: Guy Maxwell
Question: In the Champions race ?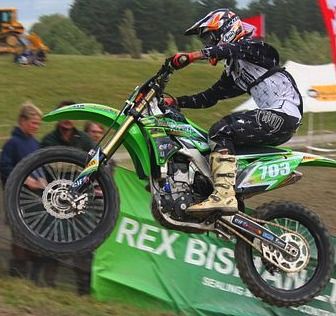 Answer: I chose to ride the KXF and not sure now if that was the best thing because I didn't get use to it. It has so much power and my dad changed the suspension settings which I wasn't use to. I think I would have been faster on the RM because that's all I rode all weekend but it was fun to ride the Kawi and lots of people were looking around at it when I turned up at the line. Unfortunately I got an average start and by the time I got to second place Dion was gone. He was on the gas all weekend and cleaned up. I was happy with 2nd place but I know it can be better when I set the bike up.
Question: What are your plans from now on ?
Answer: I'm going to ride 2 classes at the Valley Champs. The 12-14 Class and 14-16 250F Class. I don't think I'm fit enough yet for 2 classes but will just ride to try and get fitter. If I start getting tired then I'll drop a class and continue whichever I'm doing better at. Not a lot after that because I'm too young to ride the Senior Nationals so I want to do a lot of wake-boarding before the weather turns bad. I've just taken it up and really enjoying that. We did a lot over the holidays and gave riding a few big events a miss so it was nice to ride MotoX at Woodville again. Then hopefully I'll start building for the Junior Nationals in April. I turn 15 a week before the Nationals so will be riding with the big boys. I know if I train hard then I could get podium in the 250F class which is my goal.

Question: After the Nationals ?
Answer: Just going to stay and do local club events and maybe the odd Taupo Winter Series to keep in touch. My goal later in the year is top 5 both classes for the Australian Junior Nats. I am in the same age group as I rode last year and got 6th in the 250 and 12th 125, so I know I can do it.
Question: Did it seem weird racing another brand ?

Answer: Yep it did. Lots of people asking why the change. The RM ran awesome all weekend and the Kawi was one of the best looking bikes at Woodville. Thanks to Ilabb and all my other sponsors it was awesome. Also thanks to Wiltshire family and Digby/Josh Braaaptosh and Craig Wilkie for the help over the weekend ... .and to Callum which was a bummer not to qualify but next time .... oh yeah, I forgot Evan in the Hood (haha) and mum for driving. Dad, Andy Callum for flying in.
Question: Last words ? sponsors ?

Answer: MR Motorcycles, ELF Oil, Thor, Pirelli, Jet Pilot, Motomuck, Scott Goggles, Sidi Boots, Ilabb, Fliway International, Apex Group, Hygiene Systems, Super Sprox, Tsubaki Chains and the LA Racing crew.