from ... Nick Saunders
After a successful Supercross campaign that finished two weeks ago I was refocused on Motocross and really looking forward to the New Zealand Grand Prix. With two international riders coming out from England and Belgium along with Hurley, King, Broxholme, Dillon, Burkhart and bunch of other top racers from around the country racing was going to be intense !
Qualifying: Qualifying was close with just over three seconds separating the top ten riders. The track was very fast but in great condition, I put some good laps down but could only manage 8th place come qualifying end.
Race 1: The gates dropped for the first moto and my reaction time was a little off. I found myself somewhere around 10th place in the early laps. I rode as hard as I could in the opening stages of the moto chasing Hurley for a good part of it. I was riding way to tight and making far too many mistakes and dropped off the pace near the end of the moto settling for 8th over the finish line.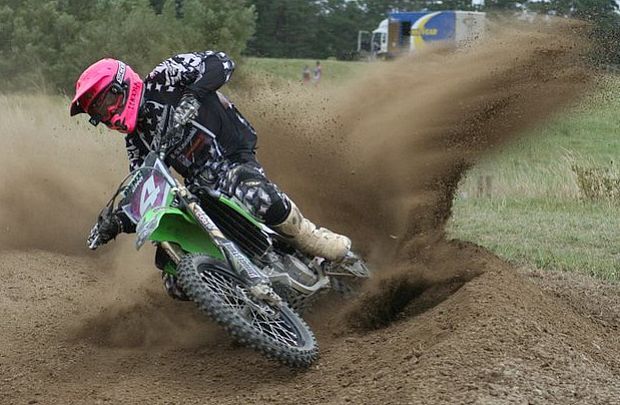 Nick Saunders (aka Gunna) at Woodville. Photo courtesy of Dick Koers.

Race 2: I was pretty annoyed how I was rode in the first moto and was determined to have a good final race and get further up the front. My KX250F got me off the line like a rocket and going into the first turn King and Hurley just pipped me for the holeshot around the outside. I sat in 3rd up the next straight running a little wide in turn two allowing Suzuki's Kayne Lamont to sneak up the inside. I rode like a different rider in this race sticking to the back of Lamont for the next 5 laps. Hurley had a problem crashing mid moto which put me back into 3rd. I then had Honda's Cam Dillon on the back of me and pressuring hard, he was riding well and made the move on me which put me back to 4th with a few laps to go. I rode the rest of the moto out and finished in this place.
Overall: One bad race one good race ! The first race was not so good, so to turn this around and have a good second moto was positive for sure. I just need to find this consistency for every race. With under three weeks to go now until the first round of the Nationals (Timaru 20 Feb) I am more focused then ever and will be working hard to improve and get back on that podium.
Thank You to all of my Supporters: FLY Team Green Kawasaki NZ, ProtegeMX, ilabb.com, Shoei, Silkolene Oils, RK Chain, OmegaNeck Brace, Scott Goggles, Bridgestone, Washtech Taupo, Moto SR, Sidi, Addiction Taupo, RICE photography, The Massage Clinic Taupo, Red Bull Energy Shots.
See you there
Cheers Nick