from ... Brandon Tipene
This is probably the biggest motorcross event in New Zealand and Brandon was amped to debut on the RM and KX for this event.
Weather was not looking good for the weekend so chances were it was going to be a mud fest. Brandon is competing in his age group which is 12-14yr 125cc so was the favourite as most of the time he competes in the older classes at club races.
Race 1
: Got a decent jump off the gate and went around in 3rd.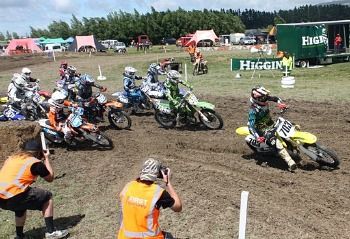 Followed for the first lap and looked comfortable. His biggest threat for this class is Cameron Vaughan and both went at it for at least 4-5 laps. With a couple of laps to run Brandon made an aggressive pass over the step-up and then managed to pull a gap from there. Race 1 under the belt.

Race 2:
Holeshot and controlled race from the front. Cameron got a bad start so by the time he got around the other riders Brandon could control the race.

Race 3:
Another Holeshot. Pulled a few seconds from Cameron in the first couple of laps but Cameron started to catch and put pressure on Brandon. Brandon knew all he had to do was settle for 2nd to get the overall so let Cameron through and just held 2nd comfortably.
Great RM125 holeshot for Brandon. Photo courtesy of Guy Maxwell.
Champions Race
: This race is a one off with the top 40 riders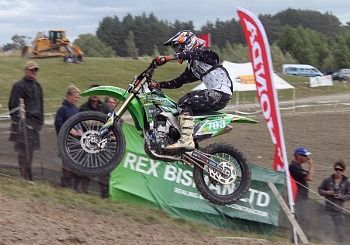 picked. Unfortunately the gate wasn't full but still some good riders in it. Brandon decided to ride the Kawi for this race which probably wasnt the best idea and also I changed the suspension settings which was an even worse idea. Jumped off the gate but went all sideways. Later finding the Kawi power took him by surprise. Went around in about 7th. First lap was a horror as the bike just wasnt setup right. By the time got use to the handling started making some passes on Callum Moore and Logan Blackburn. Managed to pull up to 2nd by the 5th lap. By then Dion had disappeared so was happy enough just to settle for 2nd which is still an excellent result. Would have been nice to get some more ride time on the KX but next time.
Overall an excellent weekend for team Tipene and was great to debut with a win.
Brandon on the KX250F. Photo courtesy of Guy Maxwell.
Cheers to: MR Motorcycles, ELF Lubricants, Pirelli, Thor, Sidi, Scott Goggles, Demon Energy, Tsubaki Chains, Supersprox, Jet Pilot, Fliway, Hygiene Systems and Apex Group.