from ... Michael Phillips
It was the 50th anniversary on the Woodville GP and being NZ's longest running motocross event there was some pretty big hype about it. The track gets used once a year for this event so no one really has an advantage on knowing the track. This was about my 10th Woodville so I had a fair idea of what it was going to turn out like.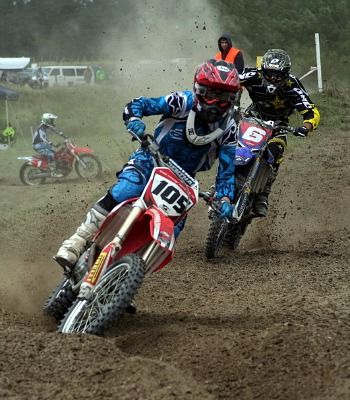 For some unknown reason they didn't give us qualifying and we just had practice. 5 laps at that. Not the best warm up for the day.

We were the first practice up then the last race in the program so we had a 3 hour break in between rides.

Moto 1: We had a peg draw for our gate position. I wasn't happy but managed to get an alright gate. I got a good jump and came into the first turn in the top bunch but got pushed off the track by Honda rider Jessie Wiki.
I got back on the track and by the end of the first lap I was into 3rd. I pushed onto the back wheel of Yamaha's Josh Coppins and made a pass not long after. I went a little wide a few corners later and hit a tyre and went down hard. I only lost one place and sat in 3rd. Then the arm pump started. I got passed by Suzuki's Cody Cooper and had to settle for 4th.

International Race: Again it was a peg draw for the start and I had an inside gate. It ended up working for me and I came around the first turn in 2nd. I moved into the lead a few corners later and didn't look back.

Half way through the race I had Coppins on my back wheel. The roost was really bad so I knew he couldn't get too close. I held him out all the way to the last lap and said to myself this is my race. I put the hammer down on the last lap and pulled a little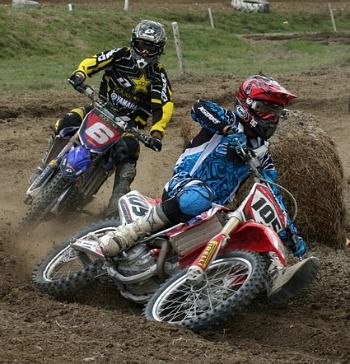 gap but on the 2nd to last corner I got a little cross rutted and tucked the front. I lost the lead and came in in 2nd.

Moto 2: Didn't start that well and I had to fight for it. I got into 4th behind Cooper and it was like a freight train. Coppins, team mate Justin Mcdonald, Cooper and I were all trying to stay out of each others roost and fight for position. Cooper got by Mcdonald and I made a pass a few laps later. I couldn't make up time on Cooper and had to settle for 3rd.

I was really happy with my speed with the fastest time of the day. After only two weeks of motocross riding I knew my fitness might have needed some work and I was right. They were tough motos, but a good test for the NZ nationals in a few weeks time.
I don't know what happened in that 2nd to last corner in the International race. One second I'm riding through the rut thinking take it easy next second I'm on the ground thinking damn I just lost the race. I'm staying positive and it's given me more drive for the next time we meet.
We have 3 weeks before the first round of the NZ Championships that start in Timaru on the 20th of this month.
Little bit of testing and loads of riding to be done before then. Photos courtesy of Dick Koers
All the best to my little bro who flies out to the UK today.
Take no prisoners !

Mikey P