from ... Michael Phillips
After a pretty good outing at the 3rd round in Motueka Nelson I was all set to bang bars again at the final round of the championship held at the technical track just outside Timaru.

Qualifying didn't go that well. I was just trying to get around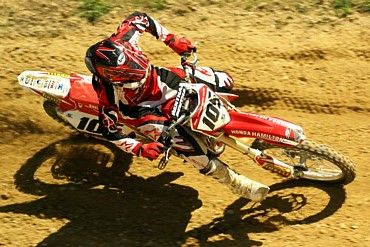 the track as they had gone way over the top with the watering. I qualified 4th.
Race 1: Started not so good but I made up a few places coming into the whoops. I came around the first lap in 3rd. I had team mate Justin Mcdonald and Yamaha rider Josh Coppins just in front of me. I wasn't letting them get away but half way through the moto I came into the whoops a little off line and went sideways and hit a hay bail. I managed to get back into the race and finish in 4th.

Race 2: Started off better and I settled into 2nd behind Coppins. I again wasn't letting him get away and I felt comfortable running the pace. I was trying to show Coppins a wheel and I cut to the inside but held onto the back brake a little too long and stalled the bike. I got it going only losing one place to Mcdonald. I finished the race in 3rd.
Race 3: I knew I had the pace to win and being the final SX race of the season I was going out to win. I got a good start and again sat in behind Coppins in. I was pushing it hard behind Coppins but wasn't able to make a pass and I had McDonald on my back wheel. I dropped off Coppins's pace but had a comfortable 2nd after McDonald made a mistake. I finished the race in 2nd.
Overall day: Josh Coppins 1st - Mike Phillips 2nd - Cody Cooper 3rd

Overall Championship: 1st Josh Coppins - 2nd Justin Mcdonal - 3rd Cody Cooper - 4th Mike Phillips.
The series finished pretty good for me. Finishing 4th wasn't what I wanted but at the start of the series I wasn't really sure what to expect and after the 2nd Round I was hoping just to run the top 3 guys pace let alone race for the lead. The last few weeks have been back on the Moto track and into some good rides. It has been a little hard to get back into the 20-25min motos but it feels good to be back on the moto track. We have the Woodville NZ GP this weekend and I'm hoping to carry on the winning form from Summercross a month ago.

Check out my new website www.mikephillipsracing.co.nz for all my updates, pics, profile, coaching and everything else Johny P and I are up to.

Cheers, Mikey P