with ... Damron Atkins
Monster Energy Kawasaki: Traxxas' involvement with Team Green and off-road seemed like a pretty easy step for the company last year. Talk about what made the team a great fit for Traxxas.
Damron Atkins: It was a natural fit for both sides. Our philosophies seemed the same with our dedication to trackside support. Last year we were really happy with the events we attended and are looking forward to the new season.

Monster Energy Kawasaki: With your involvement in disciplines at every age level, did you hit the mark for your expectations as a sponsor?
Damron Atkins: The enthusiasm we've seen around the product and our sales have been great. We seem to be getting our name out there and helping people become familiar with all our different products. Our target enthusiast is someone who is into motorsports and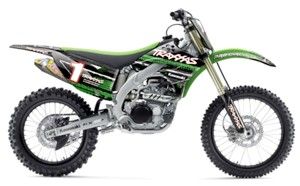 likes things that are fast, fun, and durable.

Monster Energy Kawasaki: You seem to take a huge interest in the amateur motocross level of racing. Talk about your setup at attended events.
Damron Atkins: We bring in our support trailer that allows us to service the product and sell parts right at the events. We set up a track that kids can come out and unwind after their races. There is also a try-me track that put the controllers in the hands of anyone that wants to take our product for a spin.

Monster Energy Kawasaki: Do you have any different plans for 2011 with Kawasaki ?
Damron Atkins: We like the program that was put in place and it will be pretty much the same as last year. We want to continue to bring excitement to the different racers and tracks. We love talking to people and being at the events. In terms of product, we developed and are selling the Kawasaki special-edition Slash 2x4 at Kawasaki dealers. All our other products are available at hobby shops and a directory of dealers can be found on our website. We have potential to build with Kawasaki and are excited for 2011.

Monster Energy Kawasaki: Switching gears over to supercross, Traxxas is now a sponsor of the Monster Energy Supercross, an FIM Championship series. How did you make the decision to step into series sponsorship ?
Damron Atkins: We saw a great response from being associated with the Monster Energy/Pro Circuit/Kawasaki team and had an opportunity to step up as a direct sponsor to supercross. I am confident that we will see the same type of results. The spectators of supercross respect speed, big air, and power and that definitely translates into a respect for our product in radio control. The beauty of radio control is they are fast, durable and fun, but when you crash, you just dust off the car and keep going.

Monster Energy Kawasaki: Traxxas is giving away a Kawasaki KX™450F at every supercross event. That's huge! Why did Traxxas develop a contest as big as the Kawasaki KX450F giveaway ?
Damron Atkins: Coming in as a new series sponsor, Traxxas wanted to go big and make an impact. We wanted to do what we could to add value to the series and to the spectators. In terms of the spectators, you can only win the bike if you are in attendance at the event, either by entering at our pit display, by text message from advertisements in the stadium, or at our concourse display. We've definitely seen how it's given back to the spectators and we think that it is adding value to the sport.