with ... Jeffrey Herlings.

Interview by Geoff Meyer, courtesy of Youthstream. Photo: Geoff Meyer.
The Flying Dutchman has been training in Spain and will have his first race of 2011 in the opening round of the Italian Motocross Championship in about six weeks time.
"Normally I should ride the first two Italian Championship rounds in Ponte A Egola on February 27 and Faenza on March 6, then my home race in Gemert for the Dutch Championship and also Halle another round of the Dutch Championship. Between those I will ride some races in France."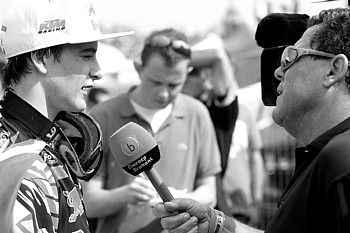 Of course Herlings and Roczen will line up in 2011 not only as rivals, but also as team-mates. That is something that Herlings wants to make the most from. The two toughest riders in the MX2 class working together to win KTM another World Title.
"I only saw Ken at the Grand Prix's," Herlings said. "If I can see Ken training more, then I can learn more. I have put a lot of energy into learning from him. Sometimes when I am training on my stationary bike I watch video's of the Grand Prix's and watch which lines he is riding. I know he will be hard to beat, but everyone is beatable, even Ken Roczen."
While Herlings enjoyed winning his home Grand Prix at the Valkenswaard circuit in Holland, that win came easy; the toughest Grand Prix for Herlings was when he won in Kegums, Latvia. On this occasion he had to battle hard to beat Roczen and Frenchman Stephen Frossard.
"In Valkenswaard everything went perfect, but in Kegums I had to fight from the start of the race until the end, and believe me that makes 40 minutes really long. If you are leading and it's 35 degrees and you have two guys like Roczen and Frossard behind you, then that is difficult. Of course Kegums wasn't a home Grand Prix like Valkenswaard, but it was a tough Grand Prix, tougher than Valkenswaard."
Herlings feels he has to watch out for his former rival in the European Championship ranks, Max Anstie. The British rider returns from a year racing in America, and Herlings remembers how tough Anstie was in the European Championship days.
"I think that he is the one who can beat Roczen often. I am sure he will win a couple of Grand Prix's this year. You have guys like Gautier Paulin and Tommy Searle, but I put Anstie above both of them, he is the number one candidate to beat Roczen on a regular basis."
Whatever happens in 2011 you can be sure that Herlings will be mixing it up with both Roczen and Anstie. Throw in names like Paulin, Searle and Jeremy Van Horebeek and we have an interesting season ahead of us.