with ... Rui Gonçalves.
Pascal Haudiquert talks to Rui Gonçalves. Edited copy courtesy of Youthstream.
Q: Rui, 2010 was not exactly the season you could expect?
A: For sure I was expecting better, after my runner-up position in the MX2 series. Due to the new rule, I had to move to the MX1 class, but unfortunately I had troubles with my shoulder when I started practicing, and I had to undergo surgery. When I came back racing in Valkenswaard, I was not at my best shape after three months without riding a bike, and it took me more time than I had expected to recover. I finally got some good results during the last GP, and it was the right time, as KTM had to reduce his MX1 team from three to two riders, Cairoli and Nagl.

Q: You had three great seasons with the KTM people, and you had a close relationship with Stefan Everts, is it a big change for you?
A: I left Portugal for Belgium when I was sixteen years old, and I know how to work alone. But for sure Stefan was a very important person in my life. He helped me a lot during four seasons, as he already gave me pieces of advice when I was riding for Silver Action. We are friends, as he has talked to me as a rider, but also as a man, and I will never forget this. But we stay friends, even if we will not be alongside so often as he stays with KTM while I'm moving to Honda Martin.

Q: Honda didn't won so many GP's in the past seasons, but the Factory is back giving support. Are you happy with this move?
A: We had many discussions with Pit, but when he confirmed me that they would only have two riders in the MX1 team, I had to find another ride and it took me time to confirm my new team. My dream has always been to be World Champion, that's the reason why I go training every day and I do my best to have good material. Honda convinced me, and I must say that I did the right choice. During our testing week in Japan, I could see how motivated they are, and how good is the bike. We did a lot of testing and the engineers were happy with the feedback. Concerning Honda and team Martin, I can't say anything about their results in the past seasons, I just know that these people are professional, motivated and hard workers. It was a pleasure working with them in Japan, and I must remind many people that I did my first GP with them in Castiglione del Lago in 2001!"

Q: You were enjoying the 350cc, how is it now with the 450cc?
A: I feel comfortable, it's not a problem for me to ride a 450cc, as I proved five years ago when I raced international events with a 450 Yamaha! The bike is different; in fact, everything is different as I switched from a KTM to a Honda, a 350 to a 450, White Power suspensions to Showa, Pirelli tyres to Dunlop! I need to practice a lot before the first races, and I have already ridden the Honda for a couple of weeks."

Q: What are your goals for next season?
A: The first goal is to work hard this winter, to be ready for Sevlievo. My trainer Russel White, who was working with Tyla when he got the Title and with Josh, has fixed me a great physical program. With Martin's team, we'll go training in Sardinia, and when we'll go to the first races in Italy, we'll receive the Factory bikes. Then we'll have six more weeks before the first GP. We all know that in the MX1 class there are many riders who can win races, so it will be important, as always, to score good points at each race."

Q: You are the best ever Portuguese MX rider, do you see some kids coming behind you?
A: Unfortunately not, despite the work we are doing with the Federation. There are not so many kids who ride motocross in Portugal, they prefer to play football, and for the parents it's easier and less expensive. The level of our Championships is not so good, and it costs a lot of money if you want to ride the European Championship. I was lucky that my parents were able to support me financially, but when I left Portugal for Belgium, I did a lot of sacrifices. But it was my choice and I have never had any regrets."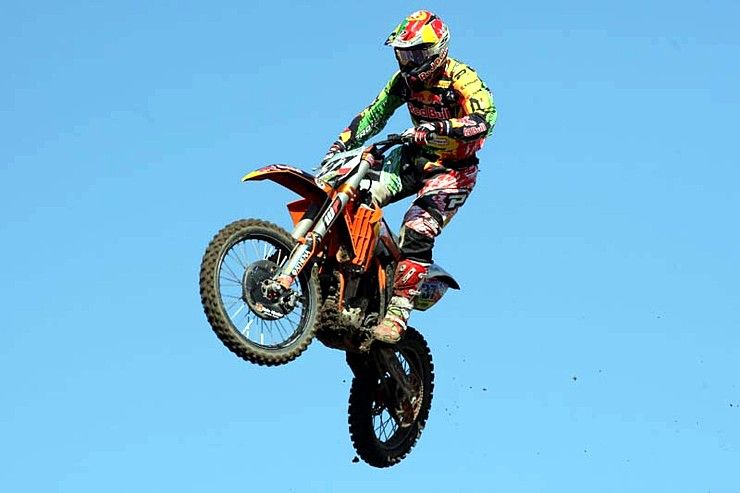 Rui Gonçalves during the 2010 MXoN in Denver, USA. Photo: Pascal Haudiquert.