Australian MX Nationals - Round 9 at Toowoomba
MX1: CDR Yamaha's Kade Mosig flawless at round nine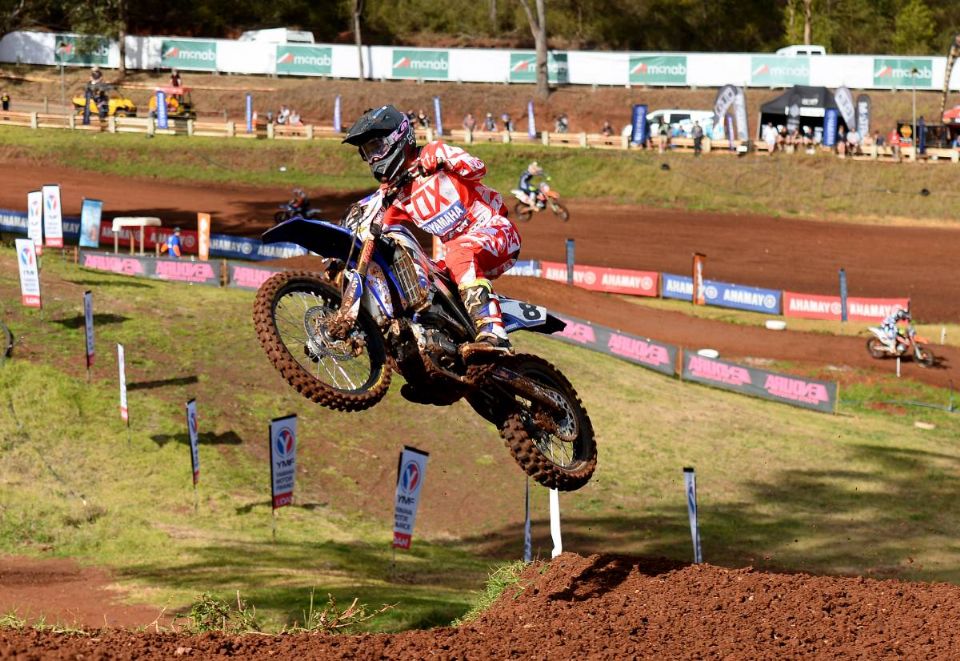 Kade Mosig. Image: Jeff Crow / Explorer Media

CDR Yamaha's Kade Mosig has recorded 1-1 finishes, and collected his third round win for 2015, at round nine of the MX Nationals in Toowoomba today.
With Mosig recently finding his form, the Victorian based Yamaha rider did his Craig Dack managed team proud, and put any talk of Kirk Gibbs wrapping up the championship early, to rest.
When bikes hit the track for the Monster Energy MX1 qualifying session, the pressure was on KTM Motocross Racing Team's Gibbs, who had done the calculations, and knew that the title was achievable at Toowoomba.
After qualifying first, and armed with the knowledge that a GoPro Super pole win could greatly contribute towards wrapping up the championship at round nine, Gibbs managed the third fastest lap time in GoPro SuperPole, behind NPS Monster Energy duo Dylan Long and Adam Monea, who secured first and second respectively.
When moto one got underway, all eyes were on Gibbs who was looking to collect crucial points in race one, if he was to get the job done.
Despite Gibb's determination, Penrite Honda's Ben Townley took the moto one holeshot, before the former retiree settled in to the race lead, however it wasn't long before CDR Yamaha's Kade Mosig made his presence known – Mosig making the move on Townley and moving in to the lead, one in which he would not relinquish.
With Mosig out in front, Honda mounted Townley then settled into second position, while NPS Monster Energy Kawasaki's Monea, and CDR's Dan Reardon provided spectators with an action packed battle for third.
When the opening 30-minute moto concluded, Mosig only just had what it took to edge out Townley – the pair battling for the race win all the way down to the final turn. With Mosig and Townley taking first and second, CDR Yamaha's Reardon rounded out the podium in third.
A notable absentee from the top three in moto one, was that of Gibbs, who despite putting down solid laps was only able to finish the race in fifth place.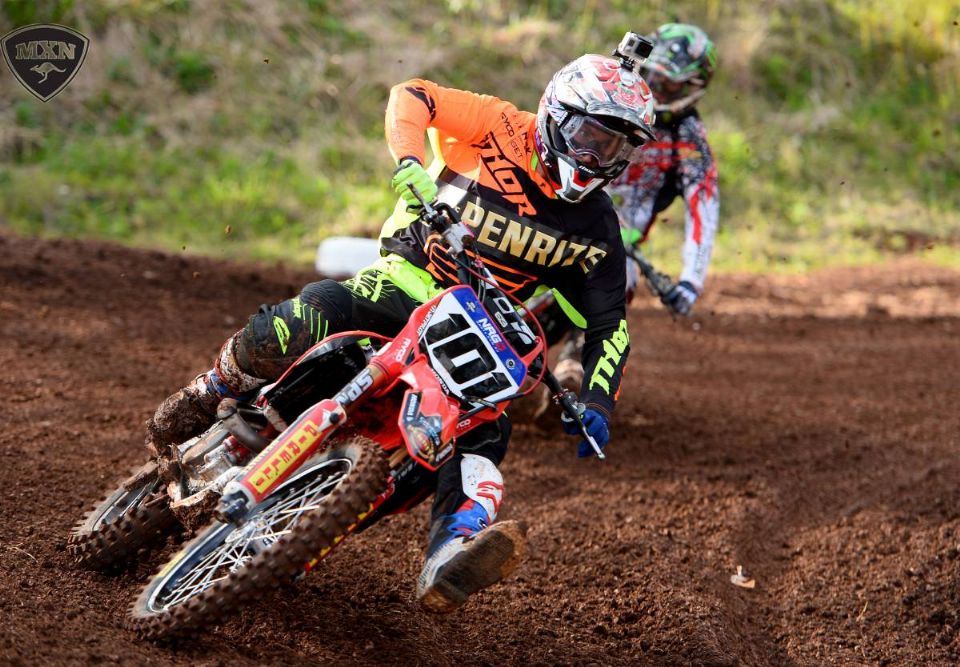 Ben Townley. Image: Jeff Crow / Explorer Media.
When bikes hit the track for race two, it was once again Penrite Honda's Townley who was out of the gates and into turn one first. From there Townley went on to lead the moto, before NPS Monster Energy Kawasaki's Long eyed the former world champ.
With newly found confidence, Long executed a pass on Townley just after the halfway mark, and provided spectators with a new race leader. However Long's lead was also shortlived. Hard charging teammate Monea and CDR's Mosig managed to get by Long, providing the huge crowds with a battle for the MX1 race lead.
By the time the last lap board came out, Monea and Mosig had both checked out on the MX1 field – However it was Mosig who eventually collected the race two win, ahead of Monea in second and Gibbs who found his way in to third.
When the points were tallied it was the standout performance from Mosig that landed him on the top step of the round nine podium. NPS Monster Energy Kawasaki's Monea finished second, while Penrite Honda's Townley concluded the round in third.
Cade Mosig: "This is an awesome feeling - that last lap in that final moto when I was riding around, I just got a massive rush, and I just kept thinking that this is exactly what we've been working for all year," he said.
"It's been a long road to get to this point, so it's awesome to give back to my team and everyone who supports me.
"The experience the CDR Team has is definitely rubbing off on me, and it's making days like this seem a lot easier these days.
"They have given me an awesome bike to ride on and I can't thank them enough."
Monster Energy MX1 round nine overall points:
1) Kade Mosig 70
2) Adam Monea 60
3) Ben Townley 58
4) Kirk Gibbs 56
5) Luke Styke 53
6) Daniel Reardon 53
7) Dylan Long 49
8) Cody Cooper 47
9) Egan Mastin 43
10) Lawson Bopping 42
Monster Energy MX1 championship points:
1) Kirk Gibbs 589
2) Kade Mosig 528
3) Luke Styke 518
4) Adam Monea 513
5) Lawson Bopping 471
6) Daniel Reardon 464
7) Dylan Long 444
8) Cody Cooper 405
9) Jesse Dobson 382
10) Kale Makeham 347
---
MX2:
Career first MX2 overall win for JCR Yamaha's Jay Wilson.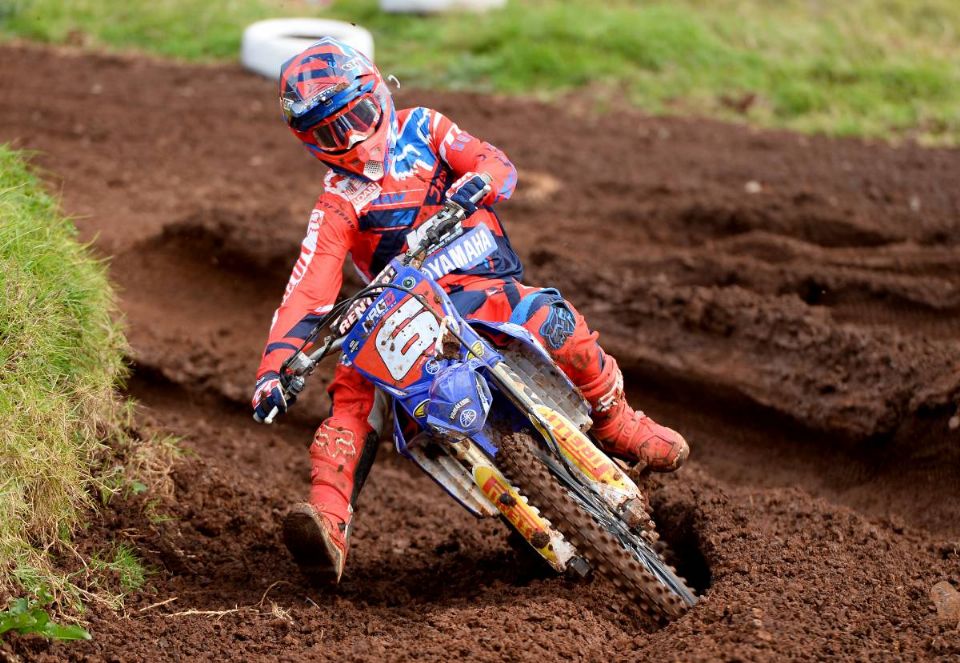 Jay Wilson. Image: Jeff Crow / Explorer Media.


JCR Yamaha's Jay Wilson has raced to a career first MX2 overall victory, and further extended his championship lead at round nine of the MX Nationals at Echo Valley in Toowoomba yesterday.
With only three points separating Wilson from former teammate Luke Clout (Serco Yamaha) heading in to the weekend, round nine proved to be critical to this year's championship, ensuring the Motul MX2 class provided spectators with action packed racing.
With the championship coming down to the wire, gate selection at round nine was just as important as racing – that being the case, it was no surprise to see JCR Yamaha's Wilson take pole position after the opening qualifying session, followed by his closest title threat Clout who snatched up the second fastest lap time.
When the gates dropped on moto one, it was Davey Motorsport's (KTM) Jack Simpson who's bike launched in to turn one first, however it wasn't long before defending champion Clout moved in to the race lead, and looked certain to check out on the MX2 field.
However, despite leading for a short period of time, Clout felt the blow of Newcastle KTM's Dylan Wills, and then JCR Yamaha's Wilson who were both on a charge to the front of the pack – Wilson determined to snatch up crucial championship points, vital to closing in on the 2015 title.
With the top five consisting of Wilson, Wills, Caleb Ward, Clout, and Takeshi Katsuya, it was anyone's pick as to who would finish the opening moto victorious. However when the chequered flag flew, it was Kawasaki Australia's Katsuya who put down one of his best rides this year, taking a comfortable race win, ahead of hard charging KTM mounted Ward in second, while series leader Wilson crossed the line in third.
In race number two, the KTM machine of Wills was first out of the gate, before Husqvarna's Nathan Crawford and Wilson made it their mission to chase the two-stroke machine down.
By the five minute mark, the top three riders were all well within striking distance of the race lead, however it was Wilson who executed passes on both Crawford and Wills to take control in race two.
As the moto reached it's final stages, Ward found his way to the front of the field, passing both Wills, Katsuya, and Crawford, to move into an impressive second position.
With Ward on a charge, the KTM mounted rider's attention shifted to the race lead. However despite Ward's efforts, Wilson crossed the line victorious, with Ward following close behind in second, while Katsuya crossed the line in third.
With the win in the final moto, JCR Yamaha's Wilson collected his first ever round win, and stretched out his championship lead to 21 points on his former teammate Luke Clout, while Katsuya took second for the round, ahead of Ward who rounded out the podium in third.
Jay Wilson: "It's good to get the monkey off my back and get this overall that's for sure - now I can focus on trying to win this championship," he said.
"I'm pumped, i've always done quite well at Toowoomba - I've actually won every senior race I've done here so far so i'm stoked.
"I can't say enough about the JCR Yamaha team. We've been working hard this season and it's showing, our bikes are running awesome, I'm really enjoying myself and I just can't wait to get to Coolum."
Motul MX2 round nine overall points
1) Jay Wilson 65
2) Takeshi Katsuya 65
3) Caleb Ward 64
4) Dylan Wills 54
5) Wade Hunter 49
6) Nathan Crawford 48
7) Jed Beaton 48
8) Luke Clout 47
9) Jack Simpson 44
10) Dean Porter 42
Motul MX2 championship standings:
1) Jay Wilson 530
2) Luke Clout 509
3) Takeshi Katsuya 500
4) Jed Beaton 443
5) Caleb Ward 417
6) Wade Hunter 411
7) Nathan Crawford 394
8) Dylan Wills 388
9) Geran Stapleton 355
10) Luke Arbon 327
Copy and images courtesy of Eskimo Media Group.