Lucas Oil Pro Motocross Championship Results: Indiana
Jeremy Martin secures back-to-back 250 Class Championships at Season Finale at Indiana's Ironman Raceway.
Drama surrounded the final round of the 2015 Lucas Oil Pro Motocross Championship on Saturday afternoon as one of the closest 250 Class title fights in history was decided with the series' second ever visit to Ironman Raceway for the Bud Light Ironman National. Unfortunately the anticipated showdown between Yamalube/Star Racing Yamaha's Jeremy Martin and Red Bull KTM's Marvin Musquin was short lived, as an apparent technical issue in the first moto brought a heartbreaking end to Musquin's title hopes and allowed Martin hoist the Gary Jones Cup as the 250 Class Champion for back-to-back seasons. Martin celebrated his title alongside his Yamalube/Star Racing Yamaha rookie teammate Aaron Plessinger, who broke through for the first overall win of his career. Despite securing his third 450 Class Championship the week prior, Red Bull KTM's Ryan Dungey still took care of business in the premier division, racing to his fifth consecutive overall win.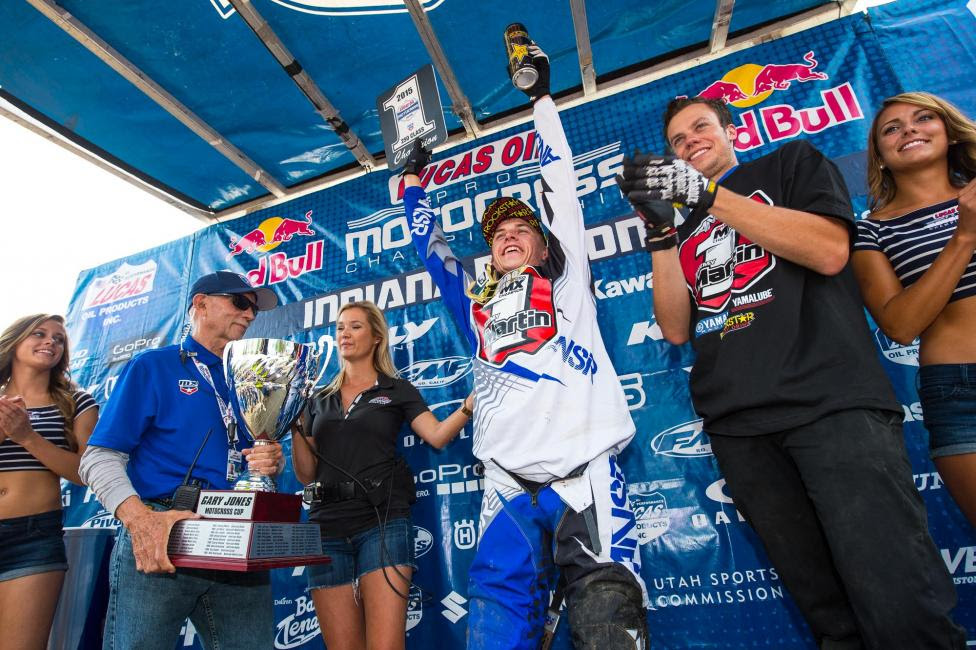 Martin became the first back-to-back 250 Class Champion since Ryan Villopoto in 2007-2008.
Photo: Simon Cudby
With the title on the line, the 250 Class took center stage at Ironman Raceway. The day began with Martin making the first statement, edging out Musquin in timed practice to earn the Bud Light Fastest Qualifier. When the gate dropped on the opening moto, GEICO Honda's Matt Bisceglia captured the Motosport.com Holeshot Award but it didn't take long for Yamalube/Star Racing Yamaha's Cooper Webb to move into the lead. Behind the battle up front, Musquin and Martin battled right behind one another for a spot inside the top five. As the field race to the top of the track's trademark uphill obstacle named "Godzilla," Musquin's race came to an end after he was seen pushing his KTM, his body language suggesting a terminal problem. His team would later confirm that the bike was unresponsive when Musquin twisted the throttle. With his championship rival out of contention, Martin slotted into fifth with a chance to secure the title with a moto victory.

Webb opened up a comfortable margin over Bisceglia by the completion of the opening lap, with fellow GEICO Honda rider RJ Hampshire in third. Martin began his march to the front in the ensuing laps, moving into podium position on Lap 3 and into the runner-up spot on Lap 6. Webb moved out to a double-digit advantage by the halfway point of the moto, but attention was soon directed to the third member of the Yamalube/Star Racing Yamaha effort in Plessinger. The second-generation racer fought his way from a seventh-place start to move into third on Lap 6 and soon put the pressure on Martin for second, eventually taking over the spot on Lap 9.

Webb's once-comfortable lead diminished in the late stages of the moto as Plessinger closed in, while Martin continued to lose ground and soon fell into the clutches of Troy Lee Designs/Lucas Oil/Red Bull/KTM's Jessy Nelson. Plessinger moved onto Webb's rear fender and sat within a few bike lengths throughout the closing laps, but was ultimately unable to make the pass. Webb took the win 1.885 seconds ahead of his teammate, with Martin eventually losing third to Nelson and settling for fourth.
Musquin's title hopes were dashed with a DNF in Moto 1.
Photo: Simon Cudby
Despite being unable to clinch the title in the first moto, Martin entered the final race of the season with a 20-point lead on Musquin, meaning he needed to finish 15th or better. Nelson surged out of the gate to start Moto 2, edging out Monster Energy/Pro Circuit/Kawasaki's Joey Savatgy for the Motosport.com Holeshot Award. In need of a win and some luck, Musquin securely positioned himself inside the top 10 while Martin found himself on the ground outside the top 20. Webb was also mired deep in the field and ended up crashing out of the race on the opening lap.

Nelson and Savatgy set a torrid pace early to open a slight lead over the field, but Plessinger was once again on a march to the front after starting sixth. The Yamaha rider slotted into third on Lap 2 and began to apply pressure on Savatgy for second. As the two riders battle for the spot Nelson, who had opened up a gap out front, crashed out of the lead on Lap 4 and lost several positions. Savatgy assumed the top spot but Plessinger continued to apply pressure and eventually made his move on Lap 7.

Once out front the rookie rider pulled away and took the first moto win of his career, 10.715 seconds ahead of Savatgy. Musquin salvaged his afternoon with an impressive ride to third-place. Martin did what he needed to do to capture the title, overcoming his early trouble to cross the finish in ninth.

When the overall results were tallied, Plessinger's 2-1 effort made him the 77th different winner in 250 Class history and the second first-time winner of the 2015 season. He also became the third Star Racing Yamaha rider to stand atop the podium this summer.

"This is amazing. I only live about two-and-a-half hours from here [in Ohio]," said Plessinger. "I was able to charge hard in both motos and it ended out working really well for me in the end. Today was a great learning experience. I'm just a rookie but I have many years ahead of me and I'm looking forward to continue improving."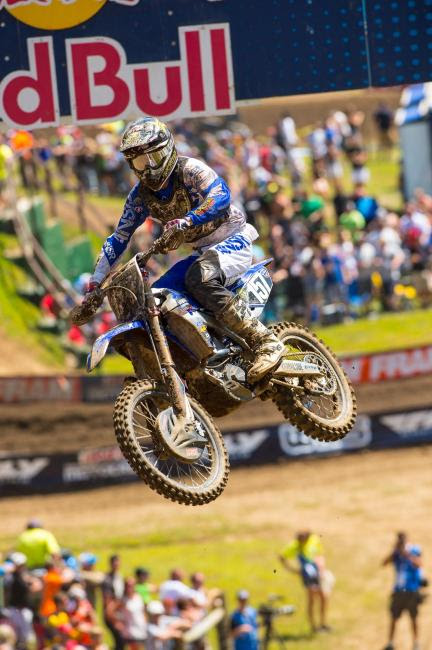 Plessinger earned the first win of his career with a strong outing.
Photo: Simon Cudby
Savatgy recorded a runner-up finish (5-2), while Nelson rounded out the overall podium in third (3-6). Martin's 4-9 effort landed him sixth overall, with Musquin bringing home a 10th-place finish (40-3).

While two points separated Martin and Musquin when the day began, Martin finished the season 12 points ahead to become the first back-to-back champion since Ryan Villopoto in 2007-2008.

"What a crazy year. Marvin [Musquin] was really strong this season and pushed me to my limit. He's a great competitor," explained Martin. "It was a weird summer. I'd get great starts and good finishes, but I also had trouble at times when Marvin would do well, so it was a constant battle until the end. This year was a much tougher championship to win. It was tough last year, but this was a dogfight all season long and I'm even more proud to end the year on top."

"It was a great year. The best year of my career [in the U.S.] so I feel like I can't really complain," said Musquin. "My team was fantastic all season. We came into the first moto [today] really strong and I was ready to battle. Unfortunately my bike had a problem. It was the only time I had an issue all year long. I've had so much support from all the fans in America, France and throughout Europe. I kind of feel like I let everyone down, but we still had a great season."
Savatgy grabbed a runner-up effort.
Photo: Simon Cudby


250 Class (Moto Finish)
Aaron Plessinger, Hamilton, Ohio, Yamaha (2-1)
Joey Savatgy, Thomasville, Ga., Kawasaki (5-2)
Jessy Nelson, Paso Robles, Calif., KTM (3-6)
RJ Hampshire, Hudson, Fla., Honda (8-4)
Matt Bisceglia, Tualatin, Ore., Honda (6-5)
Jeremy Martin, Millville, Minn., Yamaha (4-9)
Zach Osborne, Abingdon, Va., Husqvarna (10-7)
Christian Craig, Plymouth, Minn., Honda (9-8)
Cooper Webb, Newport, N.C., Yamaha (1-37)
Marvin Musquin, France, KTM (40-3)
250 Class Championship Standings
Jeremy Martin, Millville, Minn., Yamaha, 491
Marvin Musquin, France, KTM, 479
Joey Savatgy, Thomasville, Ga., Kawasaki, 348
Zach Osborne, Abingdon, Va., Husqvarna, 330
Jessy Nelson, Paso Robles, Calif., KTM, 323
Aaron Plessinger, Hamilton, Ohio, Yamaha, 311
Alex Martin, Millville, Minn., Yamaha, 288
Matt Bisceglia, Tualatin, Ore., Honda, 256
Shane McElrath, Canton, N.C., KTM, 248
RJ Hampshire, Hudson, Fla., Honda, 248
---
450 Class
Fresh off his championship-winning performance last weekend, Dungey set the pace in timed practice for the 450 Class, earning the Bud Light Fastest Qualifier. When the opening moto got underway, he parlayed his top qualifying effort into the Motosport.com Holeshot Award ahead of Rockstar Energy Husqvarna Factory Racing's Christophe Pourcel. The Frenchman was able to apply pressure on Dungey throughout the opening lap and crossed the line in first. However, Dungey would respond and assume control of the moto shortly thereafter.

With the championship wrapped up, the attention in the 450 Class shifted to the battle for the runner-up spot in the final standings between Autotrader.com/Toyota/Yamaha's Justin Barcia and RCH Soaring Eagle/Jimmy Johns/Suzuki Factory Racing's Ken Roczen, with five points sitting between them in favor of Barcia. Fittingly enough, the two riders found themselves next to one another to start the moto, battling back from starts outside the top 10 to soon move into seventh and eighth, respectfully. Together the pair continued their march to the front of the field.

Dungey continued to pull away out front, leaving Rockstar Energy Husqvarna Factory Racing teammates Pourcel and Jason Anderson in a heated battle. As this ensued, Barcia and Roczen were also nearing podium contention along with Team Yoshimura Suzuki's Blake Baggett. Anderson got the upper hand on Pourcel to take over second, and in the late stages of the moto Roczen made his way around Barcia and several other contenders to grab third. After sitting ahead of his rival in points for the majority of the moto, Barcia ended up losing several positions late to finish seventh. That allowed Roczen to reclaim second in the points heading into the final moto.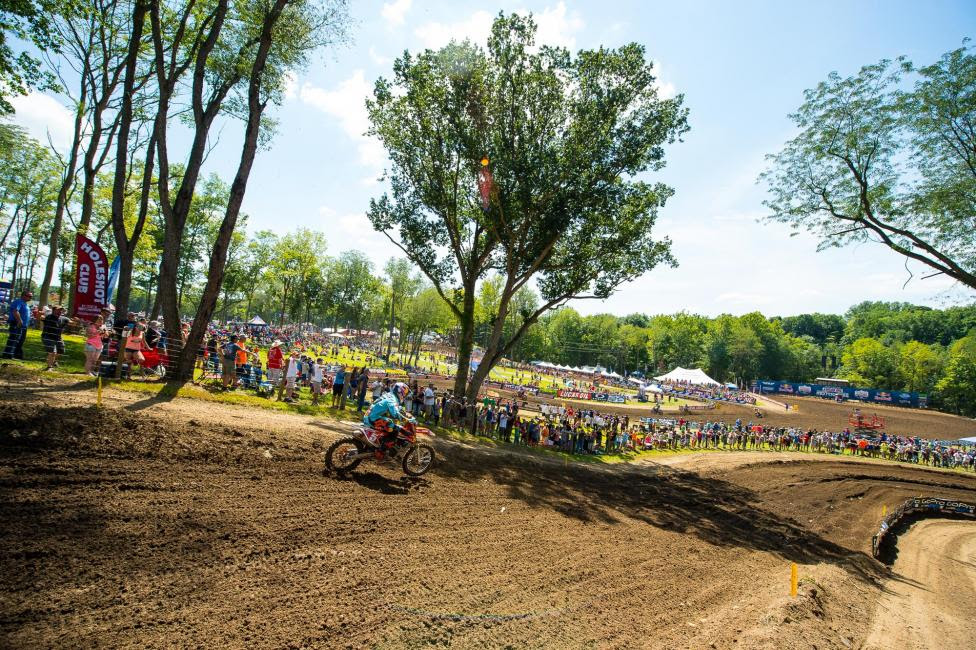 Dungey won for the fifth straight time in the 450 Class.
Photo: Simon Cudby
Moto 2 initially got underway with Barcia taking the early lead, but a downed rider off the start forced a red flag and a restart. When the field took off out of the gate Pourcel claimed the Motosport.com Holeshot Award ahead of Barcia, who seized the opportunity to take the lead on the opening lap. Pourcel then came under fire from both Dungey and Roczen, with Dungey making an uncharacteristic mistake by crashing, falling all the way to eighth.

Dungey's misfortune allowed Roczen to set up a run for the lead, and after passing Pourcel he battled with Barcia for a couple laps before moving out front on Lap 3. Dungey was able to make up the ground he lost relatively quickly and was back inside the top five on Lap 4. Roczen started to open a gap over the field while Barcia was soon left to deal with a hard-charging Dungey, who climbed back into podium position and was ready to make a run for second. Dungey made the pass on Barcia on Lap 7 and gained ground on Roczen out front, but was unable to challenge for the win.

Roczen took his first moto win since the fifth round of the season, 6.256 seconds ahead of Dungey, who saw his six-moto winning streak come to an end. Barcia followed in third.

Dungey's 1-2 effort put him atop the overall classification for the seventh time this season and the 45th time in his professional career. He now has yet to win at only one track on the championship schedule. Roczen completed his final race as defending champion in second (3-1), while Anderson wrapped up his rookie season with his fourth podium effort in third (2-6).

"We were running fourth at the beginning [of Moto 2], so it's a little tougher to take the lines you want when you aren't out front. I hit a little bump and it caused a little tip over, so I just got back up and put my head down the rest of the moto," said Dungey. "We were able to make up the ground we needed to get the win and end the season the way we wanted. It's been a great year and I'm excited for what lies ahead."
Roczen (near) and Barcia (far) battled for second in the championship all the way to the checkered flag.
Photo: Simon Cudby
Dungey finished the season with a 100-point advantage over Roczen, who surpassed Barcia to claim second in the final standings by six points.

"The track was gnarly out there, probably one of the toughest of the year. It feels great to end the season this way," said Roczen, who earned just one overall win in his first season with the Ricky Carmichael and Carey Hart-owned Suzuki team. "I knew we had the ability to get into second in the championship and we came out here and did that. I was confident coming into the day because the bike's been great and we did what we needed to do."

"It was a tough day. I had a big crash in practice, but no excuses," explained Barcia. "I rode as hard as I could all day long and today that put us in fourth. I'm so proud of the entire JGR [Joe Gibbs Racing Motocross] team and everything we've accomplished this season. It's been a memorable year.

Before the motos in the 450 Class and 250 Class got underway at Ironman Raceway, the inaugural Legends Race was held. A star-studded field of former winners and national champions like Ricky Carmichael, Kevin Windham, Jeff Emig, Jeff Stanton, Tim Ferry and more put on a show for the fans, with Carmichael coming out on top. Robbie Reynard finished second, with Ferry rounding out the podium in third.

The 2016 Lucas Oil Pro Motocross Championship will kick off next May. The 2016 schedule will be announced in the coming weeks.
The Legends Race was the ideal precursor to the season finale, with past stars like Guy Cooper (10), Ricky Carmichael (4) and Jeff Emig (47).
Photo: Simon Cudby
450 Class (Moto Finish)
Ryan Dungey, Belle Plaine, Minn., KTM (1-2)
Ken Roczen, Germany, Suzuki (3-1)
Jason Anderson, Edgewood, N.M., Husqvarna (2-6)
Justin Barcia, Monroe, N.Y., Yamaha (7-3)
Christophe Pourcel, Dade City, Fla., Husqvarna (4-7)
Trey Canard, Shawnee, Okla., Honda (8-5)
Blake Baggett, Grand Terrace, Calif., Suzuki (6-9)
Broc Tickle, Holly, Mich., Suzuki (15-4)
Josh Grant, Riverside, Calif., Kawasaki (10-8)
Phil Nicoletti, Cohocton, N.Y., Yamaha (11-10)
450 Class Championship Standings
Ryan Dungey, Belle Plaine, Minn., KTM, 547
Ken Roczen, Germany, Suzuki, 447
Justin Barcia, Monroe, N.Y., Yamaha, 441
Blake Baggett, Grand Terrace, Calif., Suzuki, 360
Christophe Pourcel, France, Husqvarna, 323
Jason Anderson, Edgewood, N.M., Husqvarna, 320
Broc Tickle, Holly, Mich., Suzuki, 311
Phil Nicoletti, Cohocton, N.Y., Yamaha, 250
Weston Peick, Wildomar, Calif., Yamaha, 223
Fredrik Noren, Sweden, Honda, 206