Lucas Oil Pro Motocross Championship Results: Unadilla
The stretch run of the 2015 Lucas Oil Pro Motocross Championship got underway on Saturday with the series' annual visit to Central New York's iconic Unadilla MX. The Red Bull Unadilla National signified the 10
th
stop of the 12-round season and was a showcase of dominance for Red Bull KTM's Ryan Dungey, who eared his series-leading fifth overall win of the season with a 1-1 effort, inching one step closer to a third Edison Dye Cup. In the 250 Class, Monster Energy/Pro Circuit/Kawasaki's Joey Savatgy emerged triumphant despite not winning a moto, relying on unmatched consistency to prevail with his first-ever professional victory in underdog fashion.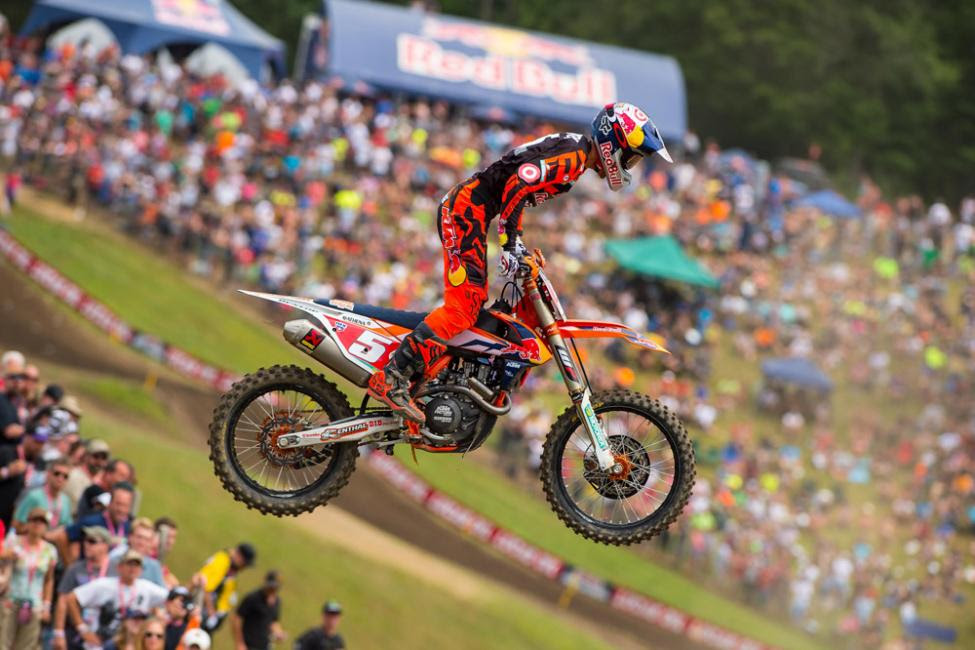 Dungey inched one step closer to the 450 Class title. Photo: Simon Cudby
Competition in the 450 Class began with Rockstar Energy Husqvarna Factory Racing's Christophe Pourcel securing the Bud Light Fastest Qualifier, but the Frenchman was hit with misfortune off the start in the first moto. Pourcel and defending champion Ken Roczen collided in the first turn, sending the top qualifier and the RCH Soaring Eagle/Jimmy Johns/Suzuki Factory Racing rider to the ground. Both competitors eventually returned to action. Out front, BTOSports.com KTM's Justin Brayton surged to the Motosport.com Holeshot Award just ahead of Dungey.

Starting ahead of his closest competitors in the title fight, Dungey seized the opportunity to take control of the moto early and passed Brayton for the lead on the first lap. By the time he came around to complete Lap 1, Dungey had already opened a multiple second lead over Autotrader.com/Toyota/Yamaha's Justin Barcia, his main rival over the last month of competition. Although Barcia saw his seven-moto holeshot streak come to an end, he still had Dungey in his sights as the field settled in.

The points leader continued to extend his advantage over the field, leaving Barcia to briefly deal with a hard charging Trey Canard aboard his Team Honda HRC machine. Barcia soon pulled away and Canard then fell into the clutches of GEICO Honda's Justin Bogle, who made his 450 Class debut at Unadilla. The battle for third provided the most excitement of the moto, as Bogle gained the upper hand through the middle of the race. Canard was persistent and eventually reclaimed the position on Lap 11. Not long after, Bogle went down and eventually dropped to the tail end of the top 10.

Dungey led every lap to take the moto win by 13.860 seconds ahead of Barcia, with Canard third.
Home state rider Barcia earned a runner-up finish. Photo: Simon Cudby
In the second moto Bogle put his Honda in the mix again, earning his first Motosport.com Holeshot Award just ahead of Dungey. As was the case in the first moto, Dungey wasted little time in putting his KTM in front and took the lead on the first lap, with Barcia again following into second. After a tough first moto, Roczen bounced back to put himself at the front of the field in third.

Dungey's early pace gave him a comfortable margin over his two title contenders, who began a heated battle for second that ultimately fell into Roczen's favor. Once in second, Roczen pushed to close in on Dungey and was able to consistently sit about a second behind the leader throughout the moto. While he was unable to put any serious pressure on the lead, Roczen kept Dungey honest through to the finish.

Dungey crossed the line 1.604 seconds ahead of Roczen, with Barcia following in third.
Canard made his return to the podium.
Photo: Simon Cudby
Dungey's 1-1 effort was his second sweep of the season and his fourth 450 Class win at Unadilla. Barcia finished in the runner-up spot (2-4) while Canard earned his first overall podium of the 2015 season in third (3-6), in just his second start since returning from injury.

"I got a great start in both motos and could put myself into the lead early. That allowed me to really ride my own race and work on building a gap," explained Dungey. "Ken [Roczen] was really strong in that last moto and it kind of caught me off guard, so I really had to put my head down and focus on hitting all my marks. We kept him behind us and finished the day with a 1-1 effort, which feels great."

With two rounds remaining, Dungey has put himself in position to win the championship next weekend, currently holding a 79-point lead over Barcia, who took over sole possession of second. If he completes the next round with at least a 50-point advantage, Dungey will clinch his third Edison Dye Cup in six seasons. Roczen sits third, 92 points behind Dungey and 13 points back of Barcia for second.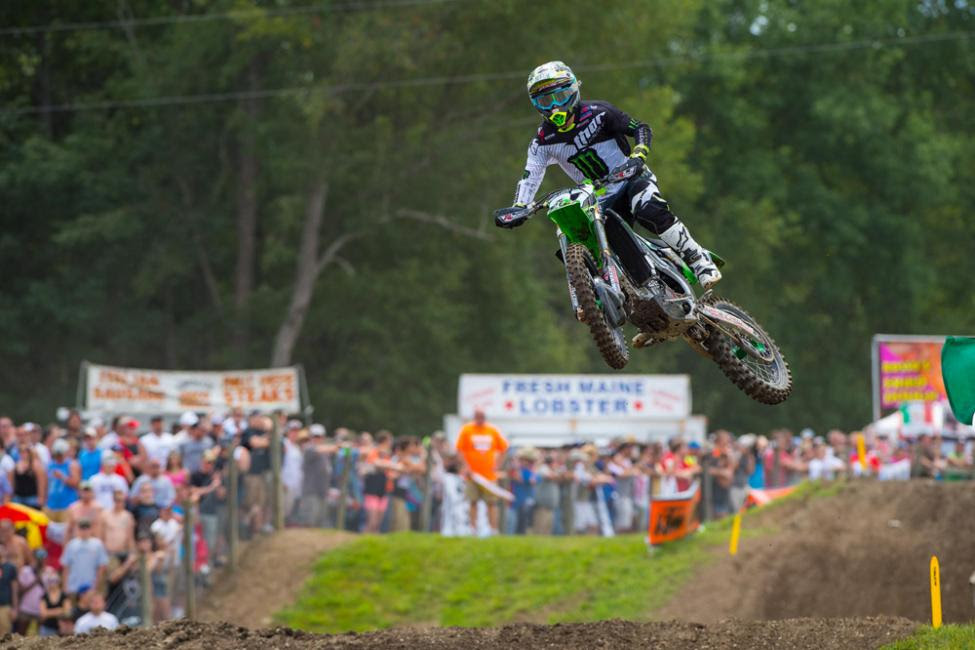 Savatgy took a big win for Kawasaki in the 250 Class. Photo: Simon Cudby
The battle for the win in the 250 Class began with Red Bull KTM's Marvin Musquin making the first statement as the Bud Light Fastest Qualifier. That allowed Musquin to earn a start inside the top five in Moto 1, while Savatgy took the Motosport.com Holeshot Award and the control of the early lead. GEICO Honda's Christian Craig pursued Savatgy on the opening lap in second, while Monster Energy/Pro Circuit/Kawasaki's Chris Alldredge slotted into third. Musquin was initially in this battle in fourth, but after almost going down in a turn he lost a couple valuable positions, including one to his championship rival Jeremy Martin, who moved into fourth aboard his Yamalube/Star Racing Yamaha.

Savatgy's holeshot put him in a position to set a torrid pace early and he extended his advantage over the field. It wasn't long before Martin started his march to the front, passing both Alldredge and Craig on Lap 3 to set his sights on the lead. Alldredge followed Martin into third, and from there the top three riders started to pull away. Savatgy was able to fend off the pressure from both Martin and Alldredge, but as the lead trio continued their fight it allowed Musquin to start closing in after he passed Craig to take over fourth.

Martin mounted another charge as the moto started to wind down, forcing a bobble out of Savatgy that allowed Martin to take over the top spot. As this was taking place, Musquin looked to make a pass on Alldredge for third but an apparent issue with his goggles forced him to back off the pace briefly and start the push again. Once in the lead, Martin pulled away and took the moto win by 2.754 seconds over Savatgy. Alldredge was forced to fend off a major charge from Musquin in the final corners, but held on to finish third.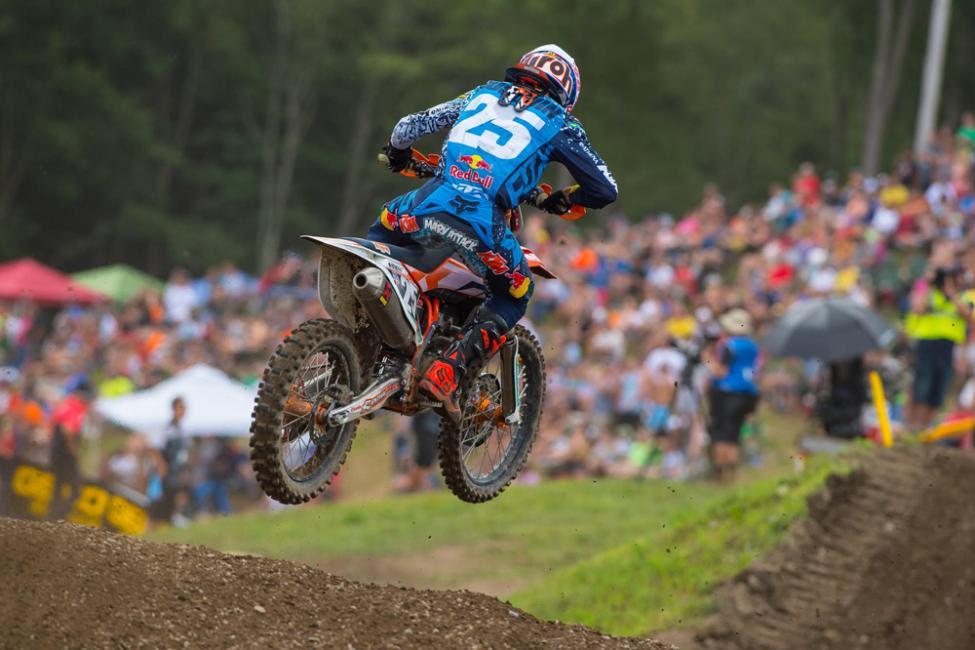 Musquin narrowly missed out on the overall win. Photo: Simon Cudby
As the gate dropped on Moto 2, GEICO Honda's RJ Hampshire put his bike across the line first to claim the Motosport.com Holeshot Award, but once again it was Savatgy who was able to put his Kawasaki at the front of the field early. Hampshire asserted himself into second and kept Savatgy within reach, while his GEICO Honda teammate Jordon Smith moved into third after an early pass on CycleTrader.com/Rocky River Yamaha's Alex Martin.

As the front-runners settled in, the pressure was on Musquin to fight his way forward from a top-five start, but even more work had to be done by Jeremy Martin, who suffered from a terrible start and began his race outside the top 10 in 13th. Savatgy moved into a comfortable position at the front of the field as the moto wore on, but misfortune hit both of the GEICO Honda riders in their quest for first ever podium results. Hampshire crashed out of second on Lap 4, handing the runner-up spot to Smith who soon did the same just a few laps later. Those mistakes allowed Musquin to fight his way into second and in just a matter of two laps he was making a pass on Savatgy for the lead, erasing a multiple second deficit.

Musquin's charge to the front of the field also included Yamalube/Star Racing Yamaha's Cooper Webb, who followed into second and dropped Savatgy from first to third in the span of a lap. Webb appeared to have the speed to challenge Musquin for the win, but as he looked to mount a charge Webb had a big crash that took him out of contention. That gave Musquin the breathing room he needed to take the moto win, 4.685 seconds ahead of Savatgy. Yamalube/Star Racing Yamaha's Aaron Plessinger was third. Jeremy Martin impressively fought his way back from a bad start to finish fifth and was actually in a position to claim fourth on the final lap until a small crash ended the run.
Martin earned a podium finish on an up and down afternoon. Photo: Simon Cudby
Musquin (4-1) had the overall win in his grasp as he was chased by Webb, but the crash by the Yamaha rider effectively handed the top spot to Savatgy (2-2), who took his first career overall win despite losing a shot at both moto victories in the late stages. Martin's resiliency in the final moto allowed him to finish third overall (1-5).

It was the first win of the 2015 season for the legendary Monster Energy/Pro Circuit/Kawasaki effort and marked the team's first victory since the seventh round of the 2014 season last July. Savatgy also became the 76th different winner in 250 Class history.

"I can't complain. It was a great day even though I didn't quite get a moto win," said Savatgy. "The main thing for me today was getting out of the gate good. To get the first overall [of my career] is an unreal feeling. We were able to get the lead in both motos and run out front for a while, which was great. When I came around in the second moto and saw Cooper [Webb] on the ground I started figuring out that the overall win was mine, and my mechanic confirmed it when I came back around."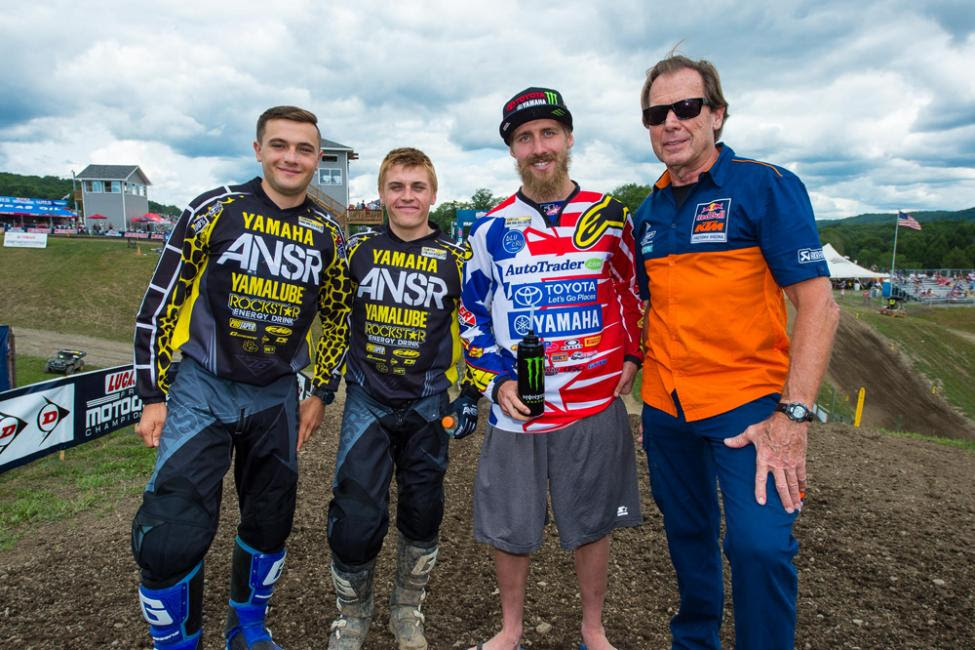 Team USA for the 2015 Motocross of Nations was announced with (left to right) Cooper Webb (MX3), Jeremy Martin (MX2) and Justin Barcia (MX1) and Team Manager Roger DeCoster. Photo: Simon Cudby
The battle for the 250 Class title, the Gary Jones Cup, continues to tighten between Jeremy Martin and Musquin. The pair entered the afternoon separated by four points and following their up-and-down afternoons now just have two points between them with two rounds remaining. With his win, Savatgy moved into a distant third in the standings, 132 points behind the leader.

"Something happened with my goggles in the first moto. I kept getting dirt inside and it made it really difficult to ride the way I wanted," said Musquin. "It was frustrating to not get the finish we wanted, but we regrouped and came back strong in the second moto. Once I got into second I knew I could get the win, but Cooper [Webb] was really aggressive. I knew I would be able to hold him off, but then he crashed and it made it a lot easier in the end [to take the win]. We made up more points on Jeremy [Martin] and we're ready to keep fighting [for the title]."

"As long as I can start in the top five I know I can be there in the end [to challenge for the win]. I rode a smart race in the first moto and was able to get the win," stated Martin. "I just spun [my tire] off the gate in Moto 2, and with the starts being so important now more than ever that puts you in a tough spot right away. I kept pushing and we were able to fight our way into fifth. I didn't really even realize how much ground I had made up until the end. We have four motos left and I'm ready for [the battle]."

The Lucas Oil Pro Motocross Championship continues next weekend with its second-to-last round of the 2015 season. Miller Motorsports Park in Tooele, Utah, will be the host site of the Zions Bank Utah National next Saturday, August 15.
Copy and images courtesy of Brandon Short mxsports.com
450 Class (Moto Finish)
Ryan Dungey, Belle Plaine, Minn., KTM (1-1)
Justin Barcia, Monroe, N.Y., Yamaha (2-4)
Trey Canard, Edmond, Oka., Honda (3-6)
Shaun Simpson, United Kingdom, KTM (4-8)
Ken Roczen, Germany, Suzuki (16-2)
Broc Tickle, Holly, Mich., Suzuki (6-9)
Weston Peick, Wildomar, Calif., Yamaha (12-5)
Blake Baggett, Grand Terrace, Calif., Suzuki (13-7)
Josh Grant, Riverside, Calif., Kawasaki (9-11)
Dean Wilson, United Kingdom, KTM (11-10)
450 Class Championship Standings
Ryan Dungey, Belle Plaine, Minn., KTM, 450
Justin Barcia, Monroe, N.Y., Yamaha, 371
Ken Roczen, Germany, Suzuki, 358
Blake Baggett, Grand Terrace, Calif., Suzuki, 297
Christophe Pourcel, France, Husqvarna, 267
Jason Anderson, Edgewood, N.M., Husqvarna, 263
Broc Tickle, Holly, Mich., Suzuki, 253
Weston Peick, Wildomar, Calif., Yamaha, 223
Phil Nicoletti, Cohocton, N.Y., Yamaha, 209
Fredrik Noren, Sweden, Honda, 206
250 Class (Moto Finish)
Joey Savatgy, Thomasville, Ga., Kawasaki (2-2)
Marvin Musquin, France, KTM (4-1)
Jeremy Martin, Millville, Minn., Yamaha (1-5)
Jessy Nelson, Paso Robles, Calif., KTM (6-4)
Alex Martin, Millville, Minn., Yamaha (8-6)
Shane McElrath, Canton, N.C., KTM (7-8)
Christian Craig, Plymouth, Minn., Honda (5-10)
Aaron Plessinger, Hamilton, Ohio, Yamaha (16-3)
Matt Bisceglia, Tualatin, Ore., Honda (12-9)
RJ Hampshire, Hudson, Fla., Honda (15-7)
250 Class Championship Standings
Jeremy Martin, Millville, Minn., Yamaha, 416
Marvin Musquin, France, KTM, 414
Joey Savatgy, Thomasville, Ga., Kawasaki, 284
Zach Osborne, Abingdon, Va., Husqvarna, 277
Jessy Nelson, Paso Robles, Calif., KTM, 266
Alex Martin, Millville, Minn., Yamaha, 261
Aaron Plessinger, Hamilton, Ohio, Yamaha, 228
Shane McElrath, Canton, N.C., KTM, 208
Matt Bisceglia, Tualatin, Ore., Honda, 195
RJ Hampshire, Hudson, Fla., Honda, 189