Appin looking almost too good to ride on!
After a benchmark setting round one at Horsham, crowds can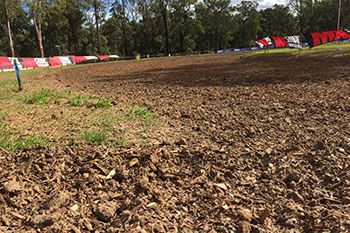 expect plenty of thrills when engines fire up at the Appin circuit this weekend.
McCarthur Motorcycle Club Property Manager Paul Dow, says that Appin has never looked better, and is looking forward to welcoming the floods of fans when racing kicks off on Sunday.
"The track is looking absolutely fantastic. We always put in plenty of work when the MX Nationals heads to Appin, and I think people will be very pleased with what they see on Sunday. The venue it's self is in great condition, and we are more than ready to bring in hundreds of MX Nationals fans for round two this weekend."
MX Nationals Series promoter Kevin Williams also shared his excitement on the venue's outstanding preparation for round two.
"The Williams Event Management team arrived yesterday afternoon to a venue at Appin that is completely ready to race on. This is without a doubt the best prepped we've seen Appin since we started bringing the MX Nationals to the area. The club have added a lot of mulch, there is plenty of moisture in the dirt, and honestly it almost looks too good to ride on!"
Don't forget, if you can't be at the track on Sunday to watch all of the action in person, you can catch all of the races LIVE, via http://www.nrgtv.com.au/live/
Copy and image courtesy of Eskimo Media.