Round 4 of the NZ Motocross Champs - an overview

The Pukekohe MCC's national event Organiser, Howard Lilly, contracted SKY Sport, to film on Sunday.

Note

: Howard did this via sponsorships and not via MNZ. It will be shown at the following times:

Friday 20th at 8:30pm SKY Sport 4 - Ch54
Saturday 21st at 1:00pm SKY Sport 4 - Ch54
Saturday 21st at 7:00pm SKY Sport 1 - Ch51
Saturday 21st at 2:00pm SKY Sport 1 - Ch51
Saturday 21st at 12:00pm SKY Sport 4 - Ch54
Sunday 22nd at 4:00pm SKY Sport 2 - Ch52
Sunday 22nd at 5:00pm SKY Sport 4 - Ch54
Monday 23rd at 10:00pm SKY Sport 4 - Ch54





Cyclone Pam

was on everyone's mind as to when she would arrive. The easterly wind increased throughout the day and it wasn't until after it was all over that it started to drizzle.

In fact,

all rounds

had been soo lucky with the weather.
The

'factory'

team setup looked very professional.

No

Ben Townley

. BT flew out to Japan that night. BT had been busy at the first two rounds of the Championship, providing 'guidance' to visiting Japanese HRC [Honda Racing Corporation] rider Makato Okato who was here for 30 days to train with BT and rode at the first two rounds of the nationals. That HRC 'guidance' now continues in Japan as their 10 round All Japan domestic Championship starts on 04 April.
I spoke to Stu Groombridge who is President of the

Taupo MCC

. Their Committee has decided to go non MNZ for their Club Days. No Stewards being one of their reasons. They were disappointed not to get the final round of the Nationals and have decided to put all their efforts into their Labour Weekend Extravaganza - watch this space?

Taupo's

Battle of the Clubs

diary date is Saturday 27 June with their Club Day on Sunday 28th. Team entry is $300 and gate entry is a gold coin. Funds go to support the NZ Team to MXoN - this year in Lille, France. If your Club has never entered you are missing out on a great day. 3 Juniors and 3 Seniors in each team and the scoring is same as MXoN - a win is 1 point etc. Several clubs have been every year with 2 teams.

This was to be the last Championship for Taupo's

Nick Saunders

after 22 years of racing. Wife Megan and Nick are expecting their first next month. All the best !!
Bumped into Nick Saunder's brother

Matt

of

Ilabb

fame. His business partner Seadon Baker was 'on air' with Neil Ritchie and said they are about to launch Ilabb in Southern California.

Ten days to the first round of the

Aussie MX Nationals

which kick off in Horsham Victoria. With the series returning to the Wimmera region on

Sunday March 29

, the MX Nationals will inject close to half a million dollars into the local economy in just one single weekend of Motocross.
The back section of Harrisville was a too wet in places for the first practice/qualifying session which was MX3 and some struggled. The bulldozer was brought into action and it was sorted.
FIM

Oceania

President,

Jim Tuckerman

was helping Neil Ritchie and I had some FIM questions for him. Oceania has been a 'hobby-horse' of mine as the last event, for Juniors only, was hosted at the Auckland MX Champs in 2010. Darryl Hiddle who was President of the Oceania Motorcycle Union in Aust was 'working on it' but unfortunately passed away. That Australia / New Zealand Union is replaced by the position of FIM Oceania and Jim is keen to resurrect it for Juniors. He sees Auckland Champs as the best 'vehicle' to piggy back on, as Juniors are on the Saturday - Seniors Sunday. The 2010 Oceania had a budget of $15,000 which paid for the Aussies to come over with a Manager plus container freight for the bikes they brought over. That budget no longer exists.
I asked Jim about the

Seniors

which is what Oceania used to be about and he said that he is working on that too and thought that it could 'piggy-back' on a round of the Aussie MX Nationals, as NZ's top riders will already be there. Simply allocate Oceania points to selected riders. He said FIM have a meeting in six weeks and he will raise the matter of funding.
---
National 125:

Here is the Top 40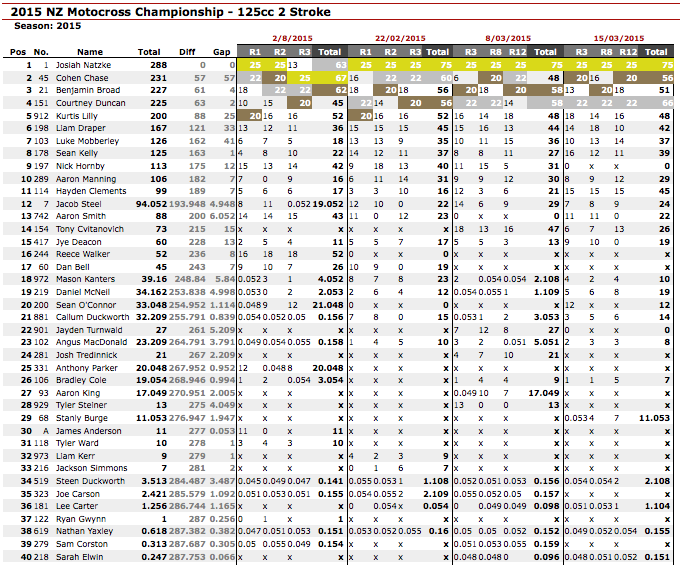 You can work out the Round 4 points from the right hand column. Suffice to say

Josiah Natzke

won 11 of the 12 races. He had the Championship won with one race to go. In fact he ended up winning by 57 points which was 2 races +7. Josiah left NZ yesterday to join KTM Factory under a 5 year contract and will contest the EMX125 which starts in Trentino, Italy, on 19 April.

Courtney Duncan

was 2nd at Harrisville and it was well deserved. In Race 2 she was only 2 seconds behind Josiah. She was the only 125 rider that I saw that jumping straight into the ruts atop the Finish Line and gaining several seconds. If it wasn't for those first two races at Timaru she could well have been second overall. What we forget is she's a girl, well now an 18 year old young lady, and has an exciting future ahead of her on the Women's World MX scene - more on that to come.
It was close between

Cohen Chase

and

Ben Broad

and they will only get stronger.
9th placed overall,

Nick Hornby

, crashed in Race 1 on the face of #1 and broke his Femur. It was the same place that MX3's

Tony Cooksley

had crashed earlier and broken his left Tibia - just below the knee. Tony had his operation on Monday afternoon and home already. In plaster for 12 weeks - yeah right? Nick was airlifted back home to New Plymouth.
---
MX2: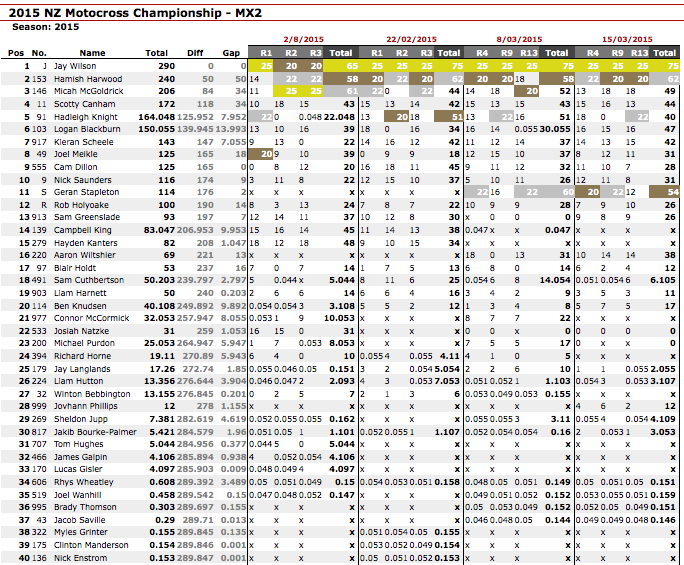 Jay Wilson

also had it won with one race to go and still won by 50 points. Jay is now back in Australia and in an unusual move will continue to ride again under the New Zealand based Altherm JCR Yamaha Team, owned by Josh Coppins.

The expected finale battle between

Hamish Harwood

and

Micah McGoldrick

did not happen with Harwood taking 62 points at H'ville to McGoldricks 49. At Round 2 in New Plymouth Micah was soo dominant but 34 points the difference at the end.

Harwood

has been most impressive having come back from a ruptured bowel at the Auckland Champs when the KTM450 and jump #4 had the better of him. He bears a scar from navel to upper chest as the result of those life threatening injuries. Frankly, an unbelievable comeback.

Scott Canham

is never stuck for words so here's his comments: "Well that's it. Nationals is all done and dusted for another year. And what a rough few years it's been for me and my family. Getting through all my injuries and getting back up to where I now believe I deserve to be. I fought till the end, left nothing on the table and came away with 4th in New Zealand. I'm Pretty bloody happy that's for sure. I couldn't have done it with out my family. Especially my mum and dad for everything they do, they are truly the best parents I could ever ask for. My brother Danny Canham for all his help (a lengthy list of sponsors followed then) - Yesterday the bike was on form it handled like a dream it could have been better and I'm really glad we changed back to standard gearing. Thank you Everyone for supporting me to the end you guys are awesome. I couldn't have done any of this with out any of you. So cheers everyone you are the reason this all came together.

4nz baby yeoww!!!!!

feeling proud."
Hadleigh Knight

's greatest fan is his mum Michelle and here's what she had to say - from the heart: "We are so proud of this kid. He has just finished 5th at the NZ Motocross Champs. A great effort on a new bike, new class and new team. You never cease to amaze us with your attitude, results and undying love for the sport. You managed this while completing your education and battling with illness all last year. And still only 18 years old, a good couple of years younger than the remaining top 10. He only managed points for 9 of the 12 races and was still only 8 points off 4th at the final chequered flag. Bike failure and a flat tyre only made you more determined. You never lose your cool, just get back on the bike and do the business. You aren't a loud mouth, noter or attention seeker. You are friendly, determined, humble and respectful. In this sport those are rare attributes. Don't ever change, just keep being you. Continue to let your riding do the talking. We would like to thank all the guys in the Workshop Graphics Husqvarna NZ team this year. A great bunch of riders and families, had some real fun times. Had an awesome series which would be cool to build on. To all Hadleighs sponsors thank you from the bottom of our hearts. Patrick at Husqvarna NZ, thanks so much for everything you have done for Hadleigh, Paul at Nationwide Accesories, Daryl at Workshop Graphics, Gerry O'Kane from 386 Motorsport for you unrelenting belief in Polly, Norm and Mike. Bring on 2016."


Every rider has a story but none as big as

Michael Purdon's

list of injuries sustained on jump #1.5

I mentioned Michael's abrasions during the day on Sunday after his 'rag-doll' down #1.5 His Mum Rebecca posted an update. "Michael has torn his right lung in two places and got some internal bleeding severely torn ligaments and tendons in right shoulder and 4 fractures in the thoracic region of his back ........"
On the day was the good natured, 'sledging', between Taupo Club's

Cam Dillon

and

Nick Saunders.

It was Nick's last Championship and he beat Cam by 1 point in every race at H'ville. I was watching them in the very last race and it was bar to bar.
---
MX1: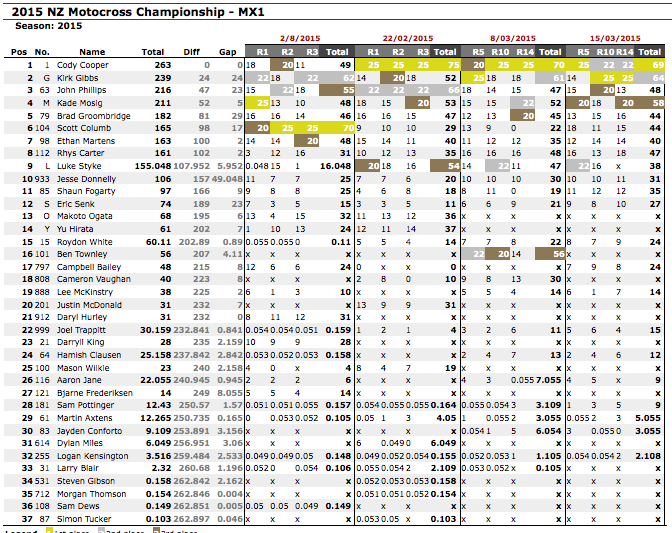 Only 22 entries at Harrisville.
It was an international class with 3 of them were Aussies - Gibbs, Mosig and Styke; 2 Japanese in Harata and Okato; 1 American in Eric Senk.
Harata (Yamaha) and Okato (HRC) are both 'factory' riders in Japan and were only here for two rounds. Both are on million dollar packages. Harata's new race truck hydraulics out to 3 stories. Okato drives a Lamborghini.
Great win by

Cody Cooper

and The Honda Shop after a faltering start at Timaru. At Prizegiving on the Sunday night Neil Ritchie gave Cody an incredibly emotional intro - well done Neil !!

Aussie

Kirk Gibbs

was looking good at H'ville winning the last 2 motos.
Scott Columb

and Altherm JCR Yamaha have parted ways. At Timaru he was soo dominant but ... Scott finished 6th in the Championship, 98 points behind Cody Cooper.
John Phillips

is already in Australia as he has the injured Jake Moss's ride at the Hitachi Kawasaki factory motocross racing team and will join Adam Monea for a minimum of 5 rounds of the Aust MX Championship.

---
Final say:
Nothing on

MX3

from me. It's not that the racing was poor, I just don't have the time. A big surge in numbers this year to the point where they had 56 at Rotorua. 50 entered for H'ville but only 44 turned out. PukeMX had already settled on a 37 rider gate as there could be non-qualifiers from other class if the 115% rule was applied. 44 minus 37 = only 7 for the MX3 Support Class. So MX3 was set at 30 so that there was a good field for MX3 Support. New Motocross Commissioner Howard Lilly (and PukeMX) are in favour of and Overs & Unders split.
Harrisville gate takings

are only slightly less than last years which was surprising considering the weather forecast. The bigger spectator area atop and side of the triple step-up was a welcomed improvement but everywhere you looked there was spectators. The VIP Hospitality tent was very busy.

It was

Harrisville's

fourth and final round but how can you ignore the fact that there was up to 5000 spectators and riders say it's the best track and facility in the country. The Club will need somebody to step up to replace Howard as Organiser.
Looking forward to the

SKY Sports

version of events on Friday night.
Cheers
Alan H.