Three Rounds down of the NZ MX Nationals
MX1:
All the answers are here - you do the maths!
Cody Cooper has 19 points up his sleeve and the maximum available for the final 3 motos is 75.
Going into the last race at Rotorua, Ben Townley was sitting in 2nd, just 1 point behind Cody Cooper and 1 ahead of Kirk Gibbs. Ben only added 14 points in that last race after John Phillips took himself and his team boss out. Who knows, BT could have won the overall?
Actually the Top 9 are not all that far apart.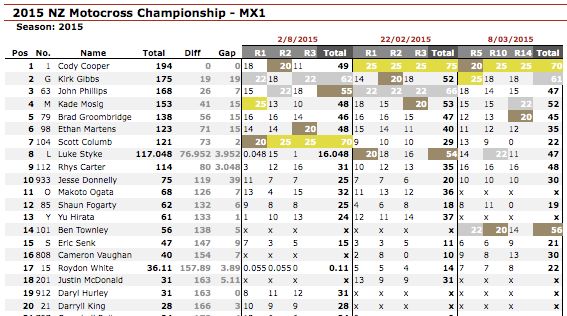 ---
MX2:
Aussie Jay Wilson is looking fairly comfortable with a 37 point lead but as we all know it's not over, 'till it's over. Last year he was 3rd (1st Kayne Lamont 254 points, 2nd Hamish Dobbyn 243pts,
3rd Jay Wilson 216pts)
Jay was Australia's first ever Junior World Motocross Championship back in 2009. Two weeks after Pukekohe's final round he's at the first round of the 10 Round Australian MX Champs, still under the management of Josh Coppins.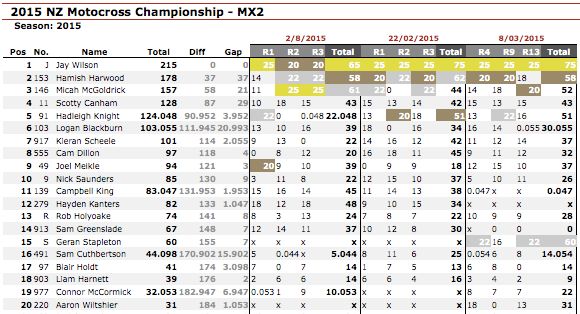 ---
National 125:
Josiah Natzke also has a 37 point lead. Courtney Duncan had a strong 2nd at Rotorua but she's 54 points adrift of Josiah but only 16 & 17points off the Championship Podium. The interesting battle is between Broad and Chase in 2nd and 3rd.