Cody Cooper wins Round 2 of NZ MX Championships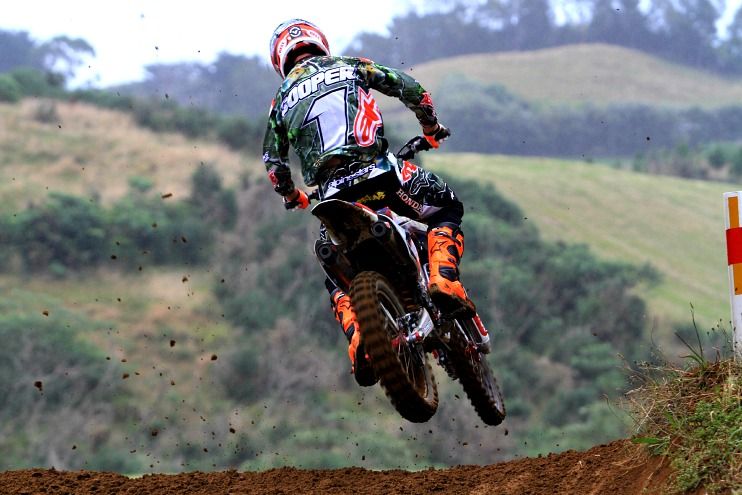 Photo - Guy Maxwell
Cody Cooper (The Honda Shop Racing) claimed MX1 Round 2 win of NZ's MX Championships at Backflips Dirt Farm yesterday, taking the Overall Championship by 3 points heading into the Series final 2 Rounds.
In what can be described as a unique record with all 3 classes posting identical results: MX 1 Cooper going 1-1-1, Australia's Jay Wilson going 1-1-1 in MX2 and NZ's Josiah Natzke blitzing the field with 1-1-1 in the 125cc class.
It was Cooper from the first Moto taking the holeshot and leading from start to finish which set precedent that Cody was out to gain top podium.
The Honda Shop Racing Team rider John Phillips was equally impressive over 3 Motos taking 2nd Overall for the Round and Australia's Kirk Gibbs (KTM) rounding off the top 3.
Cody: "I came here to win all three, to make a statement really. I'm proud of myself, I got back into it and got the job done. There is awesome dirt out there, the Backflips crew have done an awesome job with the track. There are some one lines but that's where you have to focus on your starts and use the one lines to your advantage."
Australia's Jay Wilson continued his excellent form taking a clean sweep in MX2 1-1-1 heading off competition from Hamish Harwood (CMR Red Bull KTM) 2nd Overall and local rider Micah McGoldrick (Honda) finishing 3rd.
McGoldrick was unlucky in Moto 2, dropping valuable points, only to reclaim his place at the pointy end in the last Race.
Jay: "It was good to extend my points lead and come away with 3 wins. I was a bit worried this morning with the track being so wet. I thought the NZ boys would be good. The track was knarly, every straight had ruts. I just had to be patient and on my toes the whole time. I have to thank the JCR Team for the massive effort they put in."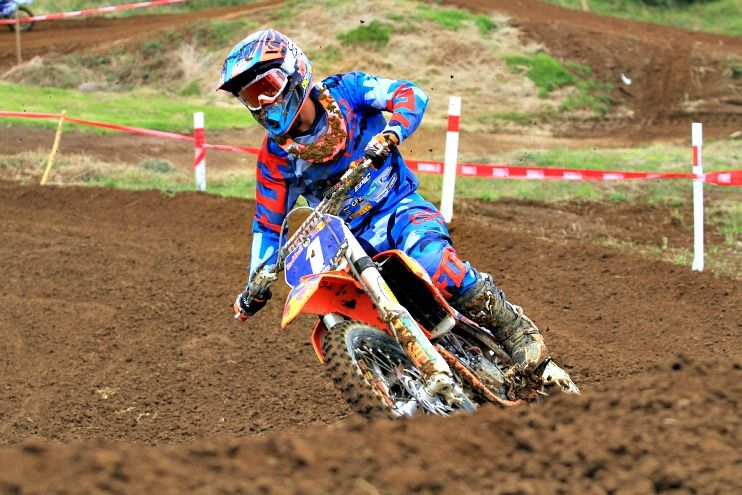 Photo - Guy Maxwell

Josiah Natzke (CMR Red Bull KTM) outclassed the 125cc field showing the talent that has earned him signing with Europe's KTM post NZ's Nationals.
Winning 3 from 3 Josiah's winning margins were exceptional with 2nd Overall Cohan Chase and 3rd Overall South Canterbury's Courtney Duncan challenged to close the gap.
Josiah: "It was a perfect day for me, I couldn't ask for anything different. The bike was good, the track was tough but I adapted to it. An awesome day, I'm stoked."
Round 3 is on March 9th at Rotorua
Round 4is on March 15th at Pukekohe
NZ Motocross Championship - MX1 (after Round 2)
1st Cody Cooper 124

2nd John Phillips 121

3rd Kirk Gibbs 114

4th Kade Mosig 101

5th Scott Columb 99

NZ Motocross Championship - 125cc (after Round 2)
1st Josiah Natzke 138

2nd Cohen Chase 127

3rd Benjamin Broad 118

4th Kurtis Lilly 104

5th Courtney Duncan 101

NZ Motocross Championship - MX2 (after Round 2)
1st Jay Wilson 140

2nd Hamish Harwood 120

3rd Micah McGoldrick 105