Woodville NZ Motocross GP - an overview
Saturday was a scorcher - Katrina Ward said it was 34C in their pit. Dust was a big problem so they had spent all night watering.

First thing Sunday it was freezing cold and foggy. This is the first Practice/Qualifying for MX1. As you can see it was muddy in places.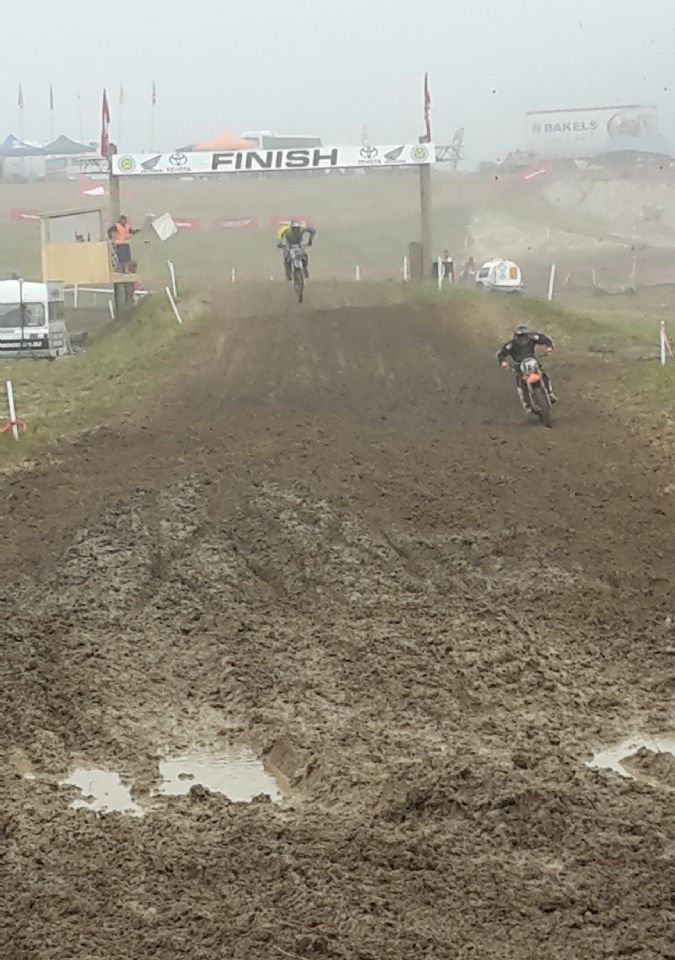 About 11am the sun broke through and it was getting hot. By 1pm it was again a scorcher and despite their best efforts the dust was a problem.

End of the day it was rough, rutted and very dusty. Crowd on the hill near the Honda tent almost disappeared after the second River Race as the wind was whipping the dust all over them. Less dust on the opposite side of the bowl.

Easy to have an opinion but a fix for the dust would be fire-pumps and hand held hoses as they do on the USA.
I was out the back for the first Nat 125 race and they had groomed the rutted corners !!!! No looklap. Out of the first 20, 3 fell in the180 southern corner - arriving at speed and no ruts to rail!! The race was then red flagged, apparently a false start. Restarted and in the same corner two went down.
It's a massive operation from a big team of volunteers.

I'm not a fan of the officials on quads crossing the track all the time.
Told that Andy McGechan crossed the track and Yu Harata almost took him out - apparently was soooo close.
They had 560 entries over the 2 days.
I put up this pic of Kayne Lamont, on Moto-Media's Facebook, before the MX2 Practice with the simple header ....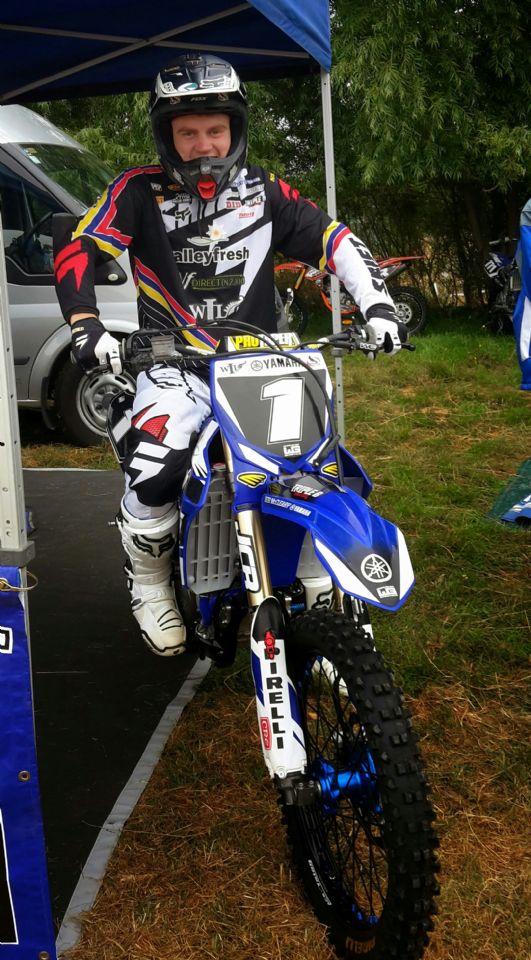 "He's back". As at 7am today it's had 1666 views and 161 likes !!!
Pit areas were impressive with all the 'factory' teams and the 'satelite' teams going to lots of effort.
Husqvarna have a new naming rights sponsor, Workshop Graphics. With Kurtis Lilly (Nat125) and Hadleigh Knight (MX2). Hamish Dobbyn out with injury Shaun Fogarty has the ride and on debut was 12th overall. Bit hard on himself but he's had little time on the bike and comes off a 250 2-stroke. The 11 ahead of him were all 'names' and he'll shake-down quick smart.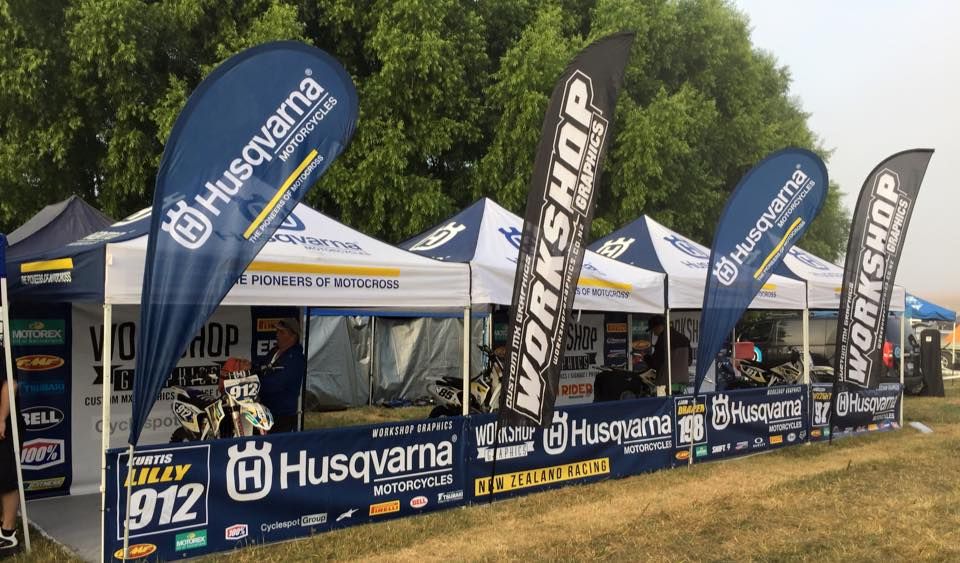 Credit: Workshop Graphics Husqvarna
Best news I heard in the pits was Kieran Leigh has purchased a YZ450 off Chris Bailey who runs Kayne Lamont and Chris's son Campbell. Kieran rode for Chris 5 years ago and will start back in the Club scene. Great news, lots of natural talent there.

Another 'Club' comeback anytime soon is Blake Gillard.
Observation: Lots of crashes but no major injuries - that I know of! Just lots of abrasions and bruising.
River Race. River was the lowest I have seen in years so was made quite technical - aka difficult !! Skilled exhibition by Paul Whibley. Ben Townley was a late addition and rode to a strong 2nd. The fans were loving it at very close quarters.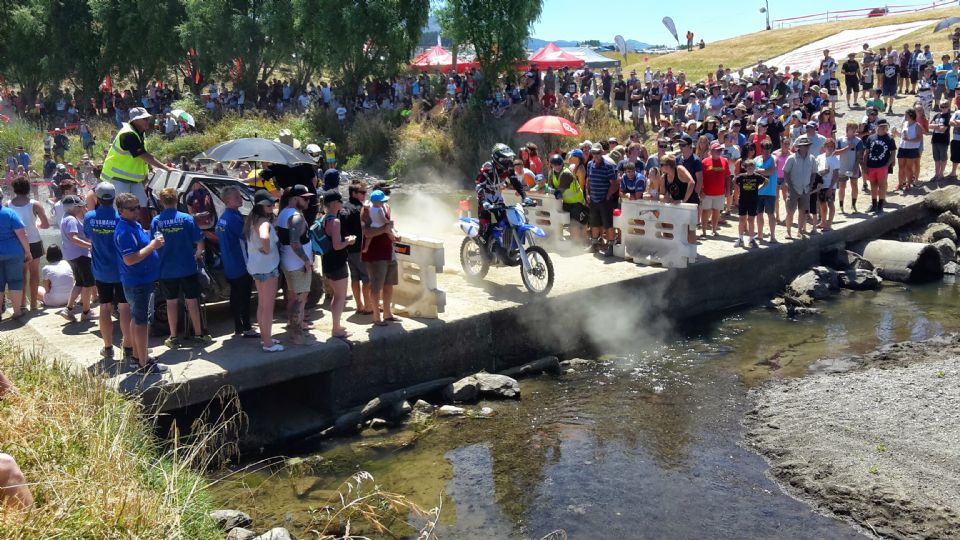 Paul Whibley about to take the bridge jump.
For years I have been critical of their Superjump. I saw several nasty cases - one was in MX1 and he was very winded. Why not fill it in and you have a very safe tabletop? I can remember Katherine Prumm having a biggie on it.
Dave Craig did an excellent job as Clerk of the Course - he was everywhere and totally in charge.
Racing was excellent and big fields.

I don't get it that the super talented Josiah Natzke rode two classes. He won the Nat 125 by 13 points with 3 wins and beat Kayne Lamont by 1 point for 3rd place in MX2. After his 6th race (MX2) he was absolutely exhausted and had a few dodgy moments in that race to come home 14th. Yes, he's preparing for Europe but certainly didn't look to be enjoying himself - was a huge risk of injury.
Tony Cooksley flew in/out for the day courtesy of Yamaha. He didn't like watching the Vet race as he would have been at the sharp end.

TC made comment; "Amazes me that guys who are fast on the smooth stuff, just can't ride this rough stuff?"
Surprise of the day was Mike Phillips MX2 win. He went 3rd, 2nd and 1st to win by 11 points. He was one who did look good on the rough stuff. Well done Mikey P.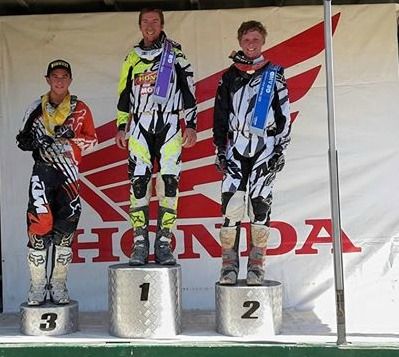 MX2 Podium. L to R: Josiah Natzke, Michael Phillips, Caleb Ward. Kayne Lamont was only 1 point behind.
Yes Josiah Natzke rode extremly well but my 'Ride of the Day' was Cody Cooper with 1st, 1st and 1st. He rode extremely well resplendent in his Alpinestars gear.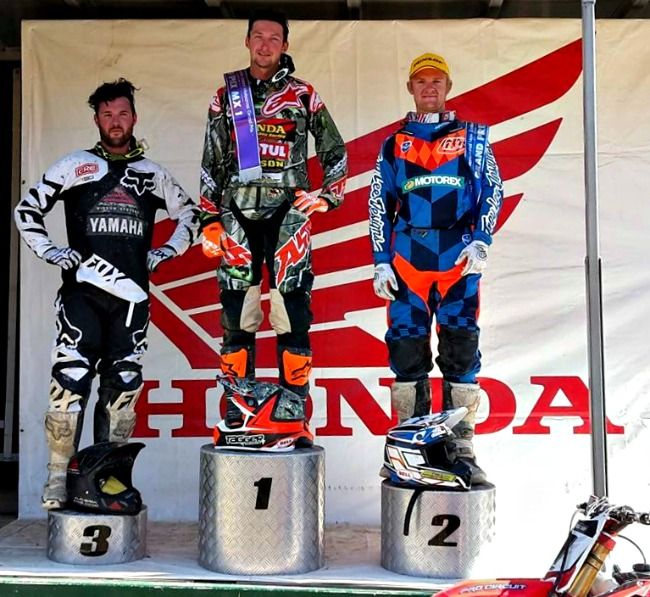 MX1 Podium L to R: Scott Columb, Cody Cooper, Kirk Gibbs.
A good day for The Honda Shop Racing taking out MX1 and 2.
JCR Yamaha's Scott Columb also rode the rough very well. Both their Aussies Jay Wilson and Caleb Wright are on comeback from injury and will be serious contenders. Glimpses of how bold Wright is.
Great event, extremely well managed.