Livia Lancelot is one of the most decorated WMX riders in the world, and for good reason. The chick has good looks and a sick style to match, but not just that, she knows how to pin it too!

With the 2015 FIM Women's Motocross World Championship fast approaching, and with 2015 offering a lot more to the female racers in terms of opportunity to grow their class, draw in a wider audience and attract more sponsors, I spoke to Livia, who has recently been out ripping round in the USA to see how her pre-season prep is going.
Livy, last year your pre-season prep involved a lot of sand racing. This year it looks like you've taken a different approach. What changes have you made to your 'typical' WMX season preparation and why?
Yeah, last year I really wanted to do good at Le Touquet, it is a great race in France where I used to go when I was a kid and it was my main goal in 2014 to achieve a good result. So last year I had that plan and I did good! This year my goal is to be world champion. So with my trainer Bruno Losito we designed my training plan for this. The WMX doesn't have any rounds in the sand this year so I don't need to be riding in the sand like last year.
Last year I spent 3 months on the KXF450 preparing for Le Touquet, so I was lost on the 250F in Qatar. This year will be different, I have much more hours on the KXF250 already.
Following your Facebook, I see you've been in the United States, when did you go there?
I went to America on the 16th December for one month.
Why did you choose to go there and what do you think the benefits of training in the USA are?
America is where every rider wants to train. Since a few years I have had the opportunity to go but I didn't go because it is definitely not the place to get ready for le Touquet. This year is different; I have a different goal so I decided to jump in the plane. It makes sense because there are tracks everywhere, open every day, and always perfectly prepared. The weather is also much better than Europe, so I could spend a lot of time on my KXF250.
How are you feeling on the bike? Are you ready?
I'm feeling good, I love the 2015 bike and the tracks over in America are made to have fun, huge jumps but not dangerous like with big ruts and stuff. It was really good to train there for the season and enjoy myself at the same time. I feel more excited to do 30-minute moto's at Glen Helen in 25 degrees than in Lommel in the rain. (laughs)
Since you were the 2008 FIM WMX World Champion and I know you like to win, I'm guessing you weren't that happy with 2014?
2014 was not an easy year, I started from zero with my own Team and this was a lot of work, I had to learn a lot. I also started from zero after my ACL injury, and this was even more work in the rehab center and with doctors and stuff than with starting my own team!
I only started working with my trainer only in Qatar, so I improved over the year and I have shown some good stuff, but not enough. The others were stronger last year but I have learnt from my mistakes. I'm a racer and I don't work as hard as I am now to finish third in the championship!
In that case, what do you feel you need to improve to get a better result in the championship?
First of all, I had a DNF last year with a bike issue and I lost 22 points because I was second at the time. I only missed the title by 23 points. We did a lot of testing this winter that I couldn't do last year because I was riding the 450 for le Touquet. My mechanic knows the bike perfectly now and we have improved a lot on the engine.
Secondly, I did all my preparation with my trainer, and I have started 100% healthy this year and this makes a huge difference. I have made much more hours on the bike than last year at the same period, my physical program is also different than the years before. I feel Great.
Last year I won some WMX rounds so I know that I'm fast but I need to be even faster and stronger.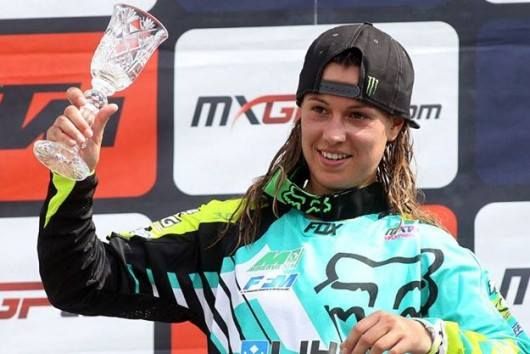 What are your goals and expectations for 2015?
I definitely want the title. It will be hard because every year the level keeps going up. The girls out there are fighting for the same thing. But I am working hard for it.
How do you feel about the women being at the overseas races, Qatar and Thailand?
It is pretty cool for the girls to have this opportunity, we are doing the world championship so it is normal for us to not only race on the European tracks. It is also good to show in a few countries that girls can ride dirt bikes. Of course it is hard and expensive to organize but we only live once!